Postman bites back after Builth Wells dog attack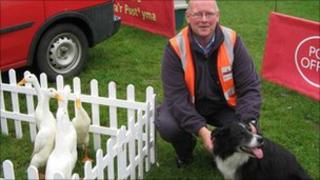 A postman who was the victim of a dog attack is biting back in a new campaign by the Royal Mail to improve safety for its delivery staff.
David Power was treated in hospital after being bitten on the bottom by a dog near Builth Wells, Powys.
Royal Mail is using Mr Power's experience to urge pet owners to keep their animals under control.
In 2009, there were 298 dog attacks on postmen and women in Wales out of 5,091 in the UK.
A Royal Mail spokeswoman said dogs could be a particular pest, but cats, geese and even ducks were also seen as a threat.
The safety concerns come as schools are breaking up for the summer when parents and children are at home and pets are allowed in the garden.
Mr Power, 46, who has been a postman for 20 years, was the victim of a Spanish sheepdog attack about two years ago.
The bite was not deep, but Mr Power had to spend a few hours in hospital while his injury was cleaned. He also received an tetanus jab.
However, he admitted that his injury caused much "hilarity" among his work colleagues.
"I was bitten on my bottom. It caused much hilarity at work," said Mr Power, who was speaking at the launch of the safety drive at the Royal Welsh Show.
"I don't think all dogs are nasty, but it's something about postmen that sets them off. They seem to be on the defensive when it comes to us.
"The bigger dogs seem more placid, although the one that bit me was large, and it's the smaller dogs you have to look out for."
Mr Power said about a dozen dogs were a problem on his five rounds in the Builth Wells area.
He explained that every round had a "walk log", which listed all types of hazards, including nasty pets.
In recent weeks, said a Royal Mail spokeswoman, a postman from Swansea had been attacked by an Alsatian and in Llangefni, Gwynedd, a postman was taken to Liverpool for specialist treatment after he was bitten on the hand by a Labrador at an Anglesey farm.
Royal Mail's regional safety director, Michael Shakeshaft said: "The majority of dog owners are very responsible when it comes to keeping our delivery staff safe.
"But dog bites are still a major cause of injury to our postmen and women and the effects can cause considerable distress to those concerned."