'Matter of time' for Wales-China lamb export deal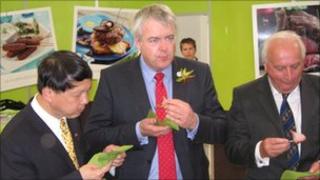 A Chinese government official says it is a "matter of time" before his country signs a potentially lucrative lamb export deal with Wales.
Minister Counsellor Zhou Xiaoming said there was a "great demand" for premium meat in China.
Australia, New Zealand and Canada already supply the Chinese with meat and there was a "very good prospect" Welsh farmers could join them.
First Minister Carwyn Jones said it was a "big opportunity" for Wales.
Mr Jones has held talks with a trade delegation from the Chinese Embassy in London, led by Mr Xiaoming, at the Royal Welsh Show in Llanelwedd, Powys.
Welsh lamb is already exported to Hong Kong, but officials are now targeting mainland China.
Selling the product in one of the world's largest consumer markets could be worth millions of pounds to the Welsh economy.
Mr Xiaoming said: "There is great demand for premium meat (in China). There is a very good prospect (for Welsh lamb), but we have to sign an agreement."
Asked whether he was confident a deal could be struck with Wales, Mr Xiaoming added: "It's a matter of time."
The China-Britain Business Council said any deal would have to go through a five-stage process in China.
It added that Britain was on the verge of signing a contract to supply the country, which has a population of more than 1.3bn, with pork, and that had taken five years.
But First Minister Mr Jones said he did not think it would take that long to sign a contract to supply lamb to China.
He said it was a "big opportunity" and more and more markets were being found for Welsh lamb, but he stressed that Monday's meeting was not about "striking a deal".
"Today is about taking forward that interest (from the Chinese government)," he added.
Mr Jones had said earlier that exporting Welsh lamb to places such as Hong Kong and Dubai already made a valuable contribution to the Welsh economy, "but it would be great to see it exported further afield".
He added: "Following their visit to the Royal Welsh, I hope our guests from the Chinese Embassy will be pleased with what they have seen during their visit and will want to make Welsh lamb available in mainland China, one of the largest consumer markets in the world."
More than 300 tonnes of Welsh lamb has been exported to Hong Kong since 2008, which has been worth £500,000.
Hybu Cig Cymru (HCC) (Meat Promotion Wales) said it wanted to build on that success, and it believes there is potentially a huge demand for Welsh lamb in China.
HCC chair Rees Roberts said the red meat sector was worth £400m to the Welsh economy, and it employed some 33,000 people.
Last year Welsh lamb and beef exports totalled £140m, an increase of more than £30m on 2008.
HCC chair Mr Roberts has already met Mr Xiaoming at an event at the House of Lords earlier this year.