Online campaign to buy Lake Vyrnwy for people of Wales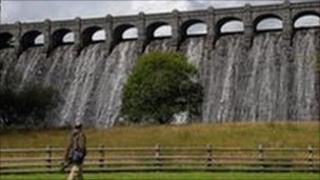 Nature-lovers and people passionate about Wales are being urged to club together to buy a beauty spot.
The Vyrnwy estate in Powys was recently put up for sale by Severn Trent Water and is expected to fetch £11m.
An online campaign has been launched with the aim of securing a million Welsh people to buy at least a £10 share of the 23,000 acres (93 sq km).
The hope is that enough investors will come forward to ensure public access to the site for future generations.
The campaign was recently launched on the social networking site Facebook by Heledd Wyn Hardy, from Cardiff.
She says pledges for shares in the estate ranging from £10 to £500 have been coming in thick and fast.
She said: "I saw Severn Trent was putting the site up for sale and thought it was a fabulous opportunity to see if it could become a co-operative and belong to the people of Wales.
"My fear was some millionaire might buy it and stop the public coming onto the land.
"I saw what was achieved in the Facebook campaign to save BBC 6 Music and I was inspired to do a similar thing."
The online group currently has more than 300 members but Heledd says she has been inundated with messages of interest and support.
She added: "I have written to Severn Trent asking them to delay the sale and give us six months' grace to get the money together.
"What would be great is if a rich celebrity like Catherine Zeta Jones or Anthony Hopkins came forward and stumped up half the cash.
"It's such a beautiful spot, it would be a shame to see it go to a private owner."
A spokeswoman for Severn Trent said the firm was aware of the Facebook group.
She said: "The sale of the estate is being managed for us by experts in this field, Knight Frank, and all inquiries are being dealt with by them.
"It is our aim to ensure a responsible transfer process, the results of which should bring benefits to those living on working on and visiting the estate as well as fully protecting environmental interests."
The site features conservation areas, a nature reserve and several sites of special scientific interest.
It is being split into four lots and is the largest section of land to be sold for many years.
The Liverpool Corporation built Lake Vyrnwy, a reservoir, in the late 19th Century to supply water to the city.
Land parcels
Clive Hopkins, Knight Frank's head of farm and estate sales, said interest was anticipated from a wide variety of institutions, landowners and investors due to the land being "such a diverse portfolio of property".
The largest parcel of land for sale includes 12,000 acres farmed jointly with the Royal Society for the Protection of Birds (RSPB).
Other sections include 14 farms, a 5,000-acre area of woodland managed by Forestry Commission Wales, and 31 residential and commercial properties.
The land will be available on a 125-year lease, with water rights for the lake itself subject to separate negotiation.
The water is used to serve United Utilities customers on Merseyside.