National Eisteddfod: Women who quit 9-5 to make Welsh products
By Tink Llewellyn
BBC Wales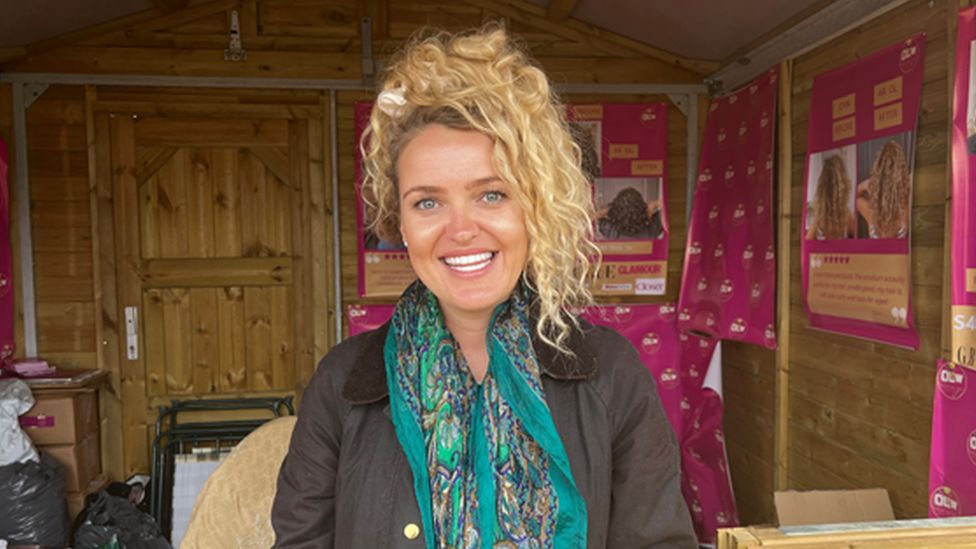 When she quit her car sales job to start her own beauty brand in 2018, Elinor Davies-Farn had only £100 to pursue her dream.
Ms Davies-Farn developed her own hair oil after being unable to find a natural product for her curls.
She is one of many Welsh businesswomen showcasing made in Wales products at the National Eisteddfod.
BBC Wales spoke to stall holders about the challenges of quitting the 9-5 to pursue their passions.
After leaving an administration job, in 2018 Emily Jones started her own hair accessory business.
When the pandemic hit the 26-year-old started making Covid masks when lockdown began, before starting to make scrunchies from her front room later that year.
After sewing scrunchies with the help from her rugby player partner, she got a shop in November last year.
She said: "It's crazy taking the leap from being employed to being the employer."
Ex-teacher Amanda James, from Bridgend, set up her business in 2015, after taking the plunge into making her own candles.
She tried to have children for years - trying lots of different treatments - and got to the point where she felt she needed to do something for herself.
"It's fabulous to now look at my stall and think, whoa, 10 years ago I was a teacher and I'm so proud of what I've got now." she said.
After working in the public sector, the 51-year-old admitted she initially "didn't have a clue" about running a business, marketing or social media.
However, Amanda enjoys the challenge, saying: "You'll never get bored, there's always something new to learn or do."
Her friend Nia Phillips, 50, opened her gift shop back in 2013 after working for the NHS for over 20 years.
Her husband, who's a builder, renovated her shop for her to trade from.
The Pembrokeshire business owner said: "It was a big gamble but thankfully I don't have to pay rent or business rates as I know that can be a big worry now with the cost of living."
Alis Mgwyther, from Cardiff, studied textiles at university, and bought some wool after university to continue to practice.
She knits in her parents' spare room but added it's so important to be able to be able to come and do pop up's so people can actually see her products in person and try them on.
Her bucket hats take just under three hours to make from scratch each and the scarves for the winter take four hours.
The 26-year-old makes each knitted item to order, and also packages them herself.