Cardiff: Young people helping to improve Grangetown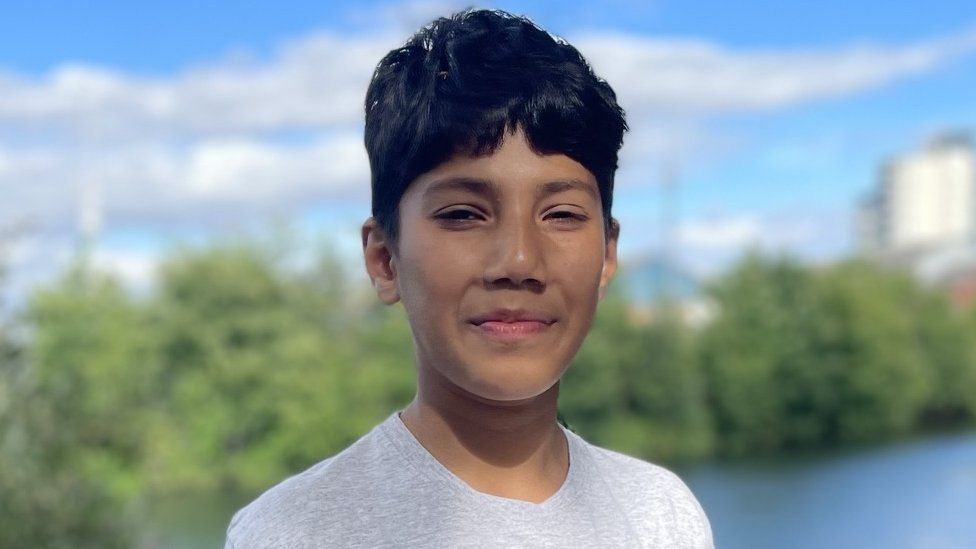 How does a city look through the eyes of its young people?
Could the green man at a busy pedestrian crossing flash for longer, allowing enough time to cross safely? Could there be more street lighting to get rid of dark no-go spaces?
These are some of the ideas young people in Cardiff's Grangetown have proposed.
They are taking part in a project, run by Cardiff University, asking them how they would improve their locality.
Yahya, 12, said he wants to "be safe, to be with our friends and family and to just enjoy ourselves really".
Armed with clipboards, young people took to the streets to point out changes that would make the area better for them.
"The cars don't ever seem to stop, they just keep on coming," 13-year-old Moneab said at a busy crossroads.
"If it turns green, it only turns green for a little bit and it doesn't give you much time to cross the whole road."
At the banks of the River Taff, 12-year-old Yahya pointed out littered crisp packets and plastic bags.
"It can be beautiful in the summer but when it's polluted it's not the best so I think that's why we need to change it," he said.
The project included young people from eight to 18 year olds, working with local schools and the area's youth forum. If it's successful, it could be used in other parts of the city.
Four themes were identified from the work in Grangetown.
Young people want to see a safer and cleaner community, more places to play, a greener Grangetown and an inclusive place which helps everyone.
'Scared, bored and angry'
Dr Matluba Khan, who is leading the project for Cardiff University, said the work would feed into a recovery plan after Covid.
"Children and young people didn't have the opportunity to meet their friends and their cousins.
"The celebrations of Christmas and Eid have been affected", he said.
"They also mentioned feeling scared and bored and sometimes anger."
The challenge now is to make changes that boost children's wellbeing, and give council planners clear ideas about what young people want for the city.
Those who took part were given a small budget to make one of the changes they want to see - now they have to decide which one.
At the Grange pavilion, members of the youth forum placed stickers on a huge map of Grangetown, identifying potential changes.
While they appreciate the city's large green parks, some want more features rather than wide open spaces which can feel overwhelming.
They said the quality of road surfaces and pavements affect scooters, skateboards and buggies, not just cars.
Shoruk Nekeb, a director of the youth forum, admits she was "sceptical" about another research project in the area - but now feels it's "a really good tangible project because I can see the results".
The pandemic, Shoruk said, made the children "very self-aware of what's around them".
"It was pretty interesting sharing my thoughts with everyone else and it would be really nice to see what we actually talked about happen," Fatimah, 13, said.
The Cardiff University research comes as a Welsh charity said the ability for children to play is important as part of growing up.
Play Wales found 90% of 500 children surveyed are generally happy with the places they play, from playing outside in nature to playing on the street, a play centre, or at school playground.