Ukraine orphanage struggles as children flee war
By Gwyn Loader
Newyddion S4C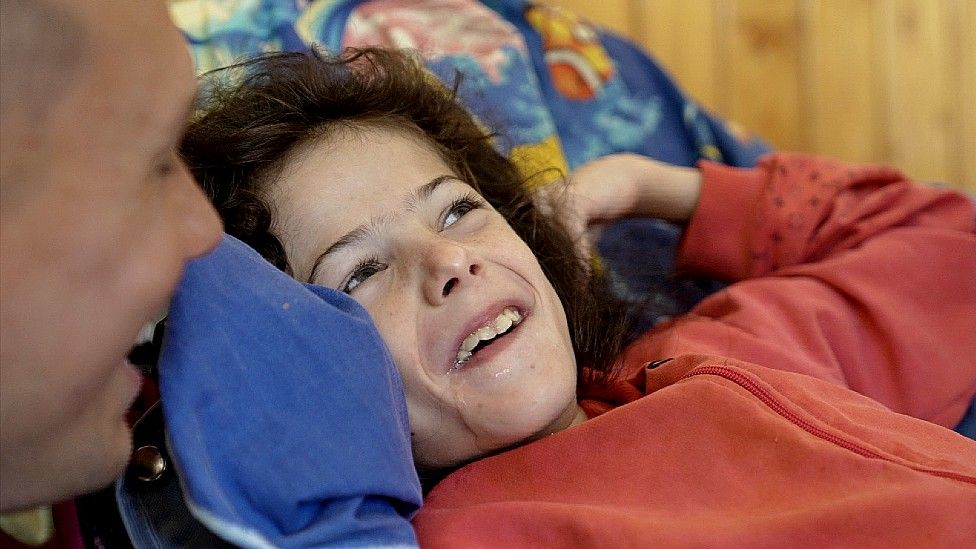 "The kids here need more attention. We need staff, staff, staff."
This is the plea from Mykhailo Zaidel, the director of an Ukrainian orphanage which is struggling to cope after the war sent it an influx of children.
Development charity Teams4U has taken supplies over to the orphanage in Chernivtsi, southern Ukraine, three times already this year.
But the Wrexham-based group is urging people to keep providing support for the children as the war rages on.
The Magala orphanage was caring for 10 children with learning disabilities before Russia invaded on 24 February.
It is around 1,000 miles from the frontline but the war has cast a long shadow.
In March, a further 42 children were sent here from the Donetsk region in the eastern part of a country after it was destroyed.
Now, the staff are under severe strain.
Simon Cooke, a project officer with Teams4U, has travelled to the orphanage three times this year. The charity has taken toys and essential products there. They have also funded a new toilet block for the building which is now being built.
"For those people who have given already, thank you. It is going to the right places. The children here are being fed because of donations from back home," he told BBC Wales' Newyddion S4C in the most recent visit to the site.
"But please don't stop, the war hasn't stopped, it's still going on."
"These kids are still affected. They are unable to leave. There are 40-odd of them from the Donetsk region which is under attack as we speak. They've been moved here, they can't go any further.
"They've not got passports so they can't leave the country. They've not got the physical means to escape even if they wanted to so they're absolutely stuck here."
Accompanying Simon on this occasion was Ruth Wyn Williams, a lecturer and specialist nurse in learning disabilities.
Despite Teams4U's assistance, she said the children and staff needed much more support, adding: "The staff here are trying their best with the available resources. But there aren't any resources.
"Looking around, there aren't many toys here, clothes are ill-fitting and the children need something to occupy them."
Mykhailo says his staff are overwhelmed.
"The kids here need more attention. We need more staff to work individually with them," he explained.
"The nurse simply doesn't manage. She has to cope with everything, but only manages to control cleanliness, keep them fed and avoid risky situations. We need staff, staff, staff."
During the visit, Newyddion S4C witnessed the difficulties facing the carers.
All the children looked malnourished.
A group of 20 older boys were kept in a yard for hours with just one carer watching them. There were no balls or games for them to play with. Some lay motionless on the ground, others wandered through the gravel.
One boy in his late teens pulled his trousers and urinated.
With some of the children demonstrating challenging behaviour, and not enough staff present to entertain and occupy them, one boy was tied to a chair.
Ruth Wyn Williams hopes to return next in the autumn, along with colleagues who can offer specialist advice to improve the children's quality of life. But she recognises the challenge facing them in assisting the children here and across Ukraine.
She said: "We don't come in with a wand. We can't change the world. It's their values and culture which are important. And that we do what they want us to do."
"This is one orphanage in one part of the country. And there are many of them. And I'd imagine there will be many more."
Related Internet Links
The BBC is not responsible for the content of external sites.