Covid: Llangollen International Eisteddfod back after pandemic
By Sion Pennar
BBC News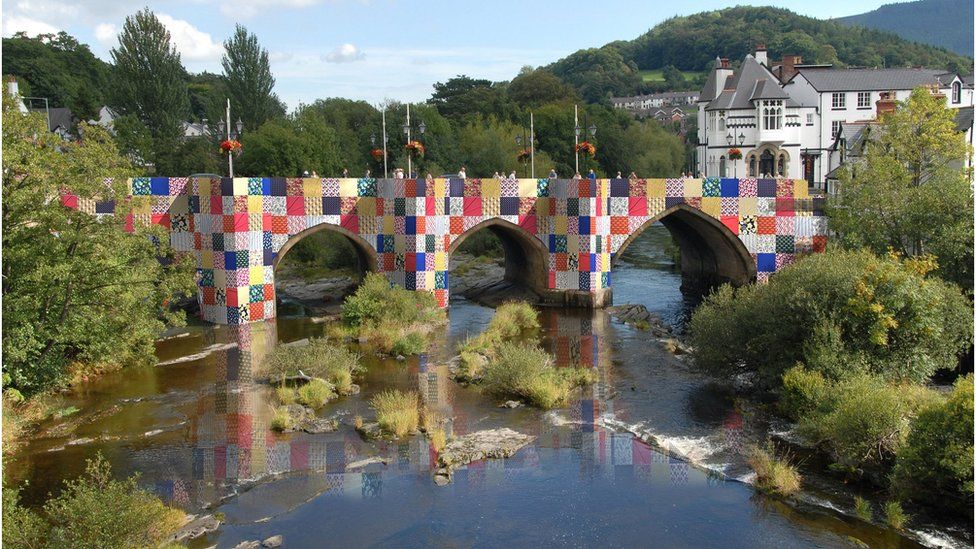 Live audiences will be back at the Llangollen International Eisteddfod after two years of online events due to Covid.
The musical festival, celebrating its 75th anniversary, starts on Thursday and is shorter and scaled down.
Executive producer Camilla King said the decision reflected Covid guidance and "lower ticket sales" in the arts industry.
Competition rules have also been amended to allow for digital entries.
Ms King, formerly head of programming at Cheltenham Music Festival, said "just getting back into the swing of things is a challenge in itself".
The shorter duration of this year's event - four days instead of six - is coupled with the decision not to put an extension on the pavilion, meaning that seating capacity is about 1,500 people instead of nearly 4,000.
"The pandemic and the unknowns around Covid have made planning tricky and we had to take decisions fairly early on around what would be feasible," Ms King said.
"And we know that with the parade, we can get tens of thousands of people in town. That's a lot of people very close together and in terms of social distancing and safety it felt risky to do.
"Likewise we have gone for a smaller venue because the arts industry, the events industry, are experiencing lower ticket sales this year. We know that there is a cost of living crisis, that people are struggling and we just wanted to try and mitigate for some of those things that were on the horizon that we're now dealing with."
Last year's event was held digitally but 2022 sees the return of big names such as Aled Jones, Russell Watson and sitar player Anoushka Shankar.
Ms King said the eisteddfod site had been "freshened up" and its redesign was "the biggest thing that we've changed and tried to update for this year".
Competitors have still been given the choice to enter remotely.
"We have a choir in New Zealand, for example, who wouldn't have been able to get here, but have filmed their competition pieces under very strict guidelines and rules to make sure that we've got as much parity as possible," said Ms King.
Ms King said there has been a "significant amount of government support with the cultural recovery funding" but the situation remains "challenging".
"It's just about working through all of those things and cutting our cloth as we need to."
The International Musical Eisteddfod runs until Sunday.