Long Covid: Midwife's anger over new no-pay rule in NHS
By Colette Hume
BBC Wales News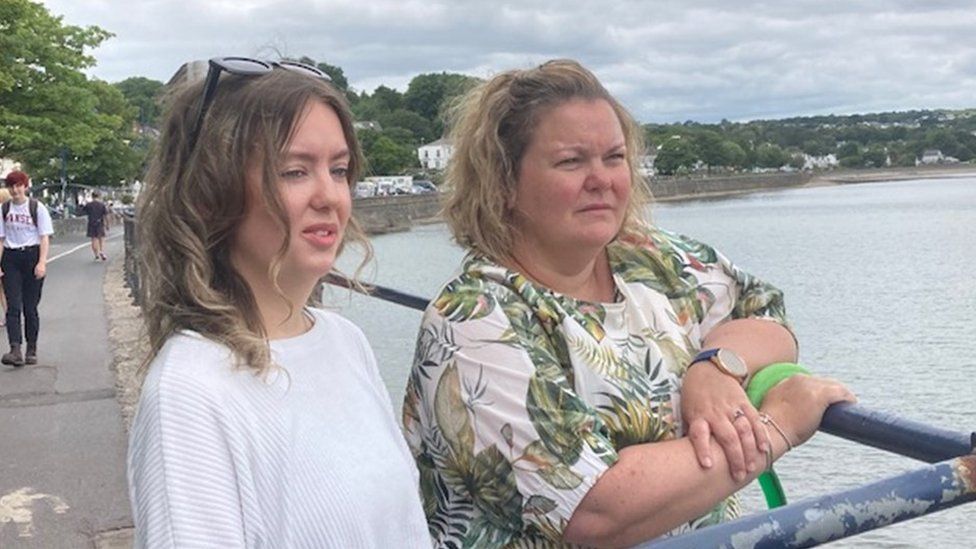 A midwife with long Covid has said she feels "abandoned and angry".
New NHS sickness absence rules mean Sarah Sutton, 44, from Swansea, will not be paid after 1 November unless she is able to return to work.
She contracted the virus in 2020 while working as a community midwife at Neath Port Talbot Hospital.
The Welsh government said NHS Wales and trade unions agreed the new Covid sickness absence rules, which began on 1 July.
Two years after she contracted the virus, Sarah can only walk very short distances with the help of a stick.
She also finds it hard to catch her breath and becomes easily fatigued, so the mother-of-four relies on her partner and eldest daughters to care for her.
New NHS Wales Covid absence rules mean she will only receive half pay from this month and nothing from November.
Hospitals can use their discretion to extend sick pay to full pay "particularly to facilitate a phased return to work", but Sarah said her present state of health meant she was unlikely to be able to return to what she described as her "dream job" in the near future.
"I can't see me being back at work in November and that's going to mean zero pay and there's nothing I can do about it," she said.
She said "abandoned" was the best word to describe her situation, adding: "We went and did a job. This was before the first lockdown, we didn't have PPE, that's when people were stealing thermometers and hand gels and everything from hospitals.
"We didn't have masks and the focus was all on handwashing and we now know it's airborne, so I'm angry.
"I was doing my job, I was looking after people, I was doing what the NHS does, it cares and then I got ill."
Sarah said she could understand why employers might not want to take on a long Covid sufferer.
"I can't do a job, I'll need a nap after this [interview]. There's not going to be many employers who'll say 'that's OK, go and have a nap whenever you like'.
"I can't focus on things for long enough, I can't focus on a computer screen for long enough. What can I do, who will reasonably employ me? I wouldn't if I was an employer. I'm not useful in any way."
Sarah spent "thousands of pounds" on private consultations with a specialist cardiologist in Cardiff and treatments including oxygen therapy and acupuncture in a desperate effort to get well, to no avail.
Sarah graduated with first class honours in midwifery in 2019.
But in March 2020, just four months into her job as a community midwife, she came home from a shift at Neath Port Talbot Hospital and began experiencing symptoms of fatigue which then turned to difficulty breathing.
Her partner was so concerned he called paramedics and she was taken into hospital.
She has not worked since.
How much long Covid is there in Wales?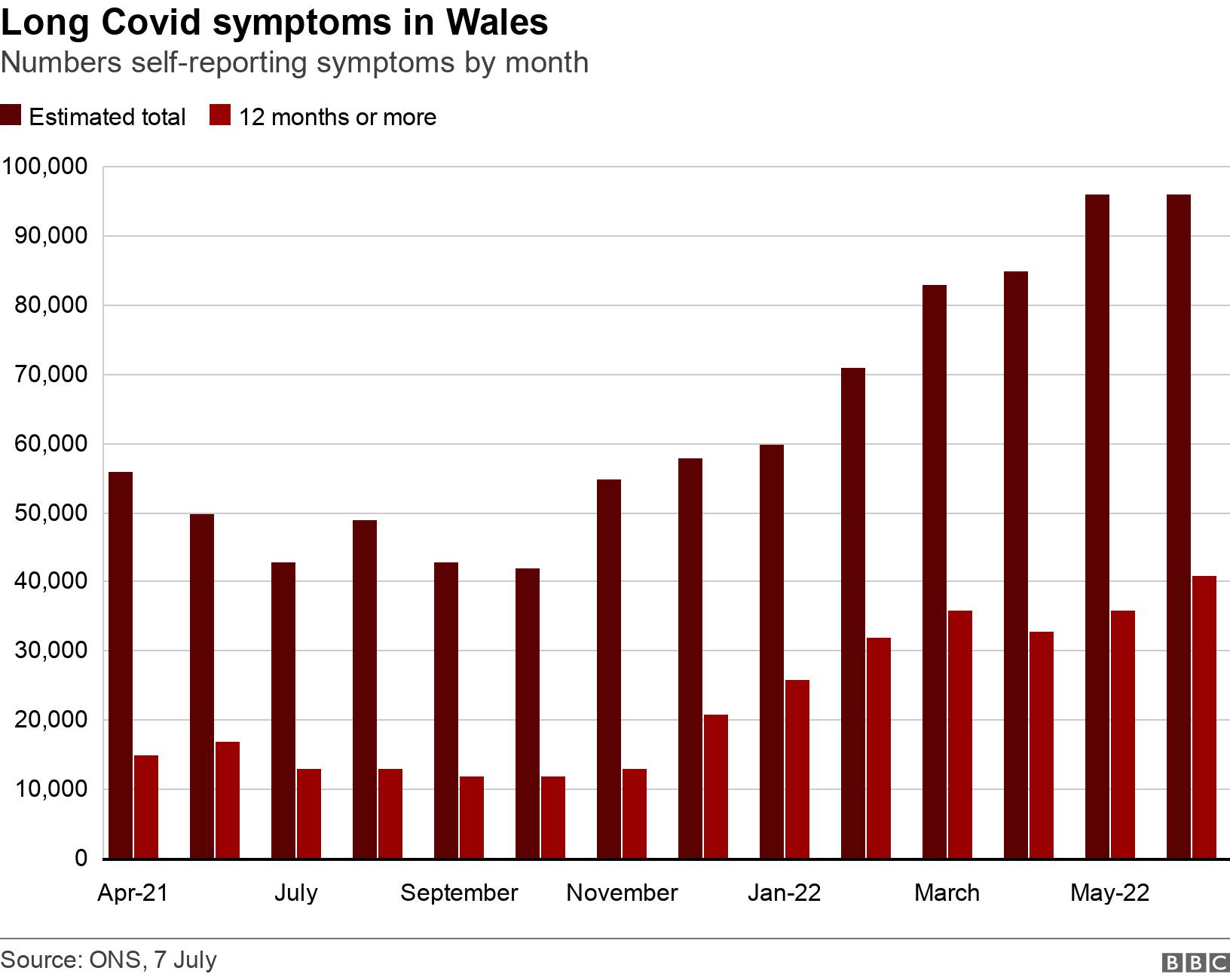 It has been estimated that 96,000 people in Wales are still reporting symptoms of "long Covid" - around 3.15%.
This is the same estimate as the previous month, which was the highest reported since figures were collated by the Office for National Statistics.
Fatigue continued to be the most common symptom reported (56%) followed by shortness of breath (31%), loss of smell (22%), and muscle ache (21%).
Across the UK, prevalence was greatest in the 35 to 69 age group, in women and in people living in deprived areas.
The estimate for Wales is higher than in other UK nations and all English regions apart from the north west, north east and Yorkshire and Humber.
In a separate report last week, scientific advisers for the Welsh government estimated that up to a quarter of people who have Covid may develop long Covid.
In January 2022, this would have included far higher proportions of Covid cases involving people aged between 50 and 70 - an estimated 43% of those with Covid.
This analysis was used to develop a "social cost" estimate for Covid, which looked at the impact on the NHS of treating Covid at different stages of the pandemic.
With the effects of the vaccine, and less patient time in hospital and intensive care, it meant this estimated cost had fallen from £21,000 per case in the second wave of the pandemic to £5,769 per case by January 2022.
Of this, more than £4,800 per case would be the cost of long Covid.
Until this month Sarah was on full pay, in line with Welsh government Covid sickness absence arrangements.
"My life has been brought to a halt, I can't make any plans. My littlest son Seth is 10, he'll say 'can we do something at the weekend?' and I'll say maybe."
Looking at photographs taken before she contracted Covid, Sarah was a happy, healthy mother and partner who enjoyed the outdoors and went to the gym at least three times a week.
But two years of illness have taken their toll.
Sarah said long Covid leaves her so tired and breathless that even taking Seth to a party last weekend was "impossible".
The venue was up a flight of stairs and there was no lift.
Also, she could not take him on a tour of his new secondary school, and instead one of the other parents took him around the building while she waited alone in the school hall.
The virus has not only taken her strength, but her ability to be the parent she wants to be, and has even destroyed her memory and concentration.
The family is now looking for other ways to keep their heads above water financially.
"Especially with things the way they are, with the cost of living, it's scary," Sarah said.
She said she would go "above and beyond" when working, like everyone else in the NHS, adding: "But it feels like no-one is fighting for me apart from me and I haven't got the energy... especially when you're running on empty even before you get out of bed."
The BBC approached Sarah's employer, Swansea Bay University Health Board, and was referred to the Welsh government.
A Welsh government spokesman said: "NHS Wales and trade unions agreed the arrangements for Covid sickness absence from 1 July to support the transition back to existing national terms and conditions for all absences.
"Organisations can look at individual circumstances on a case-by-case basis and apply different pay arrangements."