Prince Charles airs climate frustration on BBC Wales visit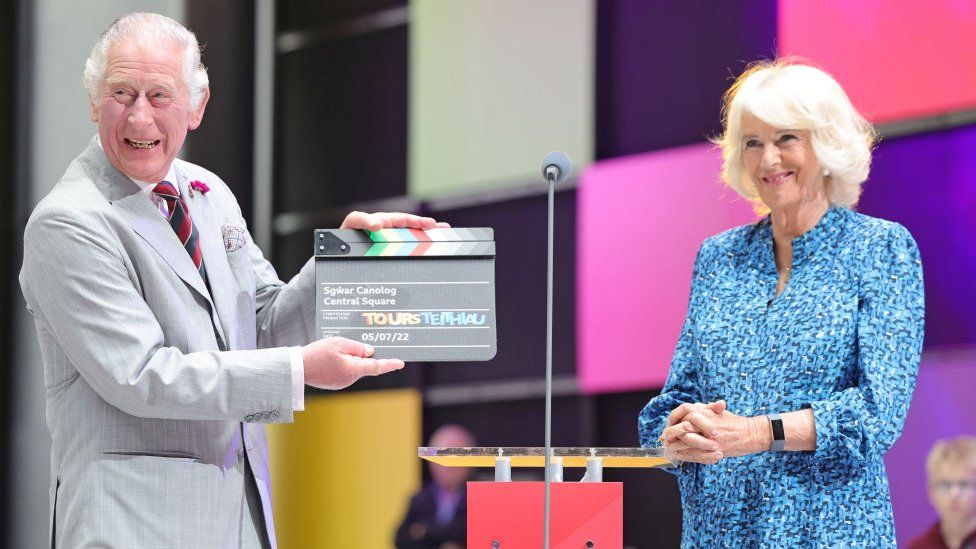 The Prince of Wales has voiced concern that the climate crisis gets too little coverage during weather reporting.
Prince Charles aired his views during a visit with the Duchess of Cornwall to BBC Cymru Wales' new headquarters at Cardiff Central Square.
The visit began with a tour of the broadcast centre, including the new television studios.
He told weather presenter Derek Brockway he was "frustrated" not enough of the climate crisis was incorporated.
"It's about time some mention was made why it's so critical," said Charles.
"We try and build it in," Derek said.
His fellow weather presenter Sabrina Lee explained how she did a mini-series for the COP26 climate conference "talking about the climate change stripes (a form of warning system) in Wales to see how the temperature has changed since 1850.
"Last summer Wales had its first extreme heat warning and we tried to investigate whether climate change played a part in this," she added.
Derek told the prince his interest in the weather started in 1976 when he decided he wanted to be a meteorologist.
"I'm always intrigued watching the local weather," Prince Charles said in response.
The prince also met members of the BBC's centre of excellence for climate and science journalism, which is moving from London to Cardiff.
"Are you covering the remarkable advances and innovative approaches to energy?" the prince asked.
BBC Climate Editor Justin Rowlatt replied that wind generation is "getting better" with the Crown Estate this week announcing a tendering process for floating wind turbines
"As long as they're not sailing into my boat," Prince Charles said with a smile. "I hope there's a bit of tethering."
There was also a meeting with cafeteria staff, including 61-year-old cook Robert Jones, who said as he shook hands with the prince: "It's my birthday today so thanks for making the effort"
"Shouldn't you have a day off?" Charles shot back.
"No, this was much more important," Mr Jones replied.
Prince Charles and Camilla were greeted in the foyer of BBC Central Square by the choir from Mount Stuart Primary School in Cardiff.
The royal couple's visit continued with a visit to the Betty Campbell statue, near the BBC building. It is Wales' first monument to a named, non-fictional woman in an outdoor space.
She was head teacher of Mount Stuart school, Wales' first black head, and a black history campaigner.
Betty's son, Antony Campbell said his family was "very proud" to have the royals visiting the monument.
"[My mum] probably would have said don't make a fuss," he said. "For Prince Charles to come and have a look at it, that's incredible."
They also have an engagement with the 1st The Queen's Dragoon Guards in Cardiff and will host an evening of music and drama at their residence in Llandovery, Carmarthenshire.
During the rest of the week, they will be taking part in events this week to mark the 70th anniversary of Pembrokeshire Coast National Park and the 200th anniversary of the University of Wales.