Welsh independence: Thousands march through Wrexham
By Liam Evans
BBC News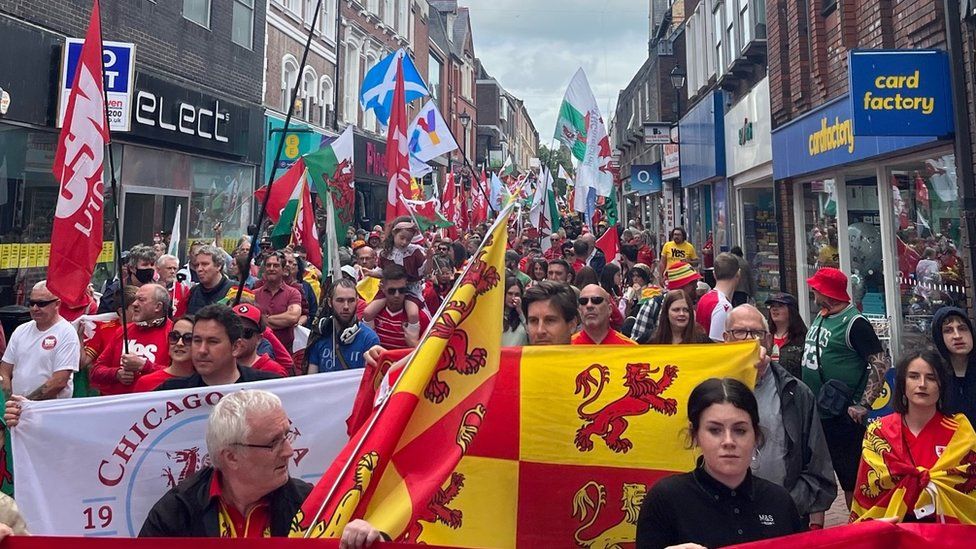 Thousands of people have taken part in a rally in Wrexham calling for Welsh independence.
Organisers said it was a chance for people to express their wish to "go in a different direction".
The event caused some controversy with Wrexham council initially saying a march on Llwyn Isaf - in front of its Guildhall offices - would be a breach of policy.
However, it said officials would not stop the march from going ahead.
The event, led by movement AUOB (All Under One Banner), Yes Cymru and Indy Fest Wrexham is the first since the pandemic.
AUOB claimed between 6,000 and 8,000 people attended the march.
North Wales Police said a "minimum of 5,000 people were in attendance".
Councillor Carrie Harper, one of the organisers of the event, said people were "more interested in that constitutional conversation... especially with a second referendum on the way in Scotland and widespread support for a unified Ireland."
"We have to have this discussion on what type of nation we want," she said.
"The time is right and Wrexham is the place for that conversation."
Supporters at the march said interest in independence for Wales had grown over the pandemic as a response to "what's going on Westminster".
While there was a positive atmosphere at the march, the movement has not been without its challenges in recent months.
Organisers and supporters admitted the pandemic had somewhat halted the momentum behind marches being held across Wales, as the Wrexham event had to be postponed in 2020.
The Yes Cymru movement, which is reported to have gained many more members during the pandemic, has also been at the centre of an internal power struggle.
In December, an extraordinary meeting of Yes Cymru was held to establish a new committee and constitution.
There have also been reports that internal struggles on the direction of the movement had led to supporters withdrawing their membership, with some noting the movement had gone from 17,000 to 8,000 last year.
But as the march got under way in Wrexham, supporters said it was a chance to put differences aside and come together to support the movement.
To the sounds of beating drums, a chorus of Dafydd Iwan's song, Yma O Hyd, which means "still here", campaigners marched from Llwyn Isaf through the centre of Wrexham.
Father and daughter, David and Ela, along with Beti the dog, said joining the march was an important step for them both.
"I think it's important now to start the conversation again and by seeing how things are going down hill in Westminster, we are here to march and talk and meet people," said David.
Ela said: "The momentum is still there. We're from a small place in Denbigh but, coming here, I'm a young person and I think coming here is important for my voice to be heard."
Others had travelled further afield, including Paul Morris from Swansea with his friend from Brecon.
"We're here to give some weight to independence like we do in the south," said Paul.
"I think it's a growing movement. I think everyone knows it is."
Ieuan Evans, from Nefyn, Gwynedd, said: "We're here to support Wales so we can have our place in the world and to not be second to everyone."
But First Minister Mark Drakeford said a pro-independence party would need to win a majority of votes first.
The Welsh Conservatives said independence was "convincingly defeated at the ballot box" at the last Senedd election, when Plaid Cymru came third, while Lib Dems warned leaving the UK would "hurt the poorest in Welsh society the hardest".