Coleg Gwent rugby tourists lose luggage on South Africa arrival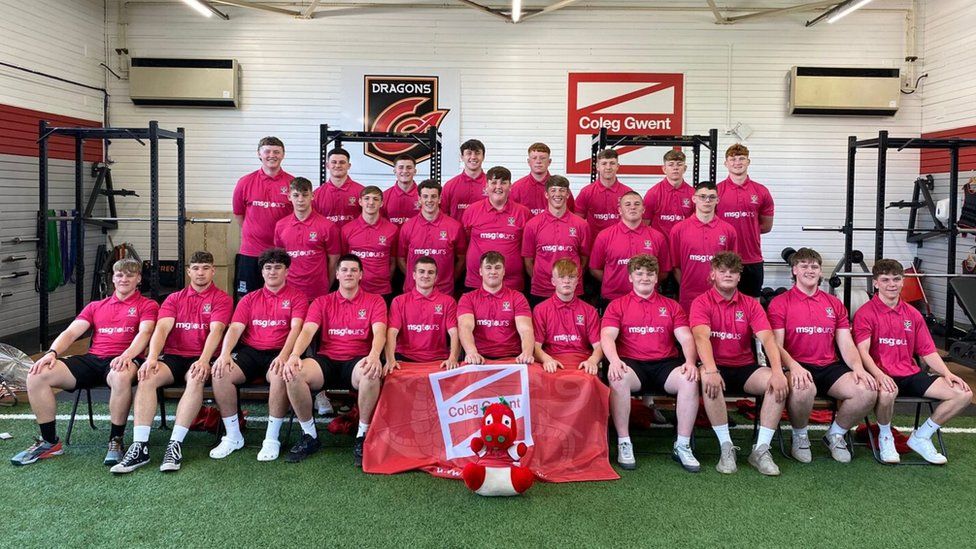 A Welsh college rugby team has been left to train in socks in South Africa, after all its luggage went missing.
The 30-strong squad from Coleg Gwent landed in Cape Town on Monday, after flying from Heathrow via Frankfurt.
But their bags failed to arrive with them and parents say the teenagers were left with just the clothes on their backs.
Airline Lufthansa has been asked to comment, with the bags still not having turned up.
Rugby referee Nigel Owens has got involved tweeting Lufthansa, telling the airline: "Come on, you can do better than this".
Come on you can do better than this @lufthansa. These things happen yes, but no sign of their luggage since the 26th and not one bag but 30 of them. Come on now think of the group of children on their tour/holiday and no luggage. Try and enjoy kids despite the challenges. https://t.co/7tXtrLK8uh

— Nigel Owens MBE (@Nigelrefowens) June 29, 2022
Staff at Coleg Gwent have had to take the boys shopping, and teams in South Africa have helped kit them out for their first match in Cape Town.
The boys are due to fly out to Johannesburg on Friday for two more games, and they will watch Wales take on the Springboks before flying home on Monday.
Claire Gilfillan, mother of one of the boys, said the boys, all aged around 17, were left training bare chested and some of them were barefoot, or in socks.
She said: "The college has tried to help, taking them shopping to buy little bits, and the local community has been great.
"The hostel they're in has been washing for them, and a local school is helping with kit.
"Some parents have been contacting friends living in South Africa to see if they can help, and I tried buying some things on Amazon - but they don't have it over there.
She added that she had transferred money to a card for her son, but he was fed up with not having his own stuff.
"Some of the boys had money in their suitcases, lots of the boys have been kitted out for the summer, or had equipment, chargers in their bag, others had Welsh tops bought to wear to the game on Saturday.
"We're thankful for what the college has done so far, trying to buy them boots, but we've heard nothing from Lufthansa."
Mrs Gilfillan said the boys still managed to do the trips they had planned, including a visit to Table Mountain in Cape Town, but everyone was finding it stressful.
She added: "It's the trip of a lifetime, we've paid £1,200 for the trip, but they've just got the clothes they travelled in.
"No-one will want to sit next to them at the Wales Springboks game."
Managing director of MSG Tours, Mark Gardner, who organised the trip said: "Lufhansa have failed to communicate with us in any form since the arrival of the group in Cape Town on 27 June, breaking their own governance on repatriation of luggage in such circumstance.
"The global tracking system is not showing bags as discovered in their data system, we have no way of knowing whether the bags even left London, or if they are stuck in Frankfurt.
"To complicate things, the group fly from Cape Town to Johannesburg on 1 July for the second phase, including a second match and tickets to South Africa v Wales. If luggage is delivered to Cape Town later than today, bags will be of no use with the matter even more geographically complex."
He added that the Coleg Gwent staff had been positive in adapting to the circumstances.
"They have kept the boys in high spirits, continued with the exploratory itinerary, and used the adversity to great strengths when overcoming difficult opposition last night - albeit with someone else's boots and socks."