Snowdonia: Council asks Westminster to revive Llanbedr bypass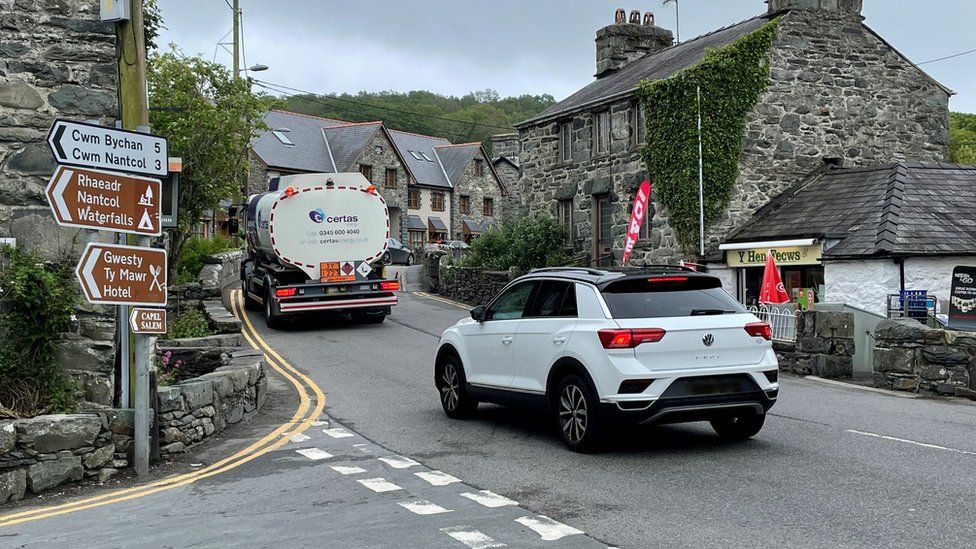 A council is trying to bypass the hold on new road developments in Wales by getting help from Westminster.
Gwynedd Council will bid for UK government cash to try and restore hopes of getting a new road built around a village in Snowdonia.
Wales' deputy minister for climate change, Lee Waters, said building more roads was not the way forward.
The local authority is now seeking up to £40m as part of its share of the UK government's levelling-up fund.
The Welsh government U-turn came after a review of all new road schemes, with ministers accepting the conclusion of an independent panel that the Llanbedr bypass did not fit in with the government's transport and climate policy.
Ministers in Cardiff Bay promised to divert its £3m share of the original proposal towards "sustainable transport schemes" in the area.
Now the council has turned to the UK government's levelling-up fund, which replaced the European Union's structural funding.
Gwynedd will be competing against authorities across the UK for a share of £4.8bn.
Gwynedd Council's new plan includes a "green corridor" with cycle and walking routes and will be submitted to the cabinet in July.
A spokesman said: "The Ardudwy green corridor scheme aims to provide a package of measures that will offer local people and visitors options to travel in a more environmentally friendly way for work and pleasure in a rural area and boost the economy of south Gwynedd.
"The proposal is to submit an application, for approximately £40m, for the construction of a new road to bypass the village of Llanbedr."
Mr Waters said: "We are all facing the same climate change emergency.
"If we are serious about tackling it, we can't go on building more and more road capacity for private vehicles.
"We remain committed to working with Gwynedd Council to deliver improvements at Llanbedr that are in line with our ambitious targets to address the climate emergency."
Related Internet Links
The BBC is not responsible for the content of external sites.