New Quay: Fish has its chips and becomes dolphin's dinner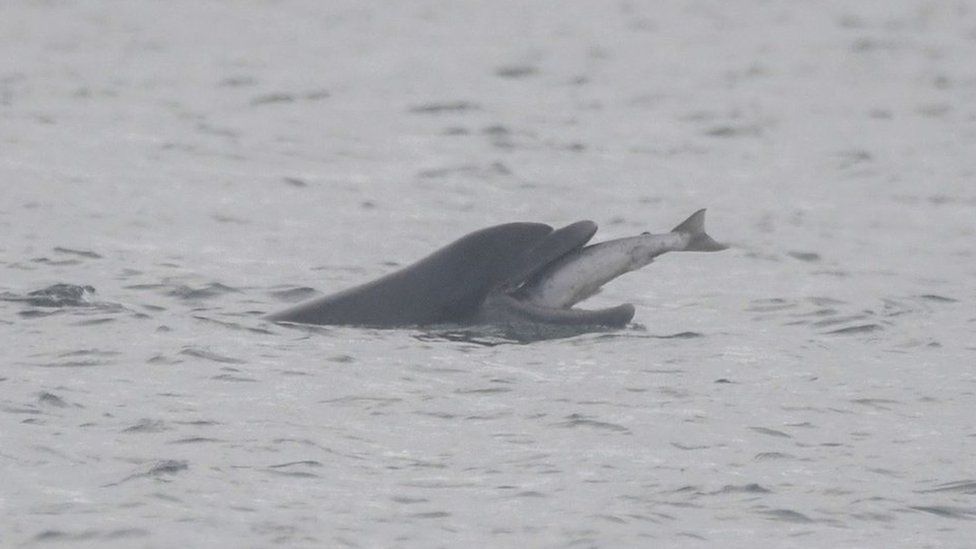 This was moment a salmon reached the end of the line to become a dolphin's dinner.
The image was captured by wildlife guide Joshua Pedley while he was out near Llanina Point, on the far side of Cardigan Bay.
When the 27-year-old saw some movement in the water he immediately grabbed his camera.
Mr Pedley, who works for New Quay dolphin watching business SeaMor, admitted he had no idea what to expect.
He said: "We were watching a mother and calf milling about when their behaviour changed and we saw some quick darting through the water, so I grabbed my camera.
"It was safe to guess something was about to happen.
"I could see there was a fish but it happened so fast I could not be sure what.
"Looking back at the photos it was a salmon coming out of the water one way and the dolphin leaping out at the same time."
It's not clear whether the mammal was working alone when the images were taken last Friday morning.
"It is quite possible there were more dolphins than we could see," said Mr Pedley, who lives in New Quay, Ceredigion, but is originally from Windsor.
As soon as he saw how good the pictures were he got on the catamaran's PA system and told the 10 passengers to come and see them.
It was the first time he had ever captured images quite like that.
They attracted a number of comments when he posted them on Facebook and Twitter.
"A lot of people were surprised to see a salmon," Mr Pedley said.