Census: Wales' population hits new record high but growth is lowest
By Steve Duffy
BBC News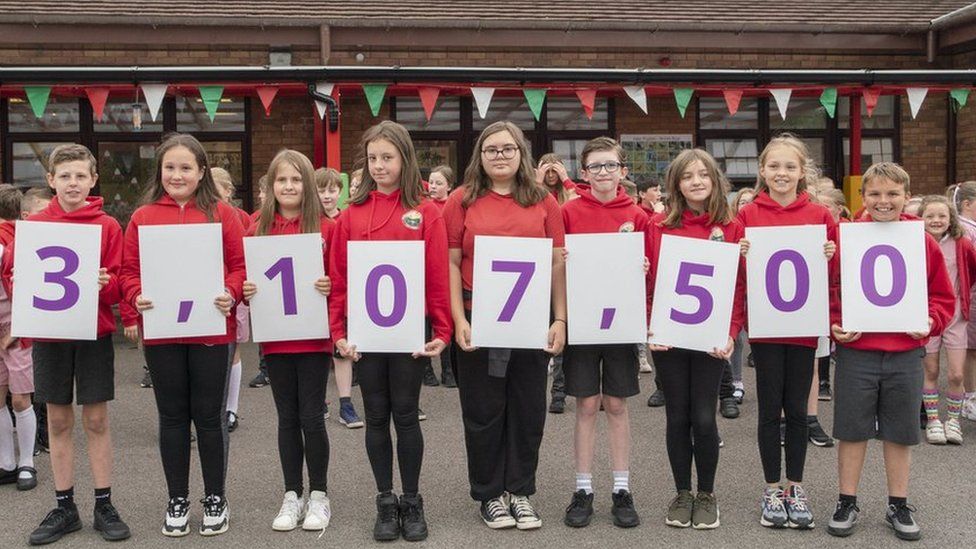 The population of Wales has reached record levels - but it is growing more slowly than in England or any of its regions.
The first results of Census 2021 have been published, revealing more than one in five people are now over 65.
Newport saw the biggest jump in its population in Wales - up 9.5% since 2011.
But seven areas saw population falls, with the 5.8% drop in Ceredigion the third steepest in England and Wales.
The population in Wales on Census Day in March 2021 stood at 3,107,500 - up by 44,000 since the previous census 10 years before.
But that 1.4% growth compares with a 6.6% rise in England.
Even in Newport, which grew the most in Wales over the decade to 159,600, this was only 69th highest rise across England and Wales.
There were 1,586,600 women (51.1% of the population) and 1,521,000 men (48.9%) in Wales, similar ratios to the previous census
There were more people than ever before in the older age groups - with 21.3% over 65, up from 18.4% in 2011
The proportion of under 15s fell slightly to 16.5% of the population - down from 16.9%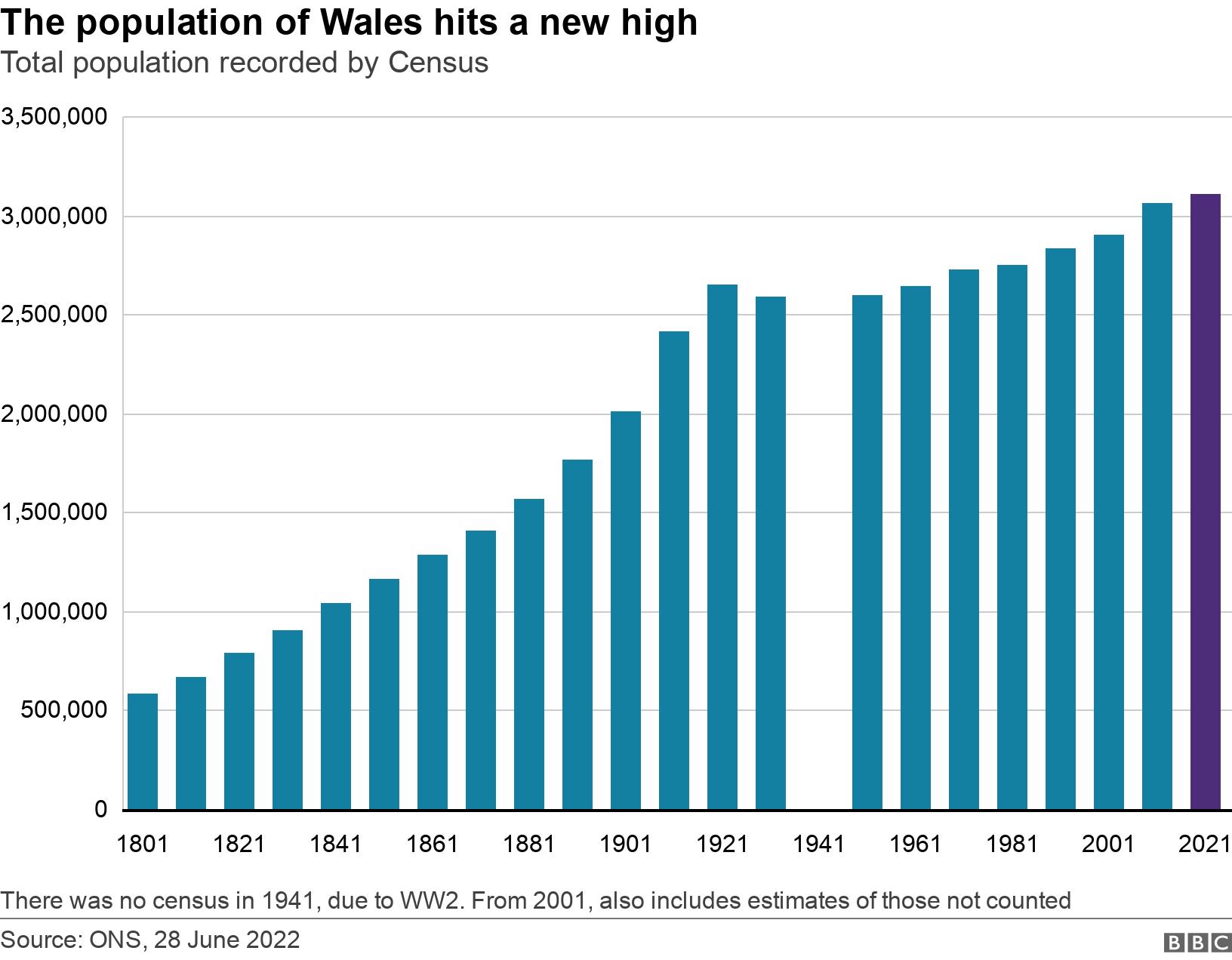 Wales reaches its highest population ever recorded
The new population of Wales is 3,107,500 - up from 3,063,456 on Census day in 2011 - and the highest since censuses began 220 years ago.
The rate of growth in Wales across the last decade (1.4%) is lower than the growth we saw in the 10 years to 2011, when the population grew by 5.5%.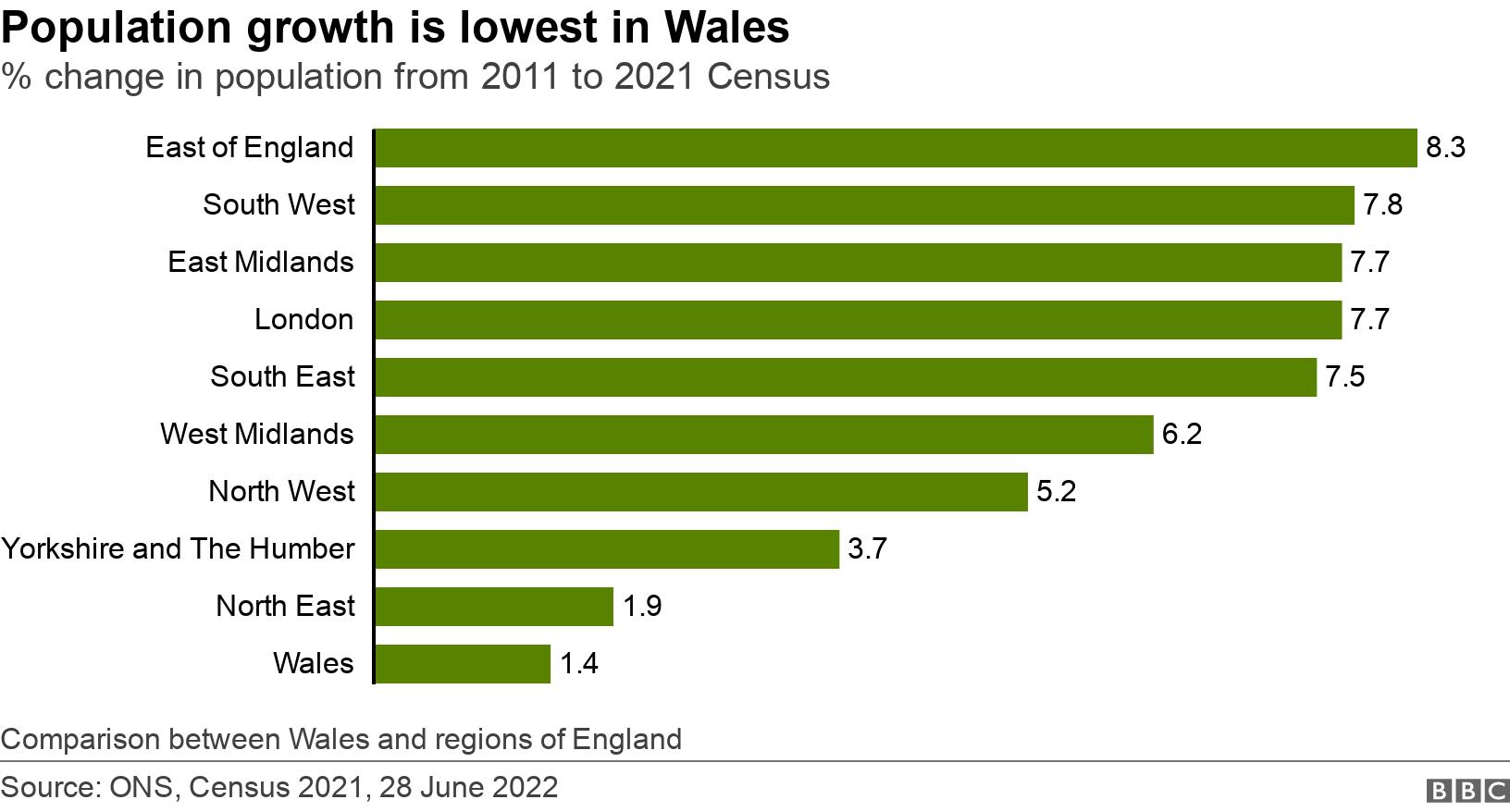 That rate of growth was also lower than any region of England, ranging from 8.3% in the east of England down to 1.9% in north east England, which saw the lowest growth in England.
Which area has seen the highest growth - or fall?
Newport has seen by far the biggest growth in population among Welsh local authorities.
Its population has risen by 9.5%, followed by the capital Cardiff - a 4.7% growth to 362,400.
New housing alongside the River Usk has sprung up in recent years and the end of the Severn crossing tolls in 2018 may have been a factor in attracting more people to live in Newport.
Local estate agent Jonathan Hollins said the city was also competitively priced, compared to its neighbours.
"You can probably get a bigger house with a garden, with a garage, with parking compared to a similar price in say, Cardiff or Bristol," he told BBC Wales.
"You've got the M4 motorway, great bus links, you've got a good train service connecting the local area, and you've also got good quality of life."
Bridgend (4.5%) and Vale of Glamorgan (4.3%) have seen the next biggest increases.
But seven local authority areas have seen falls in population.
The steepest is in Ceredigion, which has seen its population drop from 75,922 to 71,500 (down 5.8%).
There are also fewer people in Blaenau Gwent than 10 years ago - a 4.2% fall, while Gwynedd's population has declined by 3.7%.
There were also declines in Caerphilly, Anglesey, Conwy and a slight drop in Swansea, while there was zero growth in Merthyr Tydfil.
Wales has more older people than most places
Wales had a larger percentage of people aged over 65 than all regions of England, apart from the south west.
More than a fifth (21.3%) of the Welsh population - that's 662,000 people - were aged 65 years and over, up from 18.4% a decade before.
That's a higher proportion than in England, where it rose to 18.4%.
Powys (27.8%), Conwy (27.4%) and Anglesey (26.4%) have the highest proportions of over 65s.
And the over 90s population has risen to 1% (from 0.8%) to 29,700. Conwy has the highest proportion - 1.5%.
Wales also had a lower proportion of people aged under 15 - 16.5% - than in England (17.4%) and lower than regions of England, apart from the south west.
Newport (19%) and Merthyr Tydfil (18%) had the highest proportions of under 15s, while Ceredigion (13.1%) and Powys (14.4%) had the lowest.
What about population density?
Not surprisingly, London is the most densely populated place across England and Wales, with 5,598 people living in every square kilometre.
That's 37 times more densely populated than Wales as a whole.
In Wales, there are 150 people for every square kilometre.
ONS say this is about the same as 1.1 residents for each area the size of a football pitch.
Given the rural nature of large parts of Wales, it's no surprise either that Powys (26 residents per sq km) has the lowest population density.
As well as the least dense in Wales, Powys has the lowest population density of any local authority area in England and Wales, along with Eden in Cumbria, which had been out on its own as the lowest in 2011.
Ceredigion and Gwynedd are also in the lowest 10 areas for population density.
Cardiff (2,572 residents per sq km) is more than three times as densely populated as the next Welsh urban area, Newport (838 people per sq km).
But it only ranks 73rd in densest populations in local authorities across England and Wales.
Your device may not support this visualisation
ONS will be releasing further results from the Census in the months to come.
From October, this will include new questions on sexual orientation, gender identity and previous service in the armed forces.
Results concerning Welsh language ability will also be published later in 2022.
The details the Census provides are used to help policy-makers and organisations make decisions on how to provide a whole range of services in the future.
Related Internet Links
The BBC is not responsible for the content of external sites.