Swansea girl, 7, may need skin graft after burns from buried barbecue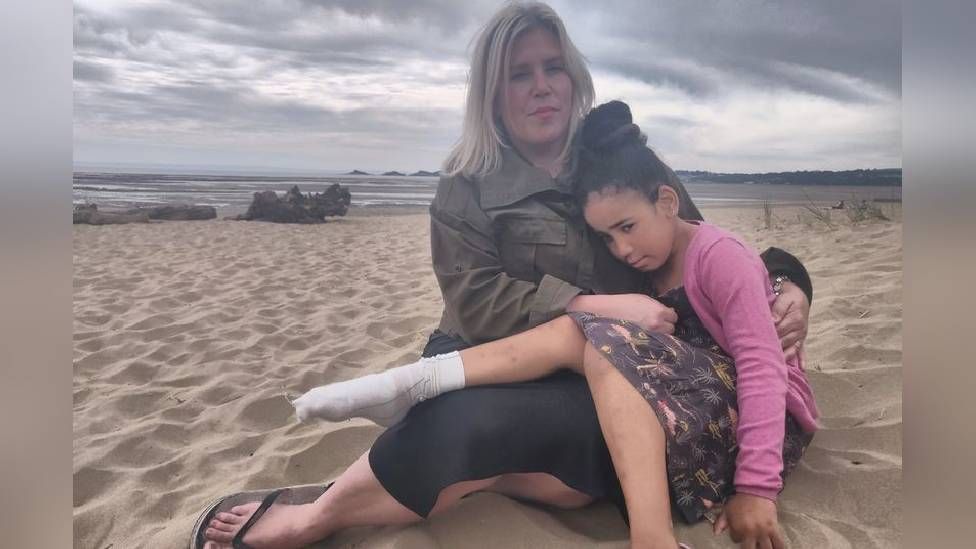 A seven-year-old girl was left with burns to her feet after stepping on a throwaway barbecue buried at a beach.
Alex Adenaike said her daughter, Simi, was now waiting to see if she needed a skin graft for the injury.
She and her family had just arrived at Swansea Bay when her mum heard her let out "a horrifying scream".
Swansea Council warned that barbecues stay hot for hours after use and anyone who buries them in the sand was "simply irresponsible and thoughtless".
Ms Adenaike, from Mount Pleasant, Swansea, said her daughter was initially in too much pain to speak.
"We had only just arrived at the beach and were looking forward to having some fun," she said.
"The children started playing almost immediately and had been running around in the sand. We heard a horrifying scream and my daughter came running back.
"She was in so much pain, she was unable to tell us what happened. Eventually we realised one of her feet was very red and blistered.
"We had some help from some other visitors on the beach to cool down the burn with water and we got her to hospital immediately."
The family found a disposable barbecue in the sand and were told by other visitors a group had buried it before leaving.
Ms Adenaike said: "This is so upsetting and my daughter is now needing further treatment and possibly a skin graft."
She added that there were barbecue bins nearby.
Tips for enjoying a safe barbecue at the beach:
Ensure that you are allowed to barbecue in that location
Place the barbecue on a non-combustible surface which won't melt
Don't bury used barbecue equipment or coals
Before disposal, douse your barbecue with cold water
Use barbecue bins where provided
Remember to dispose of all other litter responsibly too
Swansea council's Cyril Anderson dubbed what happened "horrendous".
The cabinet member for community said barbecues stayed hot for hours after use and could cause serious burns.
The council had installed special bins so people would not leave them behind, he said.
"Anyone who thinks that it's OK to bury barbecues or any other waste in the sand on a day out is simply irresponsible and thoughtless to the injuries they can cause to beach users," Mr Anderson added.