Kinmel Bay: Machine that killed worker was serious risk, court told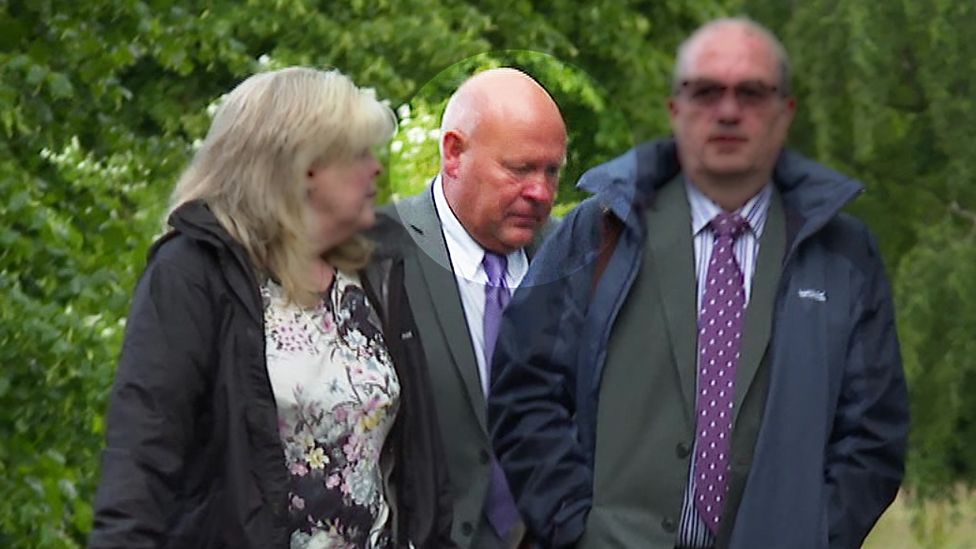 A company director knew a machine that killed an employee carried for users a serious risk of death, a jury heard.
Stephen Jones, 60, admitted he did not spell this out for employees using a recycling machine known as a baler.
Norman Butler, also 60, from Prestatyn, Denbighshire, died in November 2017 after becoming trapped in equipment at Recycle Cymru, in Kinmel Bay, Conwy.
Mr Jones said he "felt sickened" when he heard about Mr Butler's death. He'd only worked at the firm a few weeks.
"I couldn't believe what had actually happened," he told Mold Crown Court.
Mr Jones denies gross negligence manslaughter. He and his company have already admitted failing to ensure the health and safety of employees.
Giving evidence in his defence, Mr Jones, of Rhos-on-Sea, Conwy, said he did not think training at the factory was inadequate and that "it was enough to make it a safe working place."
Mr Jones said Mr Butler, who started at the company three-and-a-half weeks before he was killed had the same starter pack as other staff.
That contained risk assessments and safe systems at work documents.
Mr Jones told the court he would have gone through personal protective equipment, and taken Mr Butler to the factory floor to see the equipment.
"He seemed knowledgeable about the recycling industry and said he had used similar machines before," Mr Jones said.
He added he had not expected Mr Butler would use the cardboard baler alone so soon after starting at the company.
The jury heard Mr Jones saw Mr Butler driving towards the Kimnel Bay factory in his work van as he was going home on 30 November, 2017.
He said he assumed grandfather Mr Butler was going to drop the van off before going home himself. 
But the dad-of-three went back to the factory and got stuck inside a baler, used to compress waste cardboard into cubes for recycling.
His body was found three hours later by a colleague.
Craig Hassall QC, prosecuting, asked Mr Jones about the system to clear blockages from the baler.
He was asked why its isolation switch was not locked-off in accordance with the firm's policy.
Mr Jones said the machine had "not come" with padlocks and he felt it was "more than enough" to switch the machine off and use safety keys in the control panel before inspecting the machine. 
Employees would regularly clear blockages in the baler, sometimes climbing the conveyor belt to reach the top of the machine.
Mr Jones told the court they would only work by themselves if they had worked there a long time. 
"There are signs on the machine to say just how dangerous it can be," he said. 
The court heard two guards had been removed from the machine and were propped against a wall.
Mr Jones said they were sometimes taken off if dust was being created and could have been there a couple of weeks.
He admitted there was no good reason they were not in place that day.
The court heard Mr Jones told a health and safety inspector, who visited the plant the day before Mr Butler's death, there were only two employees and two directors at the firm, when there were six staff.
It was put to him that if there were five or more employees written health and safety rules should have been in place.
Mr Jones denied lying to the inspector and said he had no reason to hide anything.