Wildflowers: Should grass cutting be stopped in summer?
By Steffan Messenger
BBC Wales Environment Correspondent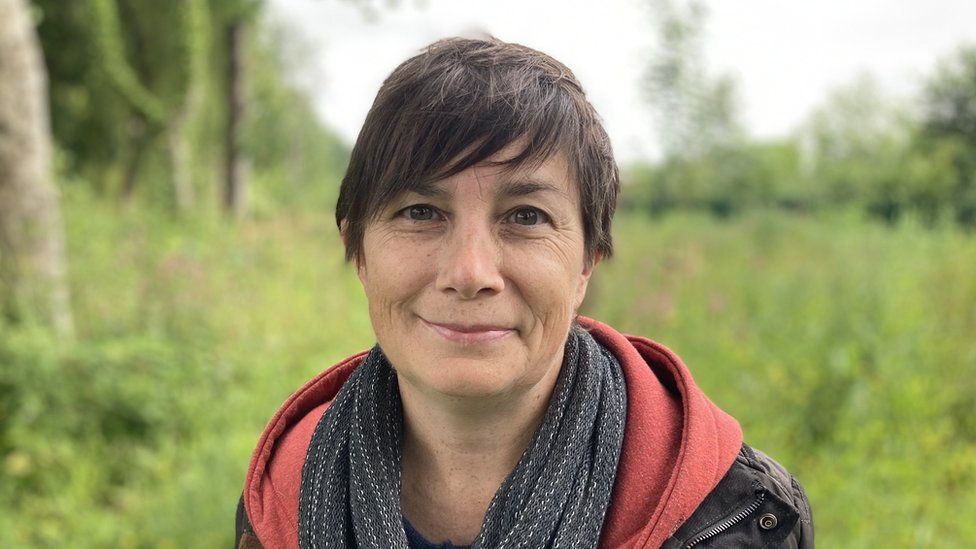 "Thinking it looks untidy is a perception."
Veronika Brannowic's job includes fielding complaints about a reduction in grass-cutting by Torfaen Council to help nature and tackle climate change.
Residents have told BBC Wales it could be "dangerous" if verges were not cut as it could affect roadside visibility.
While Ms Brannowic admitted the change had led to "a lot of complaints", she said she hoped others would go further and lock away their mowers all summer.
Despite many arguing loudly that letting areas grow wild looks "untidy", perceptions have been changing, she said.
A shift away from regular grass cutting has perhaps been one of the most noticeable responses by local authorities in recent years to efforts to help the environment.
Things "really took off during the first lockdown", according to Ms Brannowic, a local nature partnerships coordinator.
Covid restrictions led to less mowing and a chance to see which areas then had "lots of wildflowers growing in them".
She is responsible for about 150 different sites and areas were chosen along verges, green spaces within housing developments, and parks where the grass now grows long until the autumn.
Far from being a money-saving exercise, it has involved buying new equipment with Welsh government funding so council workers can chop down and rake up wild areas once nature has run its course.
"Thinking it looks untidy is a perception - I can't change that," she said.
"What I can do is extol the benefits of what we're doing."
Leaving areas to grow has benefitted pollinating insects and the wildlife that feeds on them like birds and bats, she said.
Longer grass also draws more carbon emissions into the soil, and mitigates against the effects of climate change like flooding, she added.
One of the sites being managed differently is Cwmbran boating lake where we looked on as Ms Brannowic spoke with people.
"It's a bit of a bother to be honest," said Thomas Evans, whose two dogs love running in the grass.
"It's harder to pick up after them when it's long."
But, after talking to Ms Brannowic, he said he could "understand the climate change and nature thing is important and there needs to be a balance".
Nearby, local community groups were planting wildflower plugs.
"It's good for the bees, and it keeps the earth going," said Luke Groves, a student at Coleg Gwent.
Tutor Emma Parsons added that the change was "great for everyone's wellbeing".
Sat on a bench, taking in the views, Alan Kear said there were "lots of places where they're not cutting grass when they should be".
He said he was worried about it affecting visibility on roads and roundabouts, adding it could be "seriously dangerous".
"Don't worry about wildflowers," he concluded, as they have nature reserves.
Ms Brannowic said regular cutting continued in areas where visibility was an issue.
"You can't just rely on nature being in a nature reserve," she said.
"We're at a point in Wales and globally where we need to be enhancing nature everywhere we can - in our gardens, parks and along road verges."
Campaigns such as No Mow May - where homeowners are urged to leave their lawnmower in the shed for a month - have helped, but she said she would champion a "No Mow Summer" message.
What are other Welsh councils doing?
As well as addressing biodiversity loss, some Welsh councils acknowledged financial pressures affecting grass cutting, with Ceredigion Council pointing to the need to "deliver a service that is resource efficient".
Cardiff said it had introduced a one-cut per year policy in certain areas since 2015, with the number of sites being managed this way having now reached the equivalent of 217 football pitches.
Powys said it had altered its cutting regime for urban road verges so that "much more of the verge is left uncut on the first and second cuts to support wildlife". Rural verges have one cut per year, except where visibility is required.
Newport said it held Bee Friendly City status and had suspended all mowing during the month of May as a result.
But it added that it continued to mow in safety critical areas and in amenity areas such as sports pitches.
A total of 17 out of the 22 Welsh councils responded to a BBC Wales request for details on their mowing practices with Monmouthshire saying a "combination of public engagement and a desire of staff to want to do more" had spurred them on.