Anglesey: Anger as Welsh-named home advertised in English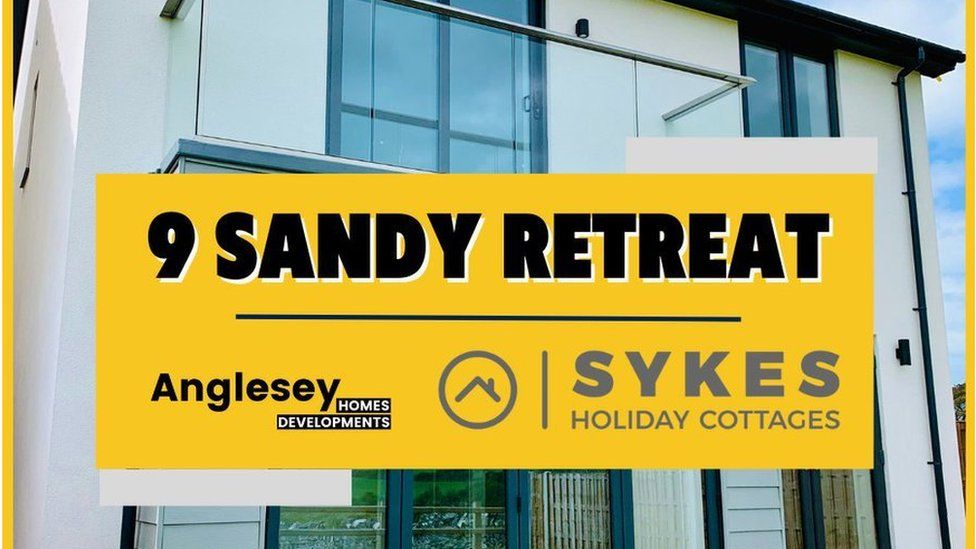 A property firm advertising a holiday home using an English name rather than the original Welsh showed "pure disrespect", a council leader has said.
Llinos Medi said Anglesey Homes showed "a lack of understanding" by promoting 9 Gwel yr Wyddfa, in Llanfaelog, Anglesey, as 9 Sandy Retreat.
The firm said it was a misunderstanding and the official name had not changed.
Plaid Cymru's deputy leader, Rhun ap Iorwerth asked if deleting Welsh was part of the company's business plan.
The furore over Gwel yr Wyddfa, which translates as view of Snowdon, has prompted further calls for the Welsh government to pass legislation to protect Welsh place names.
In response, the government said it was taking the matter "seriously".
Gwyneth Parry, who lives nearby, said she was disgusted by the post.
"How can they put a name like Sandy Retreat? The sand is a good walk away, you're not on the beach here," she said.
"Hopefully we'll be able to stop this. I know a lot of people are unhappy about this. It's the Welsh language, we're on Anglesey and we should keep houses with Welsh names. It's important."
Speaking on Radio Cymru's Dros Frecwast, Ms Medi called the promotion "disappointing", saying it showed "pure disrespect towards us and our language".
"If they want to attract holidaymakers, they're bringing them to the Welsh language, to feel part of Welsh society," she added.
Anglesey Homes said it named the development Gwel yr Wyddfa as part of an agreement with Anglesey council.
But the nine properties were sold to third parties, it said, including the number nine unit.
"The owners of the property have independently decided to attach a plaque to their house, 'Sandy Retreat'," it added.
"They feel their house is a retreat to them - as an owner they are entitled, like anyone else, to put a plaque on their property," Anglesey Homes said in a statement.
"But this does not have any effect on the address of the development and road which is proudly named and will remain named Gwel Yr Wyddfa."
Ms Medi said she was frustrated by people placing blame on the council, whose "hands are tied" when it comes to changing the name of individual properties.
It is council policy to write to developers who choose to change Welsh names into English, but they have no means of "enforcing [rules] in any way".
The situation underlines the need to legislate to protect Welsh place names, she added.
"The problem is that they've got the right [to change names] because the government won't stand up for the Welsh language and our right to maintain our heritage."
The Welsh government said it was "committed to act to ensure that Welsh language place names in the built and natural environments are safeguarded and promoted for future generations".