NHS Wales waiting times: Two years growth and new record
By Steve Duffy
BBC News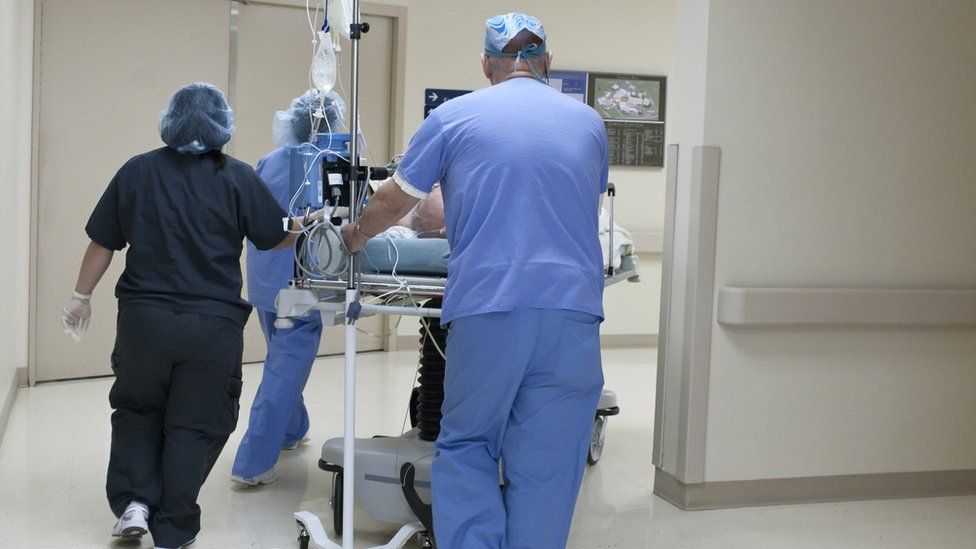 Waiting times for hospital treatment in Wales have again reached record levels, latest monthly figures show.
They reveal two years of solid growth since the Covid pandemic began.
But the longest waits - those of more than two years - are starting to go down, although 68,000 are still waiting that long.
The figures for April show more than 707,000 patients were waiting for hospital treatment, although the rate of increase has slowed.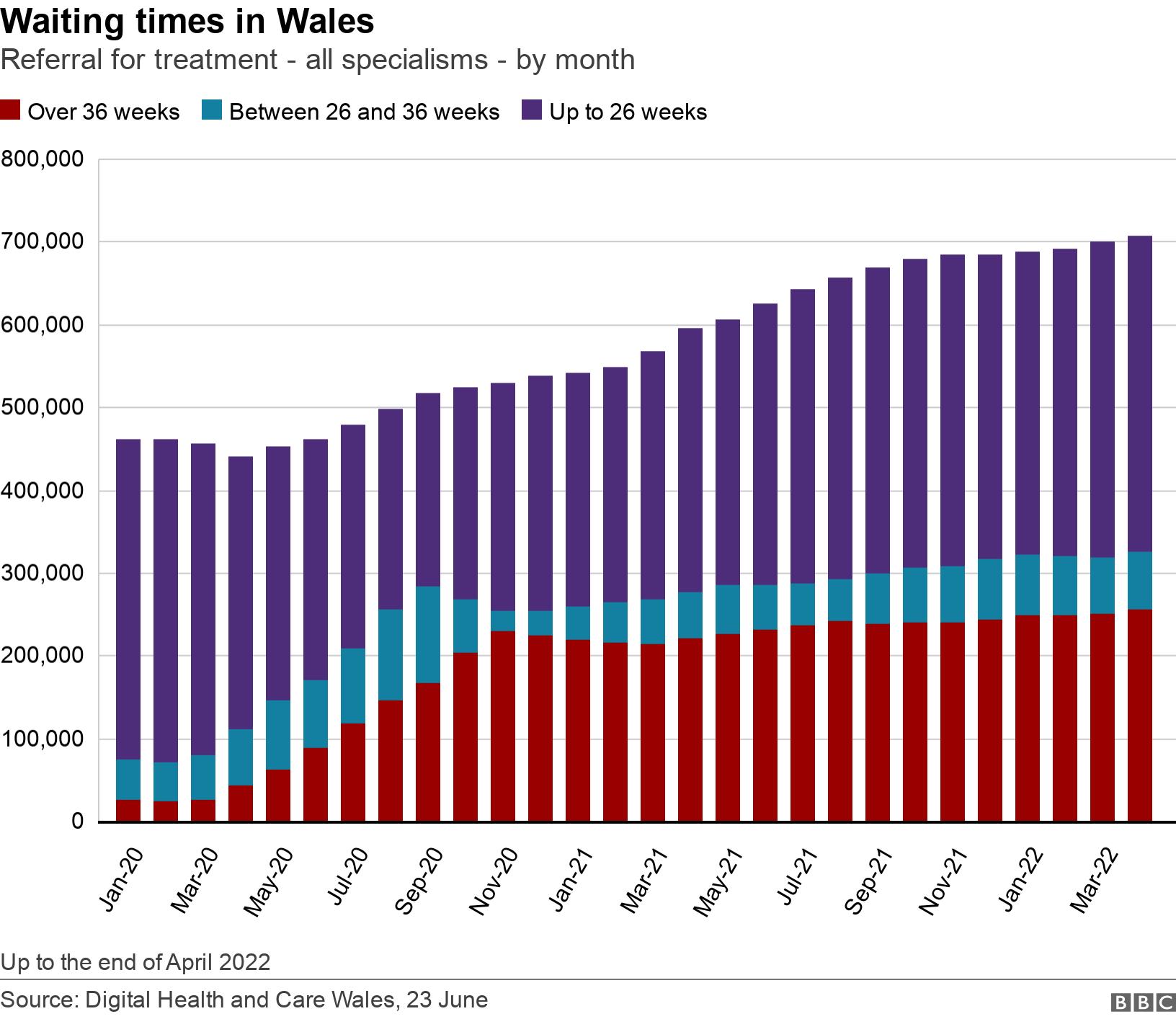 The latest NHS performance figures published on Thursday also showed a 24th successive month of rising waiting lists.
The total number of "patient pathways" rose to 707,098 waits for hospital treatment in April, but the rate of increase has continued to slow down.
As one patient may be on several "pathways" to treatment, the number of patients affected will be lower.
This chart shows how those waiting longer than two years have started to go down after rising for 29 months and sharply during the pandemic.
There were 240 people waiting more than two years in February 2020 but that rose to a peak of 70,417 in March 2022. That's now dropped by 2,385 to 68,032 in April.
There were still 171,409 people waiting more than 12 months.
The numbers waiting longer than 36 weeks reached the highest on record - at just over a quarter of a million (258,189).
Numbers of patient pathways in orthopaedics rose slightly overall, while those waiting more than nine months for treatment rose to more than 53,650.
There were also rises in specialisms such as ear, nose and throat and in general surgery.
Waiting times in emergency units showing slight improvement
The performance against both four-hour and 12-hour targets improved, compared to the worst on record two months previously
A total of 66.6% of people were seen within four hours at A&E in May, compared to 65.9% in April
There were also improvements at the two worst performing A&Es - with the figures slightly better at 41.8% at Ysbyty Glan Clwyd in Denbighshire and 42.2% at Wrexham Maelor
There were 235 fewer patients waiting longer than 12 hours to be treated, compared to the previous month. There were still 10,226 waiting and the target is that no-one should be waiting this long
Average daily attendances at A&E during May showed a rise - 250 more attendances a day than the previous month.
Improvement in ambulance response times
While the total number of calls to the ambulance service fell, they took a higher number than usual of life-threatening calls.
An average of 116 of these so-called "red calls" were made per day in May, which is the 12th month in a row where the service typically took more than 100 of the most urgent calls a day.
The target is to reach 65% in eight minutes, but in May the figure was 54.5% - an improvement on the previous month.
Cancer waiting times worsen
There has been a deterioration in cancer care figures, where fewer people started their treatment in April, and fewer people started their treatment within the target of 62 days, compared to the previous month.
Macmillan Cancer Support in Wales said performance had dipped for the four most common types of cancer - breast, lung, urological and lower gastrointestinal.
Richard Pugh, head of partnerships at the charity, said: "These delays mean they and their loved ones faced distressing and worrying delays, which could impact on the success of their treatment."
He said cancer services were struggling to cope with demand despite the valiant efforts of NHS staff.
What's been the response?
The Welsh government said health services were still continuing to recover from the effects of the pandemic.
"We have seen more people coming forward with health concerns but the reduction in working day due to the Easter holidays will have impacted scheduled care capacity," a spokesperson said.
"April saw fewer referrals for first outpatient appointments compared to the previous month."
It also pointed to the first fall in the two-year waits since the start of the pandemic and also improvements in patient pathway waits for therapies.
But the ambulance and A&E services remained "under considerable pressure" because of capacity challenges across the health and social care system.
"This has been accentuated recently by higher than anticipated levels of sickness absence," the Welsh government said.
"We remain concerned about the levels of delay experienced by patients on occasion and are working with all stakeholders through national programmes to support improvement."
Darren Hughes, of the NHS Confederation in Wales, which represents health boards, said demand remained extremely high, while demand coming through the front door was "relentless".
"Despite this, performance against emergency department waiting targets, including the average time spent [in them], has improved slightly."
"What we don't see in these statistics are the huge pressures across the whole system, on GPs, pharmacies, and other community services, as well as the number of patients unable to be discharged from hospital because of the ongoing pressures facing social care."
The Welsh Conservatives said the Welsh Government's record was "shameful."
Russell George MS, health spokesman, said: "I really do feel for anyone who finds themselves languishing in pain on this directory of the damned. Their day-to-day lives could be severely hamstrung as well as their ability to earn during a cost-of-living crisis."
Plaid Cymru's spokesman for health and care Rhun ap Iorwerth called for capacity to be increased, adding: "These latest figures show that NHS Wales remains in gridlock - and this has a knock-on effect throughout the whole health and care system."
Welsh Liberal Democrat leader Jane Dodds said: "These shocking figures show that ambulance delays for life-threatening calls are still far too high and that rural areas are among the worst affected."
Related Internet Links
The BBC is not responsible for the content of external sites.