Commonwealth Games: Baton relay for dad after Covid death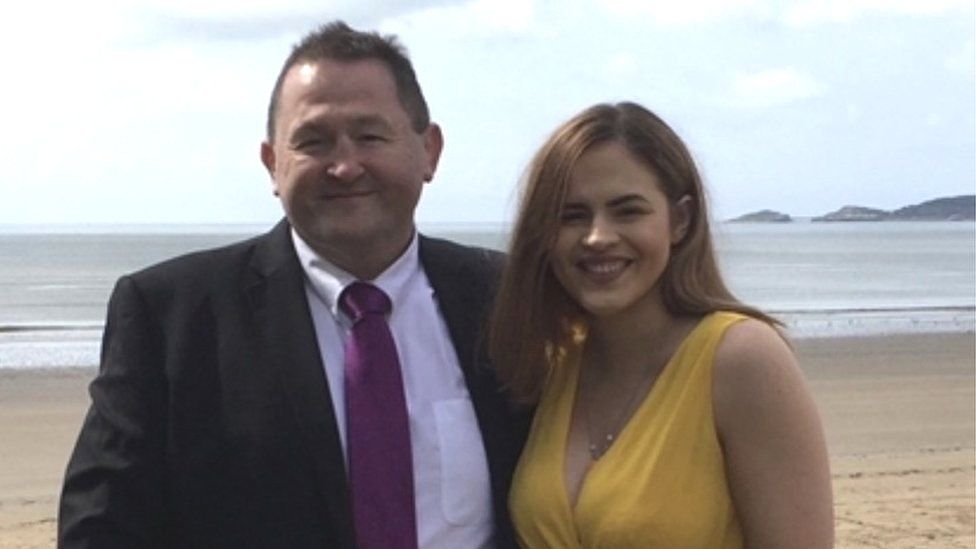 Three days after her dad died with Covid, nurse Ellen Sellwood was back working in A&E trying to help others with the virus.
Now the nurse is set to carry the Commonwealth Games baton for her sport-loving dad who she said was "everywhere in the community".
Ellen is one of a number of young people taking part in the relay, which began in Wales on Wednesday.
She said she "hopes he is proud".
People were able to nominate others to carry the baton in the lead up to the July games, with the relay to take place over five days across Wales.
The relay, which leads up to the Commonwealth Games in July, began in Anglesey and will spend five days touring the country.
The Covid nurse honouring her dad
When A&E nurse Ellen lost her father John to Covid on 8 April 2020, she said being back at work and caring for others was what got her through.
John, from Aberfan, played a massive part in sport in the community, as a swimming teacher, volunteer, coach, staff member at Merthyr Leisure and finally sport development manager for Merthyr Tydfil County Borough Council.
For this reason, Ellen runs not just in recognition to her commitment to the NHS but also in memory of her dad who was "everywhere in the community".
Ellen, who works as a nurse in the Royal Glamorgan Hospital, Llantrisant, said: "I lost my dad right at the start.
"He went to hospital on 31 March 2020 and he died in ICU on 8 April, so it was very quick.
"I came back here three days later and it was a totally different world with all the new PPE and guidelines but it was everyone's attitude that got me through."
Ellen said that during lockdown she was glad to be in work so she was able to be with people, and that going back was "the best thing to do that the time".
She said: "I love my job and I love what I do, but it has been hard as a lot of patients reminded me of my dad because they were the same age group."
Ellen said her initial thought when being asked to take part in the relay was "I don't run" but is excited to take part on day four.
"My dad was such a phenomenal person in Merthyr and he always told me and my brother, who also works in the NHS, that he was really proud of what we do.
"I hope he is really proud of what I have continued to do in his absence because I was always so proud of what he did."
A refugee and her host sister
Mariia and Martha, from Holyhead, Anglesey, are a unique duo running with the baton, as the former strangers now share a home as host sisters.
Mariia had to leave Mykolaiv, Ukraine and her father due to the ongoing conflict to the UK with her mother Viktoriia and they both now live with Martha and her family.
The school they both attend, Ysgol Sigma Caergybi, nominated them to carry the baton.
Mariia said: "I think I was chosen to carry the Queen's baton because I'm from Ukraine and in my country now there is war and British people are helping Ukraine.
"I feel excited and proud to represent my country and I want to remind people that the war in Ukraine is still going on and people are still dying - I want to ask all politicians to stop the war."
Both girls are excited to be part of the relay on day one and Martha said she thinks she was also chosen "because me and my family provided a home for Mariia and her mum who are from Ukraine, and the school recognised that this was a kind thing to do".
"I'm proud and pleased to be chosen to carry the baton," added Martha.
'It's been a topic of conversation every day'
Kai Frisby, 15, from Aberystwyth, Ceredigion, is a wheelchair basketballer who is also set to carry the baton.
Having represented Wales and Aberystwyth, Kai said he was excited to be part of the games on day two, even if the Welsh International under 15 Squad he played for did not qualify.
The pupil at Penglais School said: "It's a great honour and something I never really thought I'd get the opportunity to do.
"Very few people who get chosen to do it so it's a great opportunity."
Kai, who found out via email he had been chosen, is "a little but nervous but generally excited", with his family "non-stop" talking about it as "a topic of conversation every day".
He added he feels proud to represent the sport and that "it's important because it gives the recognition for what the sport can achieve and it has just been great recognition for a Paralympic sport".