Are Llandudno's wild goats a positive or a plague?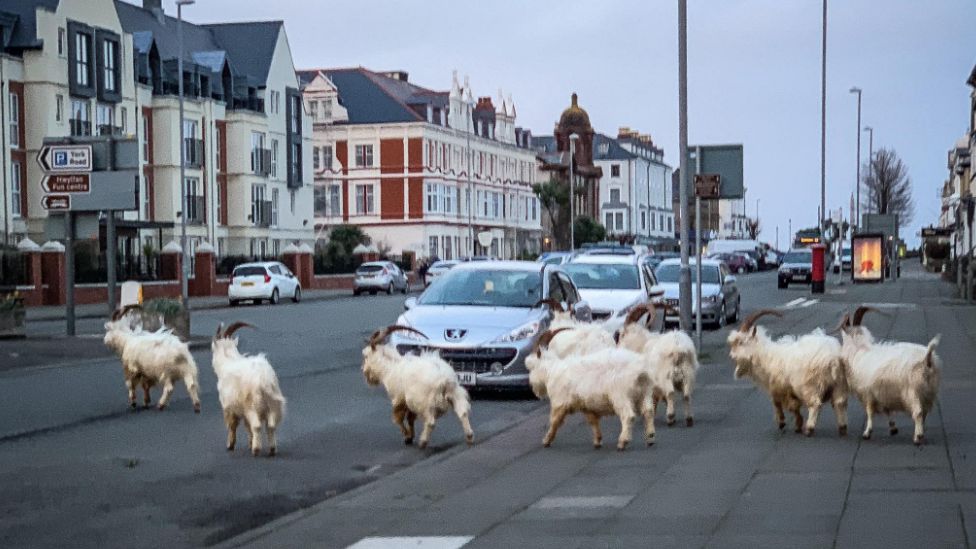 A row is brewing over whether to take action against a famous herd of roaming wild goats.
The Kashmiri goats have lived on the Great Orme headland above Llandudno in Conwy for more than 100 years.
However they have been described as a "plague" by residents tired of gardens being eaten, droppings left in the street and concerns over road safety.
Others insists the goats are a key part of the area's character and should be protected.
Conwy council said the goats are wild animals and there are no plans to intervene - at the moment.
The herd has long ventured into the town when food is scarce in spring.
However, the goats have grown both in numbers and notoriety since the Covid pandemic.
For Phyl Oliver, 77, planning restrictions in the Liddell Park area mean she is unable to put up a permanent fence to protect the front garden she tended to while recovering from cancer.
"It's like having a plague of locusts or a plague of frogs," she said.
"I've had elderly people here weeping because the rose garden that their late husband built for them has been devoured.
"A garden isn't just plants - it's a lifelong hobby. It motivates you to get out and do something, and it's important for mental health [but] it's being taken off me.
"I'm stuck with temporary fences, goat manure and, quite honestly, I cannot be bothered coming out in the morning because I don't know what I'm going to face.
"We love the goats, they're beautiful, but we want them on the Great Orme please - not in people's gardens."
She is among several people to complain to the council, raising other issues such as road safety because the goats walk slowly across busy roads.
The council insists the goats are not its responsibility but it has worked with organisations, such as Natural Resources Wales and the RSPCA, to control numbers by sending them elsewhere.
However there are plenty of residents who believe the goats should be allowed to carry on roaming.
"They are special part of Llandudno, everyone knows about them and where they might be hiding," said Ruby Williams.
"Locals were brought up with them and, in the main, people are fans.
"My driving has changed a lot since goats started becoming a regular feature in this part of town.
"They make me smile when they give you staring stern looks as they cross the road.
"Send them away? No, this is their home and visitors love them."
Aberconwy MS Janet Finch Saunders said the goats were "iconic" but that she had received complaints.
"People are expressing concerns about safety but also that this unique feature of our community might be lost if some goats are taken away," she said.
"We need everyone to sit down and work out the best solution."
Conwy council said organisations aim to maintain a sustainable goat population for the Great Orme
A spokeswomen said: "If the goats are still in urban areas during rutting season, we will look to assist with their relocation back to the Great Orme - if animal behaviour experts agree - as this is when they are most likely to stay there and will reduce the intervention levels considerably."