Petrol prices: Fuel costs making driving lessons unaffordable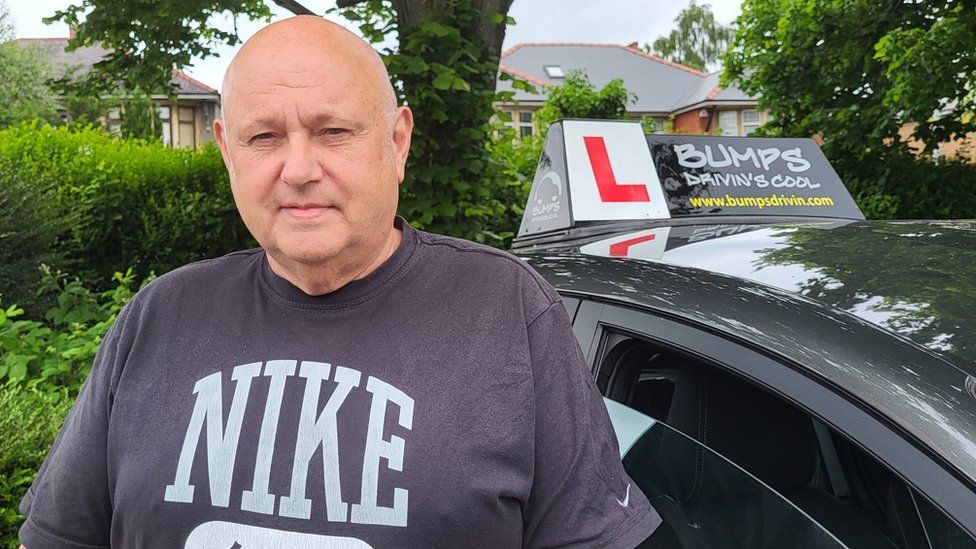 Driving lessons are at risk of becoming unaffordable as rising fuel prices will be passed on to pupils, an instructor has said.
Keith Willicombe, from Cardiff, said he was having to review his prices after delaying for as long as he could.
He said people were starting to be priced out of lessons.
According to the RAC, the average price for a litre of petrol has risen to £1.82, while average price of diesel was £1.88 per litre on Thursday.
On Tuesday, the price of petrol saw its biggest daily jump in 17 years, with an average rise of 2p per litre.
Earlier, the cost of filling an average family car with petrol topped £100, which the RAC called a "truly dark day".
The motoring group also warned that fuel could cost £2 per litre soon.
Mr Willicombe told BBC Radio Wales: "If you've got the money to be able to afford lessons, great. If your income is tight then you're just not going to be able to learn to drive."
He said in January he would normally spend about £42 to fill up his tank, which he does twice a week.
But a full tank for his car now costs £57, taking up his weekly spend on fuel to more than £100.
"The average price for a lesson in Cardiff is £32-£35 [per hour]. For someone taking 35 hours of lessons to prepare for a test, you're talking over £1,200.
"With families' budgets coming under such pressure to find that over a four-month period is an incredible amount of money to find," he added.
He added he had "deliberately held back" from any price increases until now.
"I was hoping things would settle down with the oil prices, maybe production would come along or the government would cut the duty on fuel to help out.
"But it's getting to the point where we are going to have to put our prices up in the next couple of weeks," he added.