Aberystwyth: Knife Angel highlights crime's 'devastating impact'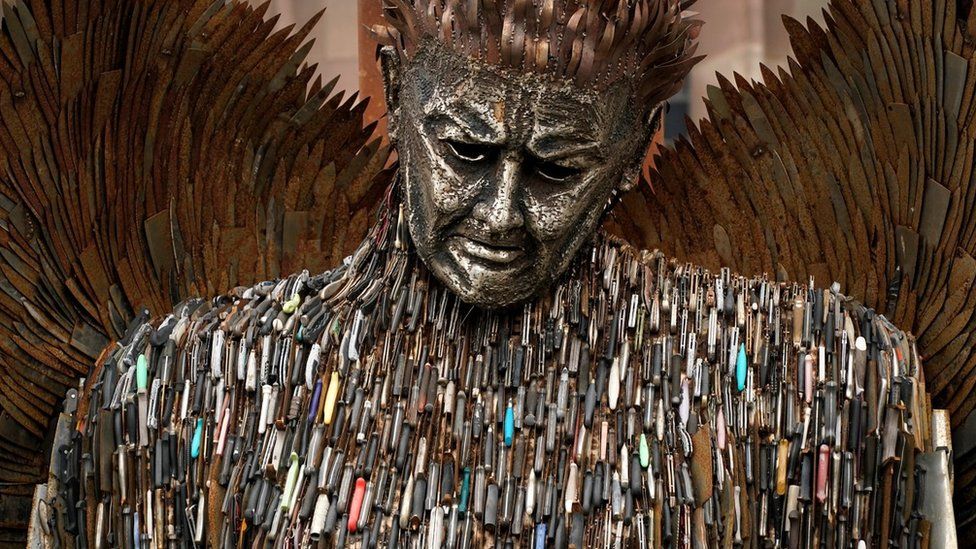 A giant sculpture made of more than 100,000 knives has gone on show again in Wales to promote "widespread intolerance to violent behaviour".
Wales has seen a 105% increase in knife crime over the past decade, according to Dyfed-Powys Police and Crime Commissioner Dafydd Llywelyn.
The 27ft (8.2m) Knife Angel is on display at Llys y Brenin in Aberystwyth, Ceredigion.
Mr Llywelyn said it was a "reminder of the devastating impact of knife crime".
The sculpture has been made using knives surrendered or confiscated by police, including some from the Dyfed-Powys force area.
It is known as the National Monument Against Violence and Aggression.
Mr Llywelyn said: "Whilst there has been a 105% increase in knife crime in Wales over the last decade, rest assured that the Knife Angel has not been brought to Aberystwyth because of any major problem with this kind of crime in the area.
"However, we do acknowledge that knife crimes have taken place here within the last year.
"Although a proportion of these were domestic, not street based, it is worrying that a small number of these involved suspects under the age of 18."
He said that the police and partners had "come together over the last six months to put interventions in place to divert children from knife crime".
"Prevention of crime and diversion away from crime is essential," he said.
Aberystwyth mayor Dr Talat Chaudhri welcomed the sculpture's arrival and said the community stood with other "towns and cities where knife crime is a bigger problem".
"There is no place for violence of any kind in our community," he added.
The sculpture has visited 20 towns and cities in the past five years, and first appeared in Wales in 2020 at Newtown, Powys.
It is on show in Aberystwyth until 29 June and it is due to visit Wrexham in October.
It was created by artist Alfie Bradley after being commissioned by the British Ironwork Centre in Oswestry, Shropshire.
Related Internet Links
The BBC is not responsible for the content of external sites.