Monkeypox: First case of outbreak confirmed in Wales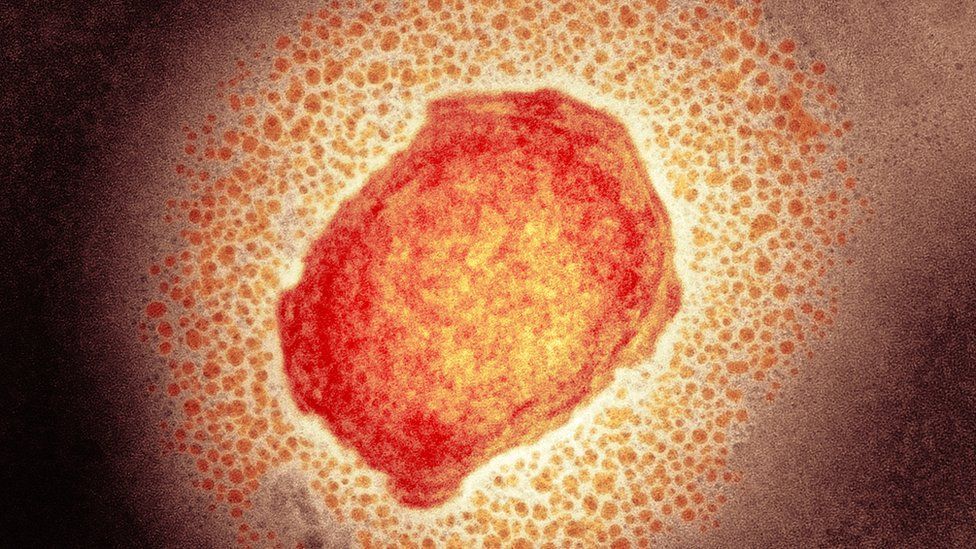 The first case in the latest monkeypox outbreak has been identified in Wales, public health officials have confirmed.
Public Health Wales (PHW) said the case was being managed "appropriately" and no further details about the patient would be disclosed.
It added the overall risk to the general public was low.
According to the UK Health Security Agency (UKHSA) there were 79 cases reported of monkeypox in the UK as of Tuesday.
The UKHSA said it would update the totals later on Thursday.
Health Minister Eluned Morgan said contact tracing was under way.
She added: "The confirmation of this case in Wales is not unexpected in light of the developing situation in the UK and in a number of countries around the world."
Director of health protection for PHW, Dr Giri Shankar, said prior to this case being confirmed, PHW was working with the UKHSA, as well as public health agencies in Scotland and Northern Ireland, to respond to cases, and were well prepared for managing such incidents.
He added anyone with unusual rashes or legions on any part of their body should contact NHS 111, or call a sexual health service if they have any concerns.
Dr Shankar said: "It is usually a mild self-limiting illness, and most people recover within a few weeks, however, severe illness can occur in some individuals.
"In the current incident we are seeing presentations of cases mainly in gay, bisexual men, and men who have sex with other men, but nobody is immune from this infection so the message is for all the public but particularly for this group to be alert around any symptoms."
"However, this is an unusual event in terms of the numbers of cases we have seen in short period of time, this is why we are asking people to be vigilant, because the sooner we recognise the infection, the sooner we catch it and put in interventions, we can get on top of it."
Monkeypox is caused by a virus which comes from the same family as smallpox, although it is much less severe and experts say chances of infection are low.
The viral infection usually occurs mostly in remote parts of central and west African countries, near tropical rainforests, and it is unusual to see cases in the UK.
There are two main strains of virus - west African and central African.
What are monkeypox symptoms?
PHW said initial symptoms include fever, headache, muscle aches, backache, swollen lymph nodes, chills and exhaustion.
A rash can develop, often beginning on the face, then spreading to other parts of the body, particularly the hands and feet.
The rash, which can be extremely itchy or painful, changes and goes through different stages before finally forming a scab, which later falls off. The lesions can cause scarring.
Symptoms usually take between five and 21 days to appear after infection, which usually clears up on its own and lasts between 14 and 21 days.
How do you catch monkeypox?
Monkeypox does not spread easily between people, but it can be spread through touching blisters, scabs or items such as bedding or clothing of someone with a monkeypox rash, as well as coughs and sneezes.
It can be spread when someone is in close contact with an infected person. The virus can enter the body through broken skin, the respiratory tract or through the eyes, nose or mouth.
It has not previously been described as a sexually transmitted infection, but it can be passed on by direct contact during sex.
It can also be spread by contact with infected animals such as monkeys, rats and squirrels.
Will we go into lockdown?
Speaking to Radio Wales Drive, Dr Shankar said it was highly unlikely the monkeypox outbreak would result in parts of Wales being placed into lockdown, like during parts of the coronavirus pandemic.
"It's very important for everyone to be aware that the Covid infection causing virus is a completely different family of virus," he said.
"Monkeypox is a totally different virus. There are some commonalities - the way the virus behaves in humans is completely different in the case of monkeypox.
"So this anxiety of 'will this lead to lockdown?' is unfounded at this stage and we do not have any intelligence that the infection is progressing in that direction."
He added there was "reasonable confidence" in the risk assessment, but added "we will definitely expect to see more cases getting confirmed before it starts to go down".
"But I think we're confident at the current stage, given all the intervention we are suggesting, that monkeypox is highly unlikely to lead to lockdowns," he said.
Most cases of the virus are mild, sometimes resembling chickenpox, and clear up on their own within a few weeks.
Monkeypox can sometimes be more severe, however, and has been reported to have caused deaths in west Africa.
Dr Giri Shankar from PHW said: "At the moment the risk to the general public is low and we want to assure that people who have symptoms of monkeypox to come forward for testing or contact NHS 111 or their local sexual health service."
UKHSA teams have been tracing contacts of those with a confirmed case and are advising those at highest risk to isolate for 21 days.
A smallpox vaccine is also being offered to close contacts to reduce their risk of symptoms and severe illness.