Cardiff Airport: 'Chaos' and delays leave children crying
By Rhiannon Wilkins
BBC News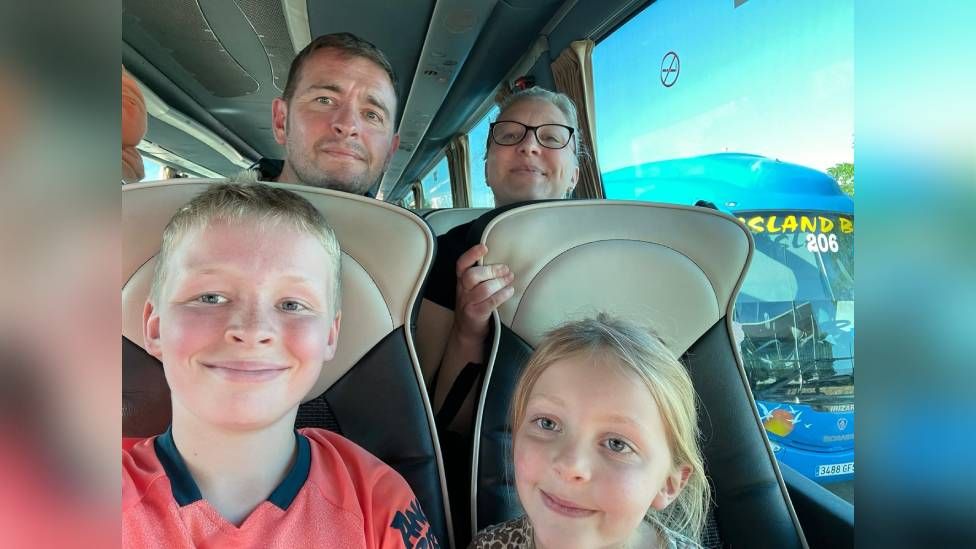 Hundreds of TUI airline passengers have faced delays lasting days for flights to and from Cardiff Airport.
Some have said they are reconsidering going on holiday as they are worried they will not be able to fly home.
Tony Mattravers and his family waited at the airport for more than 18 hours before being told their flight had been rescheduled for the next day.
In a statement TUI said it was doing "everything it can" to limit flight delays.
Cardiff Airport said it was working closely with the airline to "minimise disruption".
Mr Mattravers, his wife Tracey, six-year-old daughter Ava and son Oliver, 10, finally landed in Ibiza after their flight took off 33 hours late.
The family, from Somerset were left "worn out and disappointed" after arriving at Cardiff Airport at 04:00 BST on Wednesday.
Cardiff Airport, he said, was in chaos.
He added: "Children crying, children sleeping. A lot of frustration towards airport staff and TUI."
He said the Radisson Blu hotel in Cardiff, where TUI was organising accommodation for the night, was full of people whose flight to Zante on Monday had been delayed for two days.
Passengers were then due to be taken to a hotel in Bristol instead and driven back on Thursday morning but the family booked their own hotel in Cardiff.
He said before arriving: "I'm massively worried about the flight back from Ibiza too and hope we won't be stuck. The worry woke me up this morning."
Drew Zinski, 39, from London, was scheduled to be on the same 06:30 flight from Cardiff to Ibiza.
He was due to attend a friend's stag do, but has said due to the delays he has cancelled the trip.
"We've missed too much of the short break," he said, adding: "We've decided we're not going.
"We understand that delays can happen but what's astonishing is the lack of communication. Just be honest with us."
Leah Uka, from Pembrokeshire, is meant to be flying to Dalaman in Turkey with family and friends, including three young children and a baby.
Their flight yesterday afternoon was cancelled and they had to stay in a Cardiff hotel overnight.
"We haven't been told by TUI when we're going but we rang Cardiff Airport and they told us a flight is due to leave at 9pm tonight," she said.
"We were meant to go for a week but we're debating even going now because we don't know if we'll be able to get back. It's so gutting. I really feel for the children, they've been so excited about this holiday."
A spokesperson for TUI said: "We would like to apologise for the inconvenience to our customers travelling from Cardiff Airport today which have been delayed due to technical issues with an aircraft.
"We are doing everything we can to limit any flight delays, which can happen from time to time for various operational reasons."
Spencer Birns, Cardiff Airport CEO, said: "Please be reassured that the TUI and Cardiff airport teams are working exceptionally hard to assist customers and minimise disruption to passengers' holiday plans.
"TUI has deployed a special assistance team to the airport, and it is working hard to advise customers of their revised departure times as quickly as possible."