Emergency services: Attacks in Wales on workers up to almost 3,000
By Jenny Rees
BBC Wales health correspondent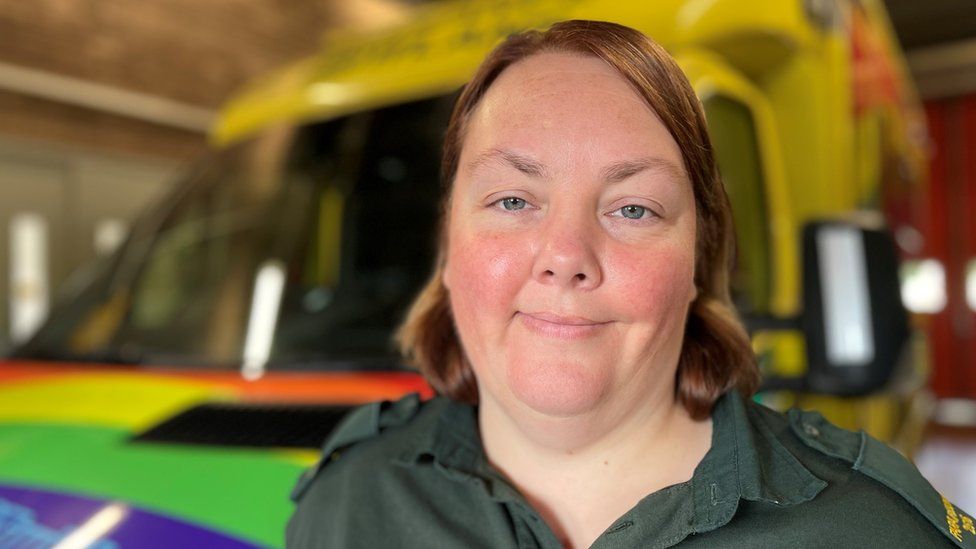 "I shouldn't have to work out my escape route when I walk into a property."
Paramedic Joanna Paskell was a victim of one of the near-3,000 attacks on emergency workers in Wales last year.
The patient who punched her got a 12-month community order, but it left the 45-year-old suffering with anxiety and meant she was off work for four months.
With an anticipated spike in 999 calls over the four-day bank holiday weekend, ambulance bosses have asked people to work with them, not against them.
"It took four security guards to calm her down so she could be treated," said Mrs Paskell, who has worked with the ambulance service for more than 25 years.
She said at first she tried to laugh it off, but it was only when getting ready for her next shift, five days later, that she felt the emotional toll.
Describing it a year on still brings the emotions rushing back: "I went to put my uniform on and it just hit me. It came out of the blue and I started crying.
"I was convinced that everyone I would come across would want to hit me for no reason at all. I was convinced it must have been my fault."
She said the support from her employer has been exceptional, but the experience changed her attitude when in work.
"I'm now more cautious. But I shouldn't have to be working out how I can get out of a property as soon as I walk in. I'm constantly looking over my shoulder to work out if I can get out quickly.
"All I want to do is make a difference - that's why I joined this job. We can't do that if we're working in fear of our own safety."
Last year there were 2,838 assaults against police officers, firefighters, ambulance staff, NHS workers and prison staff - a 4.9% rise.
It is not clear whether more assaults are being committed or more staff are coming forward to report them, though it paints a clearer picture of what they face.
"Every week I hear from colleagues they have needed to get the police out or they've been called to patients deemed to be violent," said Asghar Iqbal.
A paramedic for four years, he is also the face of the Welsh Ambulance Service's campaign With Us Not Against Us.
He said he has had patients scream in his face and hold him up by his collar - but counts himself lucky.
"Patient safety and patient conditions are the number one priority. But you also have to look after number one and be able to go home to your family and friends," said Ashgar.
"A lot of the time they are angry due to waiting times so they'll get verbally abusive with us.
"On the other hand you'll get the 'jolly drunks' who jump on the kit - and it's expensive kit. If it were to be damaged that's an ambulance or a piece of kit off the road, preventing us using it on a patient."
Sonia Thompson, assistant director for operations with the ambulance service, said call handlers also have to spend time "de-escalating" situations with verbally abusive callers.
"Having that altercation, whether it be on the phone or at the scene, it will delay us even more and I don't think that is something that is widely understood," she said.
"We have people that unfortunately can't come to work because of that trauma and it takes time for them to build their confidence to come back into the workplace.
"But it is about the long lasting impact of being in a position where you feel threatened by doing your job."
Police and Crime Commissioner for Gwent, Jeff Cuthbert, said he was "disgusted" to see the rise in assaults on emergency workers.
He added: "These are people who have dedicated themselves to keeping us safe and well, and they deserve to carry out their duty without being threatened, assaulted and abused."
Mr Cuthbert said it had been a year since magistrates were given greater powers to deal with people who assault emergency workers, including the power to impose longer prison sentences, adding: "I hope that we will now see a downward trend in these appalling assaults going forward."
Related Internet Links
The BBC is not responsible for the content of external sites.