Caerphilly flytipping: Should supermarkets pay for dumped trolleys?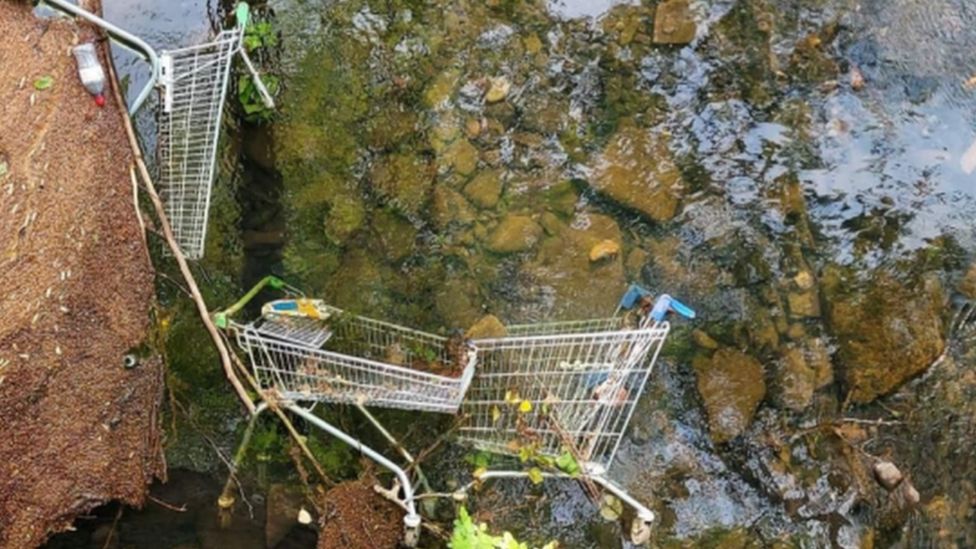 Supermarkets should be fined £1,000 every time one of their trolleys is found outside their premises, according to a councillor.
Blackwood councillor Nigel Dix wants tougher enforcement action after finding a significant amount of trolleys dumped in the River Sirhowy.
Mr Dix said it is "a major problem" in Caerphilly, adding: "It is not only unsightly, it's a danger to wildlife."
He called for the clean-up-cost to be charged to supermarkets.
"It's very frustrating because you walk through the countryside - we've got some beautiful walks, cycle paths etc - and then as you're walking along you encounter trolleys dumped in bushes in the brambles, been chucked over bridges into the river.
"It is a real issue that's been going on for a number of years, but seems to have got a lot worse lately.
"I counted in one stretch of river at least 13 trolleys, in about half a mile of river.
"The supermarkets need to step up and protect their trolleys, make sure people don't walk out with them off their premises into the streets etc. They don't charge £1 like they used to before. I think since they stopped doing that it's made the situation worse."
The issue of abandoned trolleys was brought to councillors' attention by Donna March, the co-organiser of the Blackwood Action on Litter Community Group.
When conducting a survey, she said she spotted eight trolleys in a 500m stretch of the river.
Mr Dix has written to Caerphilly council's chief executive Christina Harrhy, calling on the authority to adopt Section 99 of the Environmental Protection Act 1990.
Section 99 gives local authorities powers to remove abandoned trolleys from land and water, with the cost of the removal charged to the owners of the trolleys.
Mr Dix added: "I am keen that the legislation is adopted as quickly as possible, to ensure that our streets, rivers and environment are free from dumped shopping trollies."
He said he intended to present a notice of motion to adopt the policy at the next full council meeting.
Fellow Blackwood councillor Andrew Farina-Childs, who litter picks every month, said there are approximately 18 trolleys currently in the river.
"We live in such a lovely place, this is just awful to see," he said.
"We have pulled a few trolleys out ourselves previously - things need to improve.
"Unfortunately it seems the environment department is missing a key element, they need more powers."