Pembrokeshire: National park's 74 electric vehicle chargers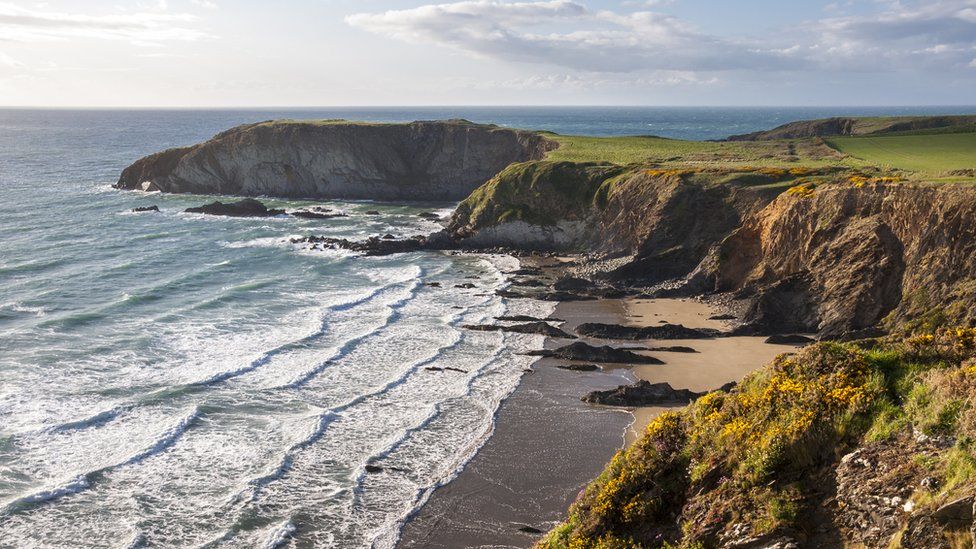 A Welsh national park has installed 74 electric vehicle charging points in an attempt to encourage sustainable tourism and improve countryside access.
They have been opened in the Pembrokeshire Coast National Park as part of £26m plans also aimed at boosting biodiversity around Wales.
The Welsh government said it believed that was the highest number of charging points in any UK national park.
Wales is one of the worst covered areas for electric vehicle charging points.
Climate Change Minister Julie James said: "Our landscapes are very precious, and we want to make sure we protect them to the best of our ability and begin to restore and enhance them.
"It's really important that people can come here in a sustainable way and stay here in a sustainable way."
According to Zap-map, there are 31,507 electric vehicle charging points across the UK. In Wales there are 1,104 which account for 3.5% of all charging points.
The north east of England, Northern Ireland, the Isle of Man and the Channel Islands are the only regions which have fewer.
Ms James also acknowledged that "more needed to be done" to improve awareness of accessible park paths for disabled people and work is ongoing with the aim to make as much of the national coast path as accessible as possible.
She added that part of the project would include scheme to allow people to get a wheelchair suitable for the beach.
All three Welsh national parks - Pembrokeshire, Snowdonia and the Brecon Beacons - will benefit from this money, as well as Areas of Outstanding Natural Beauty (AONB).
'Change the nature of tourism'
Its chief executive Tegryn Jones said: "National parks are iconic to Wales, we will be looking to increase our work on nature recovery and biodiversity, and working with landowners look to make more of a contribution to tackling the nature emergency.
"We need to change the nature of tourism, and support visitors to visit in a more climate neutral way, so we can promote a greener, more sustainable, more regenerative tourism, that respects our communities, our landscapes and each other as we move ahead."
It is hoped these changes will not only benefit visitors but local people too.
Layton Davies, one of the walk leaders at the West Wales Walking for Wellbeing group, a community group whose members often use walking paths in the Pembrokeshire park, said having accessible and sustainable tourism was crucial for its survival.
"There are people here who have had troubles in their lives and they need that stability to get out of the house and have a chat with somebody and chat their problems through with them."