Covid in Wales: Thousands wrongly given spring booster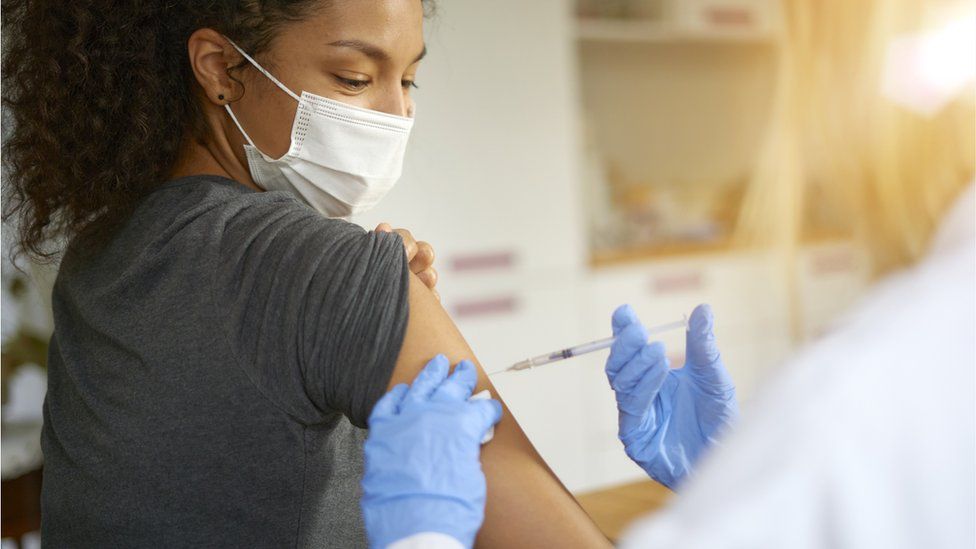 Almost 10,000 people have been offered a Covid booster jab in Wales despite not being eligible for one after an error.
In a statement Health Minister Eluned Morgan said the mistake occurred due to different eligibility criteria for the spring booster campaign.
All of those incorrectly identified as eligible for the booster are considered high risk of severe illness.
The incorrect offers for a booster jab will be honoured, Ms Morgan confirmed.
In a statement Ms Morgan said the potential discrepancy between those deemed eligible and those turning up for the booster had been identified by health boards on 16 May.
The Joint Committee on Vaccination and Immunisation (JCVI) states that only those aged 75 years and over, care home residents and individuals aged 12 years and over who are immunosuppressed - with conditions or undergoing treatment specified in the "green book" - should be offered a spring booster.
However in the system used in Wales to manage and record vaccinations, some people were offered the booster who were not in this category, the Welsh government said.
The 9,500 wrongly offered the jab were at risk of severe illness if they were to catch Covid, but they did not meet the stricter criteria, set out by the JCVI needed to qualify for the spring booster.
The Welsh government said that all those incorrectly offered the jab were included in the clinically extremely vulnerable cohort of people eligible for antiviral and antibody treatment should they get Covid.
But there are differences between the criteria for vaccination and treatment.
Ms Morgan said: "It is important to note that all these individuals are at high-risk of developing severe illness if they get Covid-19."
She said she had decided to honour the offers due to "potential confusion and anxiety" which would be caused by withdrawing the offer at this stage.
However, she added that this decision "does not represent a decision to extend our programme beyond the eligibility criteria advised by the JCVI".
She added: "We have sufficient supply of vaccine in Wales to provide additional appointments and booster vaccines and we do not expect this decision to have any impact on eligibility for vaccination in the autumn."
"We will make sure all individuals affected are aware of the situation and we will apologise for the error."