Tribeca Film Festival 2022: Sheep farmer documentary earns nod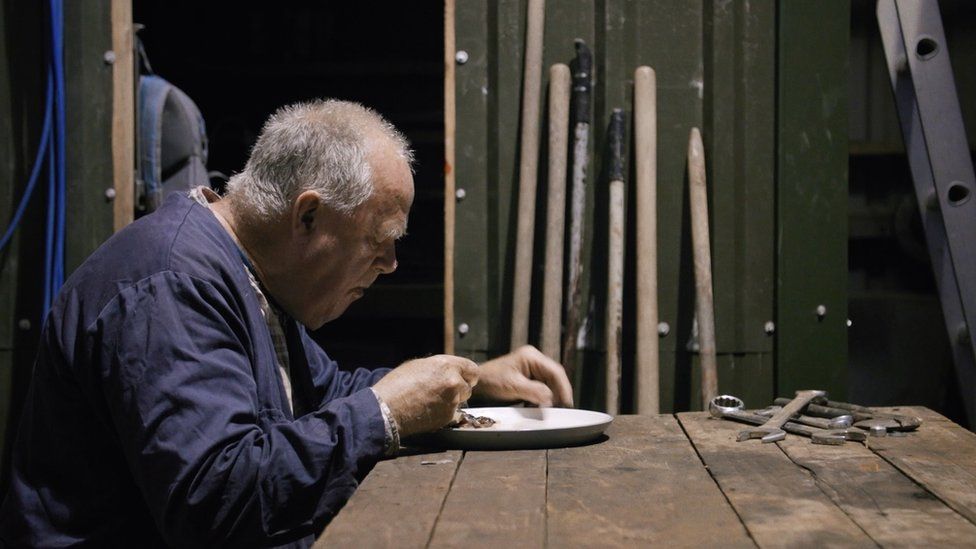 A documentary about a Welsh sheep farmer has beaten over 7,000 films to earn a place at the Tribeca Film Festival in New York.
Heart Valley follows a day in the life of Wilf Davies, 73, from Cellan, near Lampeter in Ceredigion.
Director Christian Cargill pitched the film to Mr Davies after reading a feature in the Guardian about his life and devotion to his flock of 70 sheep.
Mr Cargill said the farmer was "humbled" the film had been selected.
Mr Davies never leaves his home area in the Teifi Valley, works alone and eats the same meal of fish, baked beans, onions and a fried egg every evening.
Mr Cargill said he thought the film would resonate with people who experienced claustrophobia during lockdown.
"He is archetypically disconnected," he said. "He doesn't have a phone, he doesn't have the internet. It's almost a Victorian life he has.
"When we've been trapped in cities in our flats, everyone was desperate to leave and have space. He fully achieves that every single day and really appreciates that.
"He feels so much gratitude to life that he gets to be out in a field every single day, whatever the weather.
"I think that really relates to people that have struggled and felt trapped and claustrophobic over the last two years."
He will be joined at the festival by four students and two lecturers from the theatre, film and TV department at Aberystwyth University.
Dr Kate Woodward, a lecturer, said Heart Valley showed a film "so rooted in a location - geographically and culturally - can transcend boundaries".
It is the fifth year students from the university have been able to attend the Tribeca Film Festival, which was set up by Robert De Niro, Jane Rosenthal and Craig Hatkoff in 2002 to help revitalise lower Manhattan following the 11 September attacks.
Second-year student Molly Clark said: "The opportunity to go to New York, where so many films are set, and being able to rub shoulders with film-makers and directors is really inspiring."
While Tayjib Kerstan, a third year, said the festival was a "huge opportunity".
Mr Cargill said Mr Davies was "quietly flattered" that the film has been chosen for the festival and heard about the news during lambing season.
"He is certainly humbled by it," he said. "He had a bit of a cry and we all had a laugh together, then he went back to his business.
"I think he's touched that people are interested in his life. I really hope it serves as an appropriate legacy for him one day, of being a snapshot of this wonderful person."
The Tribeca Film Festival runs from 8 to 19 June.