Global Solo Challenge: Sailor Dafydd Hughes' non-stop sea voyage
By Craig Duggan
BBC News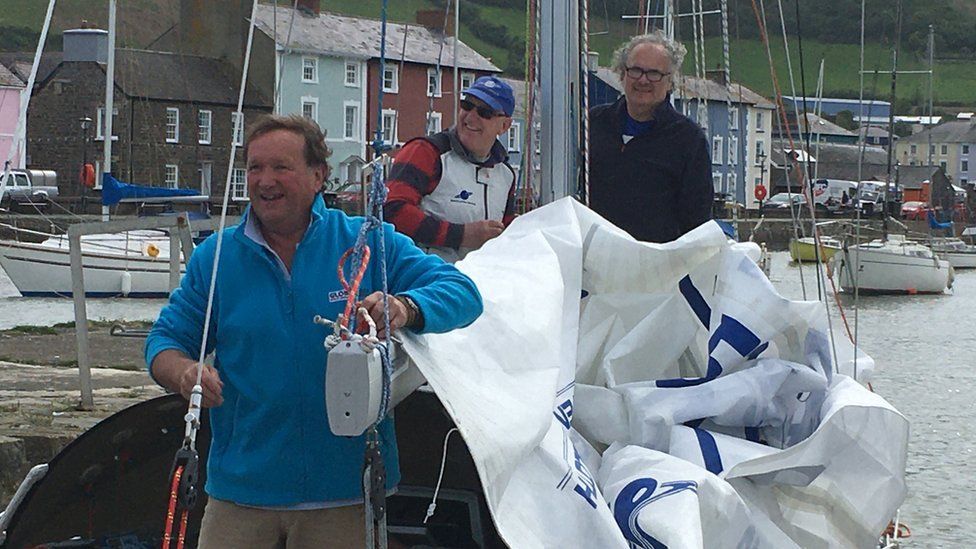 A sailor is aiming to become only the second Welshman to go by sea single-handed and non-stop around the world.
Dafydd Hughes, 62, from Tal-y-bont, Ceredigion, has registered to take part in 2023's Global Solo Challenge - a round-the-world sailing race.
The event starts in A Coruña in Spain and sailors must travel east, passing between Antarctica and capes in South Africa, Australia and South America.
He said he expected the voyage to take him more than six months.
Completing the circumnavigation of the globe would see him follow Alex Thomson, from Bangor, who became the fastest Briton to sail solo, non-stop and unassisted around the world in 2017.
Mr Thomson completed the journey in just under 75 days.
Boat completely stripped out
Mr Hughes's boat, named Bendigedig - which means wonderful or fantastic in Welsh - has only just returned to the water after 20 years on dry land.
He bought it two years ago and has been working to make it seaworthy since.
He said: "She's had a full refit. She was completely stripped out when I bought her and she's now been fully rewired, fully plumbed, new tanks, new masts, all the deck fittings are new, the running rigs are new, new sails - so she's basically a new boat."
The 34-ft (10m) vessel was ideal for the 26,000 nautical mile journey, Mr Hughes said.
He has previously sailed around the world, as part of Sir Robin Knox-Johnston's crew in 2007, but doing it solo will be a challenge on an entirely new level.
"When I first read about the race, I filled in my entry form within an hour. I sent it off and then I thought 'Oh my word what have I done now?' But I haven't lost the commitment since that day," he added.
He said his biggest fear was a breaking wave on the side of the boat, with waves in the Southern Ocean reaching 60 or 70ft (20 to 23m), enough to roll the boat.
Bendigedig has been lowered into Aberaeron harbour and he will take it out to sea to test for just over two weeks it before taking on the Global Solo Challenge.
Mr Hughes's sister, Sian Campion, said he was always looking for a challenge and was fond of an "adrenaline rush", and "if he gets an idea in his mind he'll see it through until the end".
"He was keen on Formula 1 and had his own go-kart and went to races, he used to ride his bike or climb trees, he always had a craving for speed," she said.
'Can he do it? He can, definitely'
The Global Solo Challenge, which is a new event, will start in September 2023.
Entrants must head south from A Coruña and "leave the Antarctic region and all known ice… to starboard (on the right) and the three great capes to port (on the left) before making their way to the finish line".
The three capes are the Cape of Good Hope in South Africa, Cape Leeuwin in Australia and Cape Horn in South America.
Mr Hughes said only 180 people have ever sailed around the world solo, fewer than the 600 who have been to space.
He will not be allowed to be helped but will keep in touch with a shore team via satellite phone.
He will also get lots of support from members of Aberaeron Yacht Club.
Its secretary Julian Driver said: "It's 24 hours a day, non-stop, so very little sleep. And when you get down in the Southern Ocean you could have 60 to 70ft waves and winds of 50mph (80km/h).
"Can he do it? He can, definitely. If anybody can, Dafydd will!"