Gower: Woman gets stuck in quarry trying to rescue sheep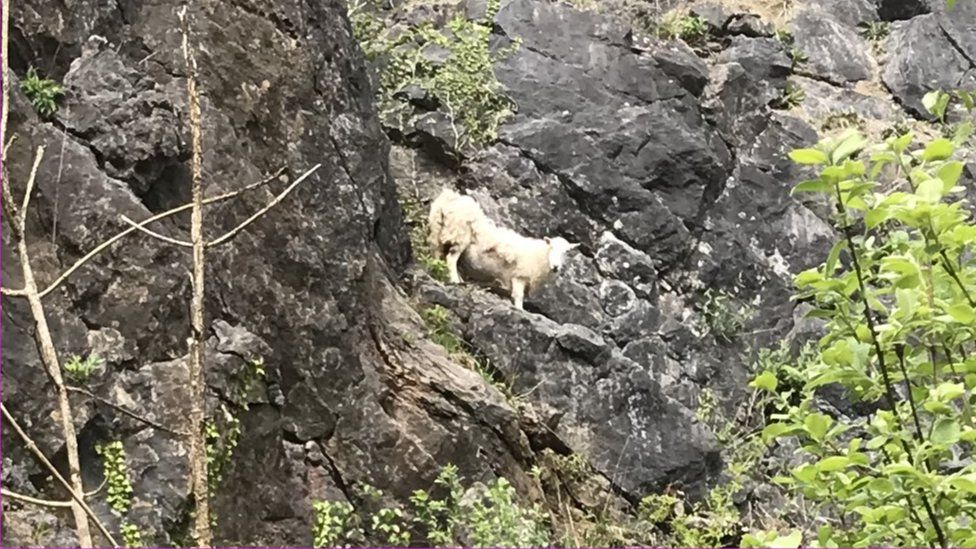 A woman had to be rescued from a quarry after getting stuck trying to rescue a stranded sheep.
The woman and her partner saw a Facebook post about a ewe which was on a ledge in a disused limestone quarry at Ilston on the Gower Peninsula.
They travelled to rescue the sheep and the woman climbed 12ft (3.6m) up the quarry, but was unable to come down after realising how high she was.
An RSPCA officer and her partner were eventually able to coax her down.
The sheep was later persuaded to come off the ledge by members of the Mid and West Wales Fire and Rescue Service, who abseiled down the quarry.
The woman and her partner were found on 9 May by Andrew Harris, a rescue officer from the RSPCA, who had gone to look for the sheep after the charity had been alerted.
He said: "Apparently the lady had read about the sheep on social media and had gone to see what she could do.
"Unfortunately she ended up climbing higher than perhaps she had anticipated and then panicked and was too nervous to come back down.
"However tempting it may seem, we would never encourage a member of the public to put themselves at risk to rescue an animal in a precarious situation like this."
Anthony Mathias, from Mid and West Wales Fire and Rescue Service, said: "I urge members of the public who come across an animal that is trapped in a dangerous location to call the RSPCA in the first instance.
"Do not put yourself in danger by attempting to rescue the animal."