Beach litter: Man walking Wales' coastline while cleaning every beach
By Dafydd Morgan
BBC News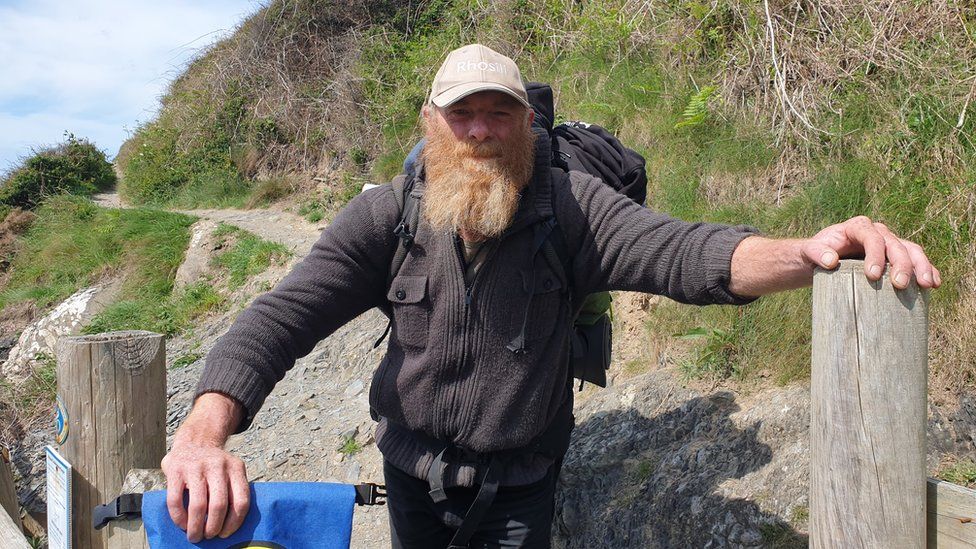 One man is embarking on the "mammoth" task of cleaning the beaches of Wales as he walks the 700-mile coastline.
Geraint John, 51, of Maesteg, Bridgend county, said he wanted Wales' coastline to be the "envy of the world".
After a five-month cycle around the UK last year, the amount of beach litter he saw did not sit right with him.
"All the fantastic places I went... the image that was stuck in my head was all the rubbish that's around the coastline of Britain," he said.
"I started going to my local beach, whenever I could. But I just felt it wasn't enough," said Geraint, who started his journey in the Mumbles, Swansea, on 13 May.
He said anywhere east of Swansea had too much rubbish for one man to collect, so he turned his sights west - heading towards Pembrokeshire and Cardigan Bay.
"Some beaches have been busy. I was down Rhossili and Llangennith beaches and I had about 26 black bags of rubbish from the five days I was there," he added.
Mr John is currently in Ceredigion, roaming the beaches of Llangrannog, Cwmtydu and New Quay. But away from these popular beaches he said the smaller more remote coves were more of a challenge.
"The vast majority of the Welsh coastline isn't accessible, but rubbish doesn't care where it washes up.
"You could spend half a day cleaning this beach and around the corner, there could be 10 tonnes of rubbish just sitting in some secluded cove."
As part of his walk he is trying to raise money in order to buy a boat to be able to get to "all the places that you can't get to on foot where all the rubbish likes to hide".
The impact of plastic waste on the wildlife in Wales is clear to see, according to Sarah Perry from the Wildlife Trust, who said Geraint's task was a "mammoth one".
"Species like birds or seals can get entangled in sea fishing line or whatever's been discarded," she said.
"Other impacts are less obvious, because you can't really see them. We talk a lot these days about microplastics, they're like really tiny particles of plastic and that can be in the marine environment.
"Species like fish and birds, they will consume the microplastics and that then gets into their bodies and that can disrupt all sorts of bodily functions. "
Ms Perry said these microplastics could cause birds to starve to death as they think they are full, but their stomachs are actually just "full of rubbish".
"Some of the areas [Geraint is] trying to reach aren't easily accessible. But his determination is absolutely fantastic, brilliant. It's a great effort."