NHS Wales: Emergency waiting times nearly the worst ever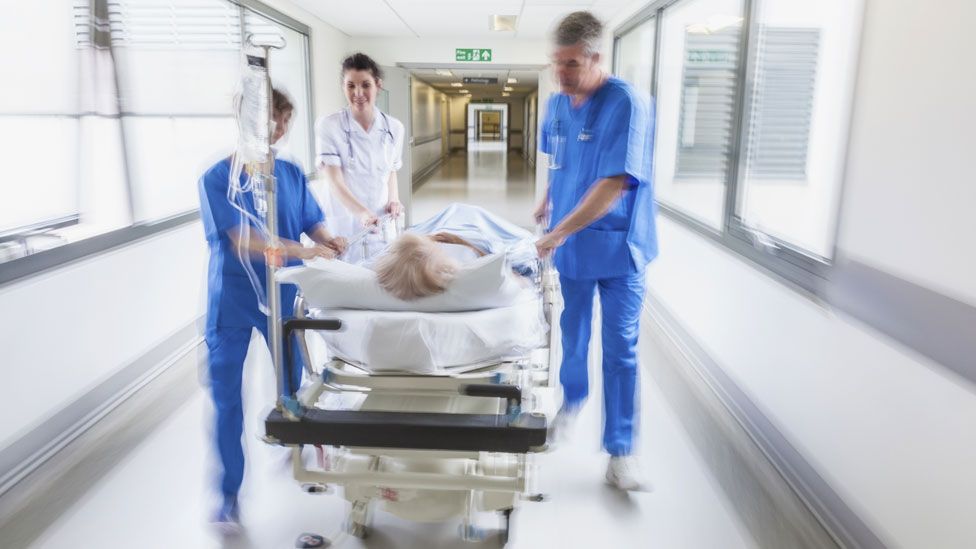 Emergency care in the NHS continues to be under immense pressure with both A&E and the ambulance service recording nearly their worst performance figures.
The waiting list for planned treatments has also risen to more than 700,000 for the first time.
The figures, released on Thursday, come as a new emergency surgery unit was said to be improving waiting times.
Health Minister Eluned Morgan said plans were in place to tackle waiting lists, but the system was not "broken".
In April just 65.9% of patients spent less than four hours in departments like A&E from arrival until they were admitted, transferred or discharged.
Although this is a slight improvement on the previous month's figure of 65.1% - it is still the third worst monthly figure ever recorded.
The target of 95% has never been met.
The figures also show that in April 10,391 patients had to wait more than 12 hours in emergency departments - the second worst figure on record.
Welsh government targets state nobody should be waiting that long.
The pressures are also reflected in the performance of the ambulance service.
In April, only 51.2% of responses to immediately life threatening - red - calls arrived within eight minutes.
This is just 0.1 percentage points higher than the previous month - the target is 65%.
Meanwhile, the statistics show yet another growth in the waiting list for planned treatments in the NHS with numbers waiting rising to over 700,000 for the first time.
The figures show a 1.4% rise on the previous month (to 701,000).
More than a third of those have waited more than 36 weeks for treatment and 54% had been waiting less than 26 weeks.
The target is 95% should be treated within this time.
At the end of March almost 42,000 patient pathways, or referrals for diagnostics, were waiting longer than the target time - a drop on the previous month, but over five times greater than two years ago.
As part of the Welsh government's efforts to improve the health service, a new emergency surgery centre was set up, which was said to be saving hundreds of unnecessary hospital admissions each year.
Simon Weaver, an emergency surgeon at the Princess of Wales Hospital in Bridgend, said it was set up because they "desperately wanted to improve" quality of care.
It involves surgeons identifying patients who can be treated and discharged on the same day.
"Patients would turn up after being referred by a GP, they would wait five, six, seven hours to be seen, then might wait 36 hours for an inpatient bed," said Simon Weaver.
"We've managed to get rid of most of that unnecessary waiting," he explained. "We turn around 80% of patients in less than three hours.
"We used to admit about 35% of patients we see. Using this process, it's now 10%.
"In our first year of operating we saw 2,400 patients and we estimate we probably saved 300 unnecessary admissions to hospital.
'It's a significant number of bed days'
"When you consider a lot will spend a lot longer in hospital than just one day, it's a significant number of bed days."
The team identifies patients arriving in A&E who might need urgent surgery for conditions like gallstones or appendicitis.
Previously they might have been admitted to a hospital ward to await decisions on their treatment, but can now be assessed or even have surgery on the same day.
Where that's not possible, they'll be given a date to return, meaning they can wait at home and free a hospital bed.
They also provide on-call advice to GPs.
"This is quite popular with GPs because they get to speak to a consultant straight away," said Mr Weaver.
"We've noticed that at least one in 10 phone calls we get are dealt with exclusively on the telephone," he said, explaining that patients did not need to attend hospital at all.
Month on month the NHS in Wales has seen record numbers of patients waiting for treatment, or lengthy delays for ambulances, as waits at accident and emergency departments increase.
It is an issue compounded by the sheer number of patients who are medically well enough to be discharged, but there are insufficient numbers of social care staff to care for them elsewhere.
It means experiences like those of David Amos, from Cardiff, become more common.
The 97-year-old former head teacher has Alzheimer's and suffered a stroke in October. His son Peter said they had to wait nearly 10 hours before an ambulance arrived.
"This is a man coming towards the end of his life and he needed attention," said Peter.
"You're told to get medical attention as soon as possible - it was quite an ordeal."
David Amos spent three months in hospital but is now at home recovering well, though he requires carers four times a day.
In response to David's experience, Wendy Herbert of the Welsh Ambulance Service said: "Poor ambulance response times are a symptom of the pressures across the entire health and social care system.
"Coupled with a significantly higher volume of calls and staff absence, our ability to get to patients quickly has been significantly hampered in recent months, and we're sorry to all of those patients who have had a poor experience, of which Mr Amos was one."
The Welsh Ambulance Service's head of service Pete Brown added that the 111 service was "the gateway to care".
"Unless your condition is life-threatening and you need a 999 response, 111 is the number to access. It allows us to assess your symptoms and determine the right care.
"We are able to resolve more patients without accessing the emergency department or the 999 service, equally we have an extremely good rate of self care, helping to manage their own conditions at home, either with a prescription or advice."
For the first time official figures showing the volume of calls taken by 111 in Wales will be published on Thursday, but Mr Brown said it is expected to be just under a million calls over the last year.
"Prior to that being in place across Wales, patients would have navigated a more complex set of options, and decide which number to call or which part of the healthcare service to access.
"Through the 111 service we can accurately and quickly assess the needs of those patients and navigate them quickly and effectively to the part of the healthcare service and meet their needs."
Kinsey Glave, a call handler at the 111 centre in Swansea, said: "The calls vary from some people just needing basic health information, to people in dire need, not knowing what to do next.
"It feels very good to know you've helped someone in their time of need."
When required, calls will be referred to clinicians like Nerys Cook, a nurse advisor, who can also divert calls directly to 999 if appropriate.
"I might take a call from a suicidal call, or a priority call about a baby that's not breathing effectively," she said.
"Lots of people ring 111 first before ringing 999 because they're not sure which service to use."
The Health Minister, Eluned Morgan said the whole system was under "huge pressure", but more than 250,000 outpatients had been seen in the previous month.
She said: "Well we've got a plan in place now, a planned care programme, we're working with health boards to make sure that they put the measures in place, to make sure that they hit the target so that we're not expecting anybody to wait more than a year for outpatients by the end of this year.
"So there's a lot of work to be done, but obviously we are very aware that every one of these numbers is a person very often who is suffering and we need to try and address that issue as soon as we can."
A Welsh Government spokesperson added: "As the health service continues to recover from the pandemic, and more people are coming forward with health concerns, we have seen the highest number of referrals for a first outpatient appointment since January 2020, with just over 115,000 referrals made in March.
"This increase in referrals helps to explain why the total waiting lists size increased by 1.4% on the previous month.
"It should be noted that activity levels for treatment and outpatients are at their highest level since the start of the pandemic."
It said that the Six Goals plan for urgent and emergency care has been launched "to support improvements in outcomes and experience by helping staff to deliver the right care, in the right place, first time whenever possible".