Betsi Cadwaladr: Report raises Ysbyty Glan Clwyd A&E concerns
By Sarah Easedale
BBC Wales news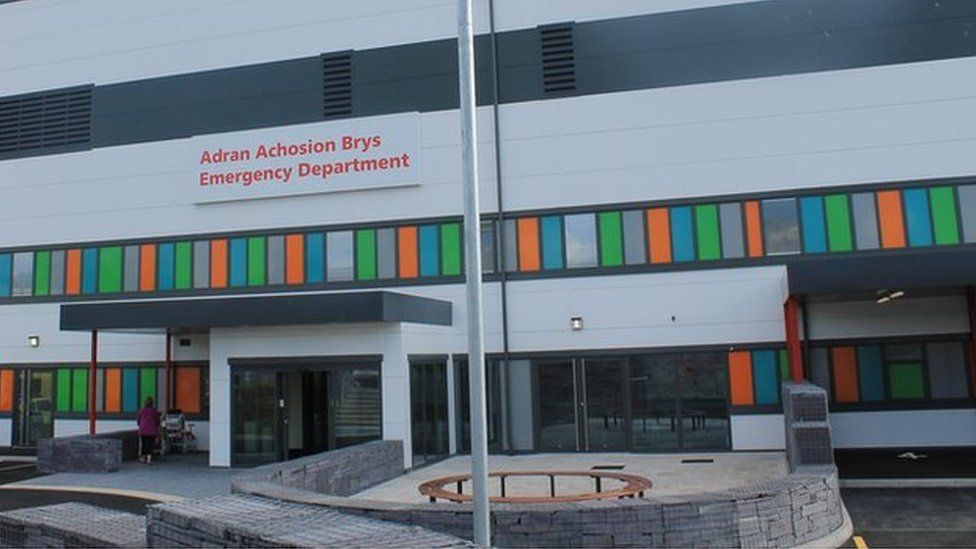 A health board watchdog has said a report into the emergency department at Ysbyty Glan Clwyd in Denbighshire is the "worst" it had ever seen.
The report by Healthcare Inspectorate Wales (HIW) has highlighted concerns from a health council around patient safety and said the department needed significant improvement.
Issues include "lengthy delays" in patients being seen by doctors.
Betsi Cadwaladr University Health Board said "it must and will do better".
The report prompted angry scenes in the Senedd, where the Health Minister Eluned Morgan rejected Plaid Cymru calls to scrap Betsi Cadwaladr.
In a statement, the health board also apologised to patients who did not receive the care they deserved.
HIW began gathering evidence at the Bodelwyddan hospital in January.
Issues were flagged up in March but in spite of an action plan drawn up by the Betsi Cadwaladr health board, Wednesday's report says that following an unannounced inspection earlier this month, there were key areas where there had been no improvements.
The report also highlighted poor handling of patients presenting with mental health issues.
Geoff Ryall Harvey, from the North Wales Community Health Council (CHC), said the report was "comprehensively bad in every area" and that people in the region deserve better.
HIW has now designated the department as a "service requiring significant improvement".
It said this was based on evidence gathered starting in January this year, and an inspection in March which looked at infection prevention and control, governance and the environment of care.
It also examined the arrangements put in place to protect staff and patients from Covid-19.
But despite an action plan drawn up by the health board, HIW said it had found key areas relating to patient safety and quality of care needing improvement following an unannounced inspection earlier this month.
The report highlights the "lengthy delays" in patients being seen by emergency department doctors and specialty doctors.
In some cases the delay was "significant", including in one case where a patient should have been seen within 10 minutes and waited over six hours to see a doctor, subsequently becoming more unwell.
In 14 out of 20 cases, patients were not seen within the recommended time for their triage category.
The report is also critical of a lack evidence that there are "sufficient processes and arrangements" to monitor and observe patients presenting with mental health issues, and that there was "no consideration" given to the high risk nature of the patients.
"This included patients who presented with suicidal ideations and attempts being placed in areas which were not visible to staff," the report added.
In some cases, the report says, these patients left the department unnoticed.
Health Minister Eluned Morgan said she witnessed staff breaking down in tears at the pressures they faced in the hospital's A&E at the hospital.
She made the comments in an angry exchange in the Senedd following a topical question on the report.
North Wales Plaid Cymru Member of the Senedd (MS) Llyr Gruffydd said the time had come to consider structural changes to Betsi Cadwaladr: "They say if it ain't broke don't fix it, but you know what, it is broke and it needs fixing.
"Will you finally accept that this time it is time up for Betsi?"
Ms Morgan told Senedd members they had to stand by the staff at the hospital: "I met some staff where they had to stop because they were frankly in tears because of the pressures that they were under."
Throwing her arms in the air as she spoke, Ms Morgan told the Plaid MS: "If your answer is to restructure at a time when people are waiting for operations, you want the whole health board to be thrown up, in a tiz.... restructuring at this point of time is not the answer."
Tory Clwyd West Darren Millar accused former health minister Vaughan Gething in the Senedd chamber of "smirking" when he asked if Ms Morgan accepted that he had taken the wrong decision in remove Betsi Cadwaladr from special measures "in advance of the last Senedd election".
"That was the wrong decision minister and you need to sort it out".
Mr Gething denied smirking, accused the Tory MS of a "direct lie".
Ms Morgan told the Senedd a meeting in June will give her recommendations "on the appropriate level of escalation" for the health board.
HIW says it is working with the health board to ensure all the improvements are made in a timely manner.
In a statement, Jo Whitehead, chief executive of Betsi Cadwaladr health board, said: "It is clear from this report, and HIW's subsequent visit, patients received a standard of care well below what they, and we, expect. We have fallen short of those expectations and we must, and we will, do better.
"On behalf of the health board I apologise to those patients who did not receive the care they deserve.
"I can assure the public, senior leaders already have more robust oversight of the emergency department at Glan Clwyd Hospital, including different models of care which are designed to ensure earlier assessment of patients."
Ms Whitehead also encouraged people to only attend emergency departments if they were seriously ill or injured and required immediate action.
"We treat hundreds of thousands of patients every year, safely," she said.
"We take our duty of care to patients very seriously and we are working with HIW to put things right.
"We continue to be extremely stretched in our emergency departments across north Wales, which together with staff shortages puts a greater stress on those who are working, often having to cover extra shifts so our departments can function.
"This situation is compounded because we are seeing more people who are very unwell on arrival at our emergency departments.
"This is not to deflect from the findings of this report, which we accept in its entirety. It was extremely disappointing to read."
A Welsh government spokesperson said: "This is a very disappointing report and the failings of care highlighted are not acceptable.
"HIW have now identified the emergency department at Ysbyty Glan Clwyd as a Service Requiring Significant Improvement.
"We expect the health board to work with HIW to make the necessary improvements, and we will continue to provide support to achieve that.
"The health board has reassured us that more robust oversight arrangements are now in place and that it is safe for people to continue attending the emergency department at Ysbyty Glan Clwyd."