Cardiff City's Keith Pontin died of dementia caused by head trauma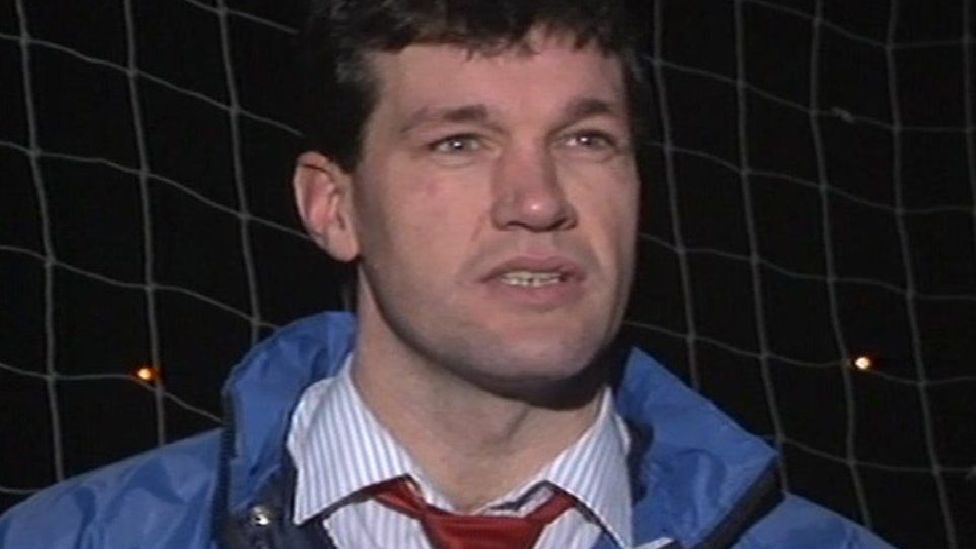 A former Wales footballer died of dementia caused by repeated trauma to the head sustained during his playing career, a coroner has concluded.
Keith Pontin, 64, of Pontyclun, Rhondda Cynon Taf, played for Cardiff City from 1976-1983 and won two caps for Wales.
He died on 2 August 2020, five years after being diagnosed with dementia.
In a narrative conclusion, coroner David Regan gave Chronic Traumatic Encephalopathy, caused by repetitive head injury, as the cause of death.
The inquest heard Mr Pontin died of dementia caused by CTE.
Former Swansea City player Paul Burrows, who played with Mr Pontin at Barry Town, told the inquest his friend was "an old-fashioned centre-half" who was "very dominant in the air."
He said he was a "big, strong, tough defender" and that "people looked up to Keith for those attributes".
He said that football was a more physical game in the 1980s and players would often continue playing with injuries.
"It wasn't uncommon for players to clash heads," he said, adding: "I think players were allowed to be more physical and challenge balls in the air."
The inquest also heard from Cardiff City's club secretary Michelle McDonald, who said the club did not have any records relating to Mr Pontin's time with the Bluebirds.
"We only keep records going back seven or eight years," she said.
David Cole, who appeared on behalf of Barry Town United AFC, told the hearing Mr Pontin's playing style was "combative" but that he was a "gentle giant off the field".
He said the attitude in Mr Pontin's playing days was that you "got on with it" if you were hurt.
Mr Cole said the current club, founded in 2013, holds no records kept by the former club Barry Town AFC.
Dr William Stewart, a diagnostic neuropathologist, examined Mr Pontin's brain and tissues following the post-mortem examination.
He said he found extensive evidence throughout the brain of proteins called Tau proteins which he said was in an "abnormal pattern entirely stereotypical of CTE."
"This distribution is related uniquely to head injury and impact," said Dr Stewart told the inquest.
He added that professional footballers and rugby players are three-and-a-half times more likely to develop dementia than the general population.
He was asked whether Mr Pontin died from Alzheimer's disease or dementia.
"It's a very imprecise term," he said, adding: "CTE is his precise form of dementia. He didn't have Alzheimer's disease."
Recording a narrative conclusion, Mr Regan gave CTE, caused by repetitive head injury suffered as a professional footballer, as the cause of death.