Homophobic slur prompts Wales Millennium Centre show
By Nicola Bryan
BBC News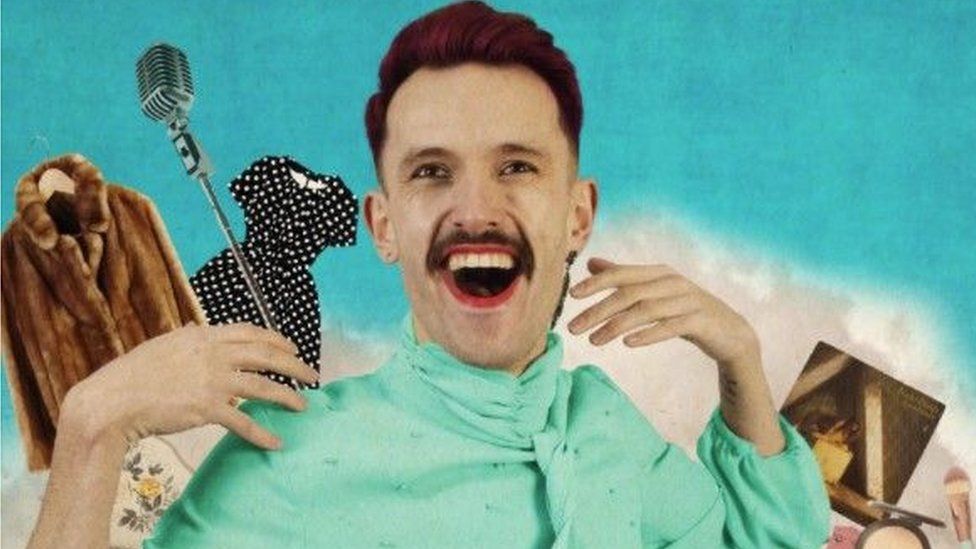 A grandmother who encouraged her grandson to be himself by dressing up in her "amazing" clothes has been immortalised in a musical.
Luke Hereford, who describes himself as "queer with a capital Q", wrote it following a homophobic slur at a family party in Caerwent, Monmouthshire.
The idea struck him later that night while wearing one of his nan's dresses.
The result is Grandmother's Closet (and What I Found There), which opens at Wales Millennium Centre next week.
Luke, who also stars in the show, uses the pronouns he and they and has asked to be referred to as he in this piece.
Recalling the afterparty at his grandmother's house following the homophobic incident in 2019, the first-time writer said: "I went up to my nan's wardrobe, put on one of her dresses and spent the rest of the night in it - and it was great.
"It was like a 100% polyester suit of armour."
He added: "My nan wasn't there... and I was like 'I can fend for myself without her but I still need a piece of her armour'."
The 28-year-old said the idea for the show came to him in a "full-circle moment".
When the UK went into lockdown a few months later in March 2020, it was an opportunity for the theatre director to capture the special relationship he shares with his grandmother by writing his first show.
'Performances in the living room'
Luke said Caldicot, where he grew up, was "not particularly small-minded" but he felt the "expectations that are put on you when you're a little boy".
"Me and my dad used to watch Kylie on telly together and he was always talking about how sexy she was and how much he fancied her and there was a disconnect for me - I was obsessed with her but there was something else that wasn't quite the same."
He is thankful his family were open-minded.
"I did spend a lot of my childhood putting on dresses and doing performances in the living room and I was never told that I wasn't allowed to do that, which I think is a really great thing," he said.
But it was at his nan's house where he felt most at home.
"She always made me feel like, in her house and in her presence, I could be myself," he said.
"She's always said to me she's not just my nan, she's my friend too - and she's always made me feel like that."
'Eccentricity and individuality'
Looking back, he realises his nan's house was his first queer space.
"I didn't know what queer spaces were when I was nine but my nan's house was a queer space," he said.
And Joan's several wardrobes full of amazing dresses were his "first glimpse of eccentricity and individuality".
"She's always taken so much pride in her appearance as it was like a Venn diagram of her and her life," he said.
"Everything in those wardrobes is a statement - every single piece, which is where she really rubbed off on me."
He said his nan was "never a heavy-handed facilitator" but always encouraged him to be himself.
He recalled: "We'd be preparing for a living room performance and she'd say: 'What about this? Try this on'...
"It was all there for me to discover and do with it what I would in my own effervescent way."
The play also pays tribute to other women who loomed large in Luke's childhood - Judy Garland, Kylie Minogue, Madonna, Tori Amos, Bjork and Kate Bush.
"There's a reason those people give queer people strength when they need it," he said.
He said the show's musical director and arranger, David George Harrington, had "rebirthed" some of the divas' iconic songs into "epic, triumphant musical theatre numbers".
Joan is now 89 and lives with Luke's aunt, who cares for her full-time.
He said he did not know if their relationship being turned into a show had "quite sunk in yet", but she was looking forward to seeing it.
Writing the show has been an emotional experience.
"It is totally like a love letter to my grandmother," he said.
"It's [also] a love letter to divas, it's a love letter to dressing up, it's a love letter to queerness generally."
Grandmother's Closet (and What I Found There) is on at Wales Millennium Centre's Weston Studio in Cardiff from 20 to 23 April.