Wales' unpaid carers to get a break through £9m fund
By Matthew Richards
BBC News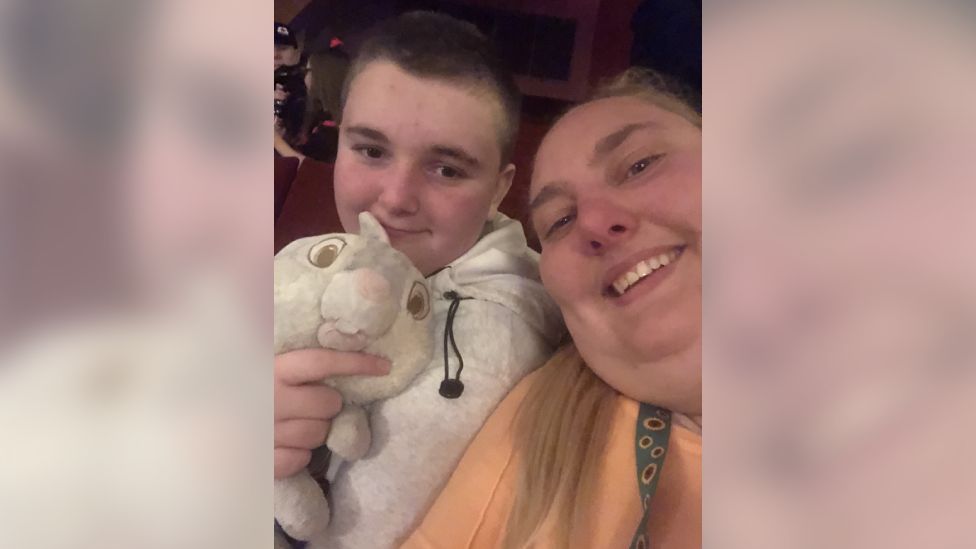 Funding worth £9m to help relieve the pressure on unpaid carers in Wales, has been announced.
The Welsh government said the money, over the the next three years, would help full-time carers pursue hobbies, activities or simply just read a book.
Carers Wales welcomed the news that will help carers look after their own health and well-being, especially after the added stress of the Covid pandemic.
But Welsh Conservatives said the support fell short and Plaid Cymru said there were questions over who would benefit.
It is hoped that in funding regular time away from their responsibilities, the scheme will prevent burnout among carers, and boost their mental and physical wellbeing.
Carrie Foster, from Wrexham, is among those hoping to benefit.
She looks after her two children, 17-year-old Ioan and 12-year-old Lily, who both have autism and said having just a few hours respite means "feeling like a human being".
"It's having three hours where no-one's asking for my help, I can have a conversation with my husband and talk about something that's not to do with the children, about our relationship and us.
"It's things that feel like they should be part of normal life, read a book, watch a TV programme without being interrupted 30 times, watch a whole film in one sitting.
"It's just those simple things which make you feel like a human being and mean you can live your life and carry on supporting your children without losing your mind."
The money is designed to help those on lower incomes who have caring responsibilities and more details will released shortly on how people can apply.
Carers Wales said carers across the country were "hit hard" during the pandemic, with many taking on extra responsibilities with so many services closed.
Beth Evans, from the organisation, added: "Carers need to be able to look after their own health and well-being. This additional funding will help meet some of their needs while they continue to wait for the services they traditionally rely on to resume to full capacity."
It runs an award-winning scheme called Bridging The Gap that offers short breaks for carers in Flintshire and is now being extended to Denbighshire and Wrexham.
Stephanie Taylorday, from Flint, in Flintshire, said she hit "rock-bottom" during the pandemic.
She cares for 14-year-old son Aeron, who has learning difficulties, as well as five-year-old Leonardo who has speech and language difficulties, but only asked for support when it began to affect her own health.
"They helped me prepare my son's meals and do everything, clean the house and help me, but also gave me some independence back at the time I needed it," she said.
"Even though they sound like the smallest jobs, when you can't do it, it has a massive impact."
At just 12-years-old, Izzy Lally said many of her friends forget she has caring responsibilities for her 10-year-old brother Ryan who has cerebral palsy.
"Some days they ask me to go out and I tell them I can't and they don't understand why, so I try to explain to them what's actually happening," she said.
"When you're still young you want to go out, there are things you want to watch or do but you can't."
The Welsh government said it was aware of the extra pressure on carers over the last two years due to the pandemic and the extra funding would bolster existing services.
Deputy Minister for Social Services Julie Morgan said: "Local authorities provide respite already, but it does depend on what sort of schemes are available in the local authority that you live in.
"So that's why we're organising this on a national basis so that everybody who wants to apply for it can apply for it from wherever they live."
Gareth Davies, Welsh Tory social services minister, said the Welsh Labour government's move fell "far short of a right to respite and the free access to training, support and carer assessments that we had in our manifesto".
"Let's not forget either than the £9m announced split between Wales' 400,000 unpaid carers leaves just over 20 quid per person - and although the scheme is designed to target those on lower incomes, most carers, given they are unpaid, will likely fall in that bracket."
Plaid Cymru's Peredur Owen Griffiths said there were questions "that need to be answered around who will be eligible for this funding".
"The devil's in the detail, so it's important to establish how many unpaid carers won't be eligible for this fund."
Welsh Liberal Democrat leader Jane Dodds said: "We are glad to see the Welsh government roll out this scheme after following a long campaign from the Liberal Democrats that we started in early 2021."
Related Internet Links
The BBC is not responsible for the content of external sites.