Ukraine war: 'I turned to art to deal with war anxiety'
By Lola Mayor
BBC News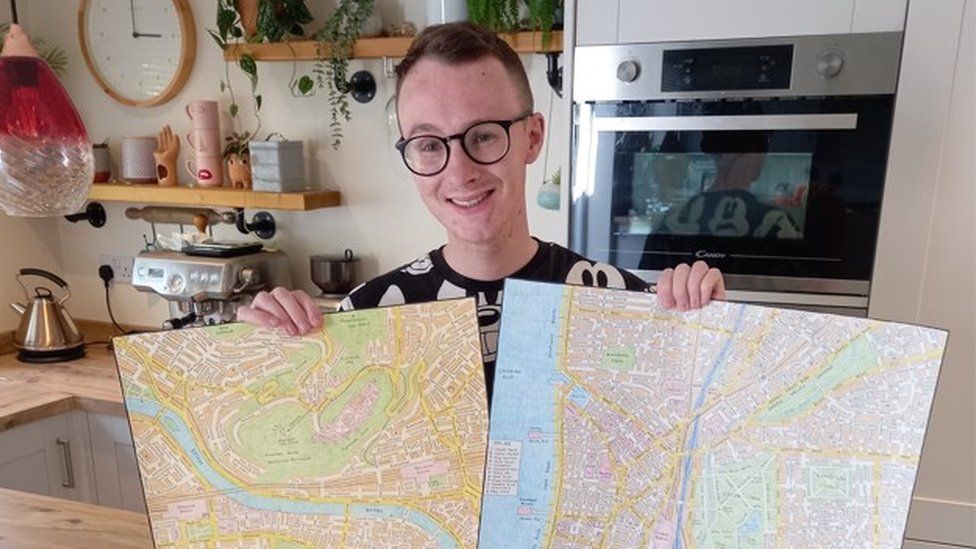 A man who turned to art to deal with anxiety has hand painted a Kyiv map to help raise money for people in Ukraine.
Elis Griffiths, who is autistic, usually creates maps of imaginary places but he redirected his efforts after losing contact with friends he made while travelling.
The map, which was up for auction on eBay, sold for £1,030 following 14 bids.
Elis, 29, said "never in his wildest dreams" could he have imagined it.
Elis has struggled with his mental health and panic attacks in the past year, resulting in him having to give up his job as a baker.
"I suffer badly with anxiety and drawing the maps helps me a lot as it distracts my mind and calms me," said Elis, from Port Talbot.
"The ideas for all my maps have been developing in my head since I was very young. I love foreign languages and cultures and try to represent this in my fictional maps."
He said seeing the situation in Ukraine had been particularly difficult as he made many friends there when he was travelling, most of whom he has not been able to contact since.
"Ukraine means a lot to me because of the happy memories I made when I visited and the warm welcome and kindness I experienced when I was there. I'm absolutely heartbroken seeing the news coverage of the horror that has unfolded.
"I think of the places I visited which were so full of life but are now amongst the most dangerous places in the world and I can't imagine how frightening this must be for the people living there."
Elis said he "felt helpless watching the news but wanted to do anything I could to make a difference", so decided to draw a map and auction it to raise some money.
"I was aiming for £20, but would have been over the moon to get £100."
The auction finished at £1,030, which Elis said "absolutely shocked and amazed" him, adding: "I never in my wildest dreams expected this."
The printed copies of the map have also made an additional £400 so far, with the donations going to the charity British-Ukrainian Aid, which buys and delivers medical equipment and essential medications.
Elis said "people were extremely welcoming" when he travelled Ukraine alone a few years ago.
"I spent a lot of time exploring the city and was amazed by the beautiful gold-domed churches and cathedrals, the beautiful parks on the Dnipro river and the spectacular ornate metro stations," he said.
"I met some lovely people on the trip, mainly from Kyiv but I made a friend from Chernihiv, who was in Kyiv on a business trip.
"It was so nice to learn from these people about Ukrainian culture and traditions, and also some phrases of Ukrainian language.
"I've sadly not been able to get in touch with these people. I worry so much about where they are now as I've seen reports that both Kyiv and Chernihiv have been hit with shelling and bombardment. It breaks my heart."
War in Ukraine: More coverage