Nicola Faith: Fishermen's families work to improve sea safety
By Chris Dearden
BBC Wales News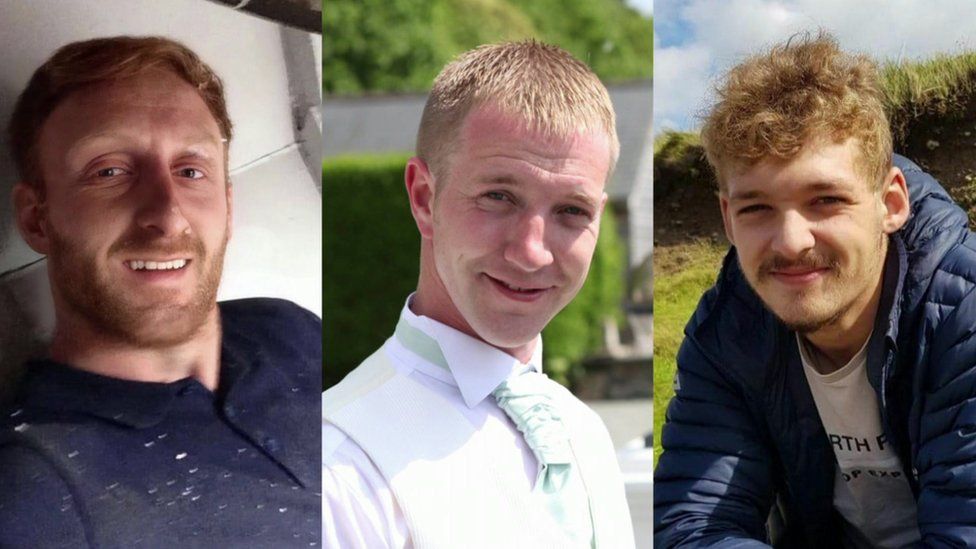 "We don't want any other family to suffer in the way we have."
The families of three fishermen who died at sea have been praised for their work improving sea safety.
Ross Ballantine, 39, Alan Minard, 20, and skipper Carl McGrath, 34, all died when their boat "Nicola Faith" sank off the Conwy coast on 27 January 2021.
One year on, their families want to prevent others from suffering and are working with the lifeboat service to improve commercial fishing safety.
Supporters raised thousands of pounds to help the families of the three men fund a private search for the wreck of the boat, which was not found until two months later.
Part of the money left over will help support the Royal National Lifeboat Institution (RNLI), which helped search for the Nicola Faith when it was first reported missing.
"There've been a lot of dark moments in the last year," said Ross Ballantine's sister Lowri Taylor, "and the support of the other relatives has been amazing".
"We've really been able work together well and that's been amazing," she said, adding: "If someone was having a bad day, then another person has been able to pick them up."
The men's relatives have also been helping with a training course where fishing crews get practical experience of how to survive if they are thrown unexpectedly into rough seas.
"One year on, we're wanting to create a lasting legacy to the boys and use our experience to share our story and hopefully save more lives," Ms Taylor added.
"Ross was my brother, he was father to his two sons. We want them to grow up seeing that we are doing something positive in his name and in the names of Alan and Carl.
"It's too early to say what measures may have prevented this dreadful incident, but anything which improves safety and gives fishermen a better chance has got to be a good thing."
The families have been personally attended a training course, talking to those taking part about their experiences of losing a loved one at sea.
The course sees crew members thrown into a swimming pool with heavy waves while wearing work gear, simulating a real world man overboard situation.
Frankie Horne, RNLI Fishing Safety Manager, said having someone that has endured loss, and can talk about the impact it has had, is a "vital element" that had been missing from the course.
"The families have shown such compassion and strength in wanting to use their tragic experience to prevent more lives being lost," he said.
"We are so grateful to the family for helping us to provide this element of the course, which I firmly believe will be the most powerful tool in changing attitudes and behaviour."
An official investigation as to why the Nicola Faith sank has been taking place, run by the UK Government's Marine Accident Investigation Branch.
It is due to report back later this year.