Covid in Wales: Masks to be required in schools until half term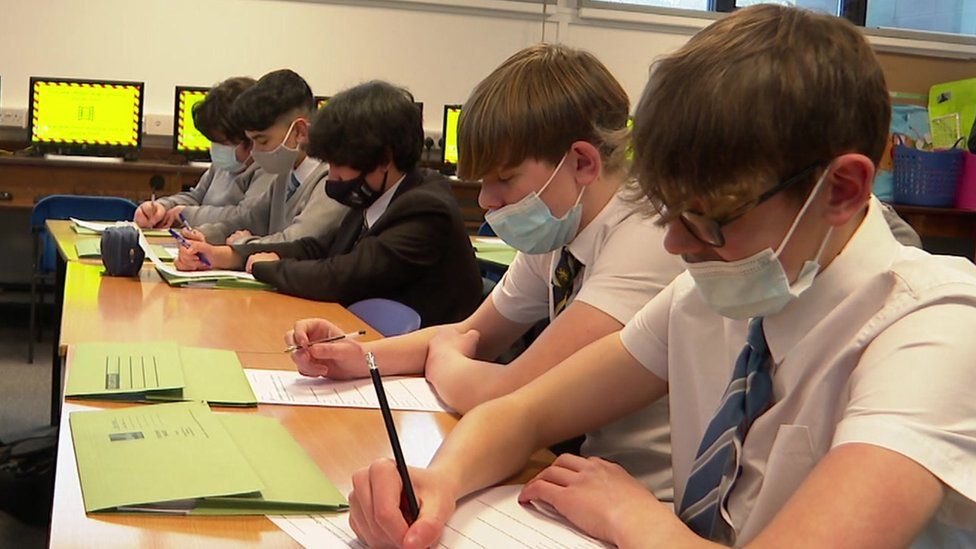 Face coverings will be required in Welsh classrooms until the end of the February half term, under new plans.
It will then be up to schools and councils to decide what restrictions they may need in their class.
The Welsh government changes, announced at a press conference, will depend on how the Covid situation looks in just over two weeks.
Exams - which were cancelled for two years running - are also planned to go ahead.
The final decision on Covid rules in schools will be taken on 10 February, at the next review of coronavirus rules.
Schools with staggered starts will also be told to revert to their normal timetables.
The Welsh Conservatives accused Labour's Education Minister Jeremy Miles of being scared to go against the teaching unions, who broadly welcomed the announcement.
Following the emergence of the Omicron variant before Christmas, some schools moved to online learning and January's classes started two days late.
In England, schools are scrapping restrictions in the classroom, including the need to wear masks.
Half-term starts on Monday 21 February, with term time resuming on 28 February.
One Maesteg Comprehensive School pupil said pupils had been "thrown in the deep end" on exams.
Abbie, 18, said: "Because obviously we haven't had the prep in the past to prepare us with revision techniques - everything we're going to need to try and balance alongside schoolwork.
"So we've been thrown in the deep end, and I feel like most of us would agree that we're not really prepared for going into exam season when it finally shows up because of the lack of exams and the revision that we had previously because of the Covid pandemic."
She said masks could be a pain "because you're in lessons and sometimes you miss what the teacher said or you're walking in the corridor and, because it's so congested, you can't breathe".
At Ysgol Bro Edern in Cardiff, Gwion, 17, said he supported masks "in communal areas and other areas where you're coming into people from other bubbles".
"In terms of the classroom, you're already in the same bubble," he said.
Rhys, also 17, said if restrictions have been lifted in other aspects of life "then I can't see why it wouldn't be the same in school, because obviously rugby training is only like an hour a week, maybe two, that we would be in contact with those people and it's outdoors also".
The education minister said face coverings in schools helped "make sure schools remain safe places to learn and that we limit transmission of Covid-19".
Current guidance requires pupils and staff wear masks in both communal areas and classrooms.
He said: "There will be an opportunity to review that of course on February 10 but my expectation at the moment is that that would extend until the end of this half term."
Mr Miles said "if the evidence supports it" the Welsh government would be able to confirm on 10 February if schools can return to local decisions after half term.
He said he was asking schools that work with councils and public health advisers "to determine the measures they may need to take".
It means that measures could differ between different local areas, or even schools.
Some special schools have had staggered start and finish times - they can continue to do so until half term, but afterwards it is expected all schools will revert to their normal timetable.
Meanwhile Mr Miles said exams would go ahead "unless the public health situation makes it impossible for them to physically run them - which we do not envisage".
He told the briefing: "For those doing A-levels that summer, I want them to have a level playing field with those sitting exams in other parts of the UK."
One group warned masks can leave deaf children at a disadvantage.
Debbie Thomas, from the National Deaf Children's Society Cymru, said: "Public health should always be a priority, but face coverings can leave deaf learners unable to understand their teachers and isolated from their friends and classmates.
Essentially, the education minister said face coverings and other Covid measures in schools will be in place for at least another month.
The plan is to stand down from the "very high risk" footing now, which often means strict limits on pupils mixing and one-way systems, back to schools and councils deciding.
That will probably mean big variations between schools and no sense of when there might be something closer to pre-pandemic normality.
Many staff and pupils have welcomed a cautious approach while others question tight restrictions in class with nightclubs opening this weekend.
Mr Miles tried to dispel any uncertainty about exams - saying in the strongest terms yet that they will go ahead.
Welsh Conservative education spokeswoman Laura Anne Jones said: "While some decisions require a local solution, the majority - like with facemasks - should be taken at the top to ensure equality of educational provision across Wales.
"It is not good enough that we have a minister scared to go toe-to-toe with the unions, and who is comfortable going against scientific evidence, when making such important decisions about safety and education provision."
Dr Patrick Roach, General Secretary of teachers union NASUWT, said it welcomes "the more cautious approach being taken in Wales".
"It is vital that we sustain learner and teacher numbers in schools and a gradual easing of mitigations helps with this without impacting detrimentally on teaching and learning."
Headteachers union ASCL Cymru said it had "reservations about the effectiveness of the woolly measures" in the Covid framework that would be used to determine rules in schools.
"But schools are at least familiar with them and have great experience to fall back on".
School leaders group NAHT Cymru urged the Welsh government not to relax too many Covid restrictions, also known as mitigations, in schools "too soon".
"No-one wants to see mitigations in schools, but the priority must be to keep schools open as safely as possible for staff and learners." NAHT Cymru director Laura Doel said.