Covid: Wales could recruit non-jabbed English NHS staff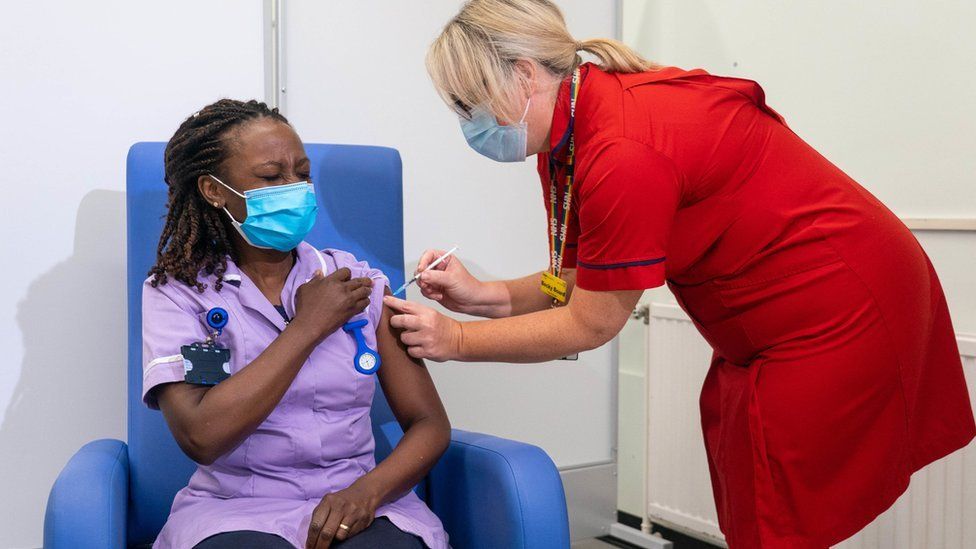 First Minister Mark Drakeford would "not rule out" recruiting NHS workers from England who leave their jobs due to its mandatory vaccination policy.
Vaccines are not compulsory for NHS staff in Wales.
Mr Drakeford said a "vast majority" of care sector staff had also taken the "protections that vaccination offers".
When asked if he would take on NHS staff from England, Mr Drakeford told BBC Radio 4's Broadcasting House: "We wouldn't rule it out but it would depend on what anybody said in an interview when they were applying for a job.
"We're not going to make vaccinations mandatory in our NHS," he said.
"We haven't in our social care services because we have succeeded by persuasion by getting the vast majority of people who work in our services to do the right thing and take up the protections that vaccination offers."
NHS staff in England must have a first jab by 3 February and be fully vaccinated by 1 April to continue in frontline roles.
The UK's Department of Health said there were no plans to delay and it was "the right thing to do to protect patients".
Mr Drakeford said: "I don't expect us to go looking for people who have not been vaccinated but, if people apply, then they would be interviewed in the normal way.
"We'd look to see what lay behind their decision.
"We wouldn't rule them out but we certainly won't be going out there looking for them."
Meanwhile, the Conservative group in the Senedd - Welsh Parliament has called on the Welsh government to set a date for when all of Wales' Covid rules might be lifted.
Tory health spokesman Russell George MS told BBC Politics Wales that, while he did not think Wales was in a position to do that yet, he called for a date in the future and a set of "criteria to get to that date".
Plaid Cymru health spokesman Rhun ap Iorwerth MS said: "What we need to do now is think about the long-term because, whilst the Conservatives seem to think they have a monopoly in wanting to put this pandemic behind us, none of us, in any political party, wants to keep protection measures in place any longer than possible."
Welsh Health Minister Eluned Morgan said it was "slightly naïve" to act as if "it's all over" since transmission rates remained "really high", despite a significant reduction over the last few weeks.
But she said the Welsh government would be outlining what "the long-term looks like" for scrapping remaining Covid laws.
On Sunday, Public Health Wales said the Covid rate had dropped further to 472.4 cases per 100,000 people over seven days.
It reported a further eight deaths with Covid and 2,827 new positive cases.
But three-quarters of people who test positive for lateral flow tests are no longer asked to take follow-up PCR tests, making it more problematic to interpret data.