Heart surgery Wales: Calls for child operations to resume
By Meleri Williams
Cymru Fyw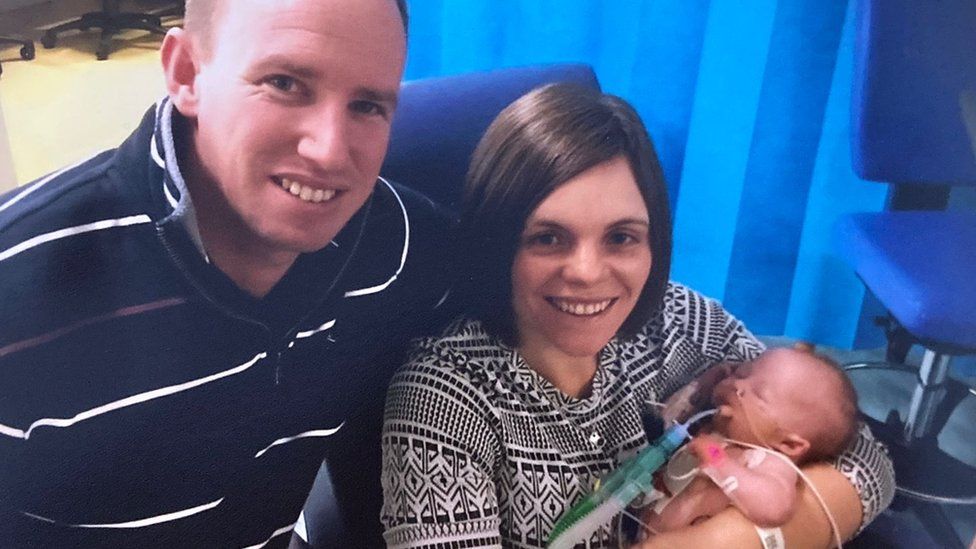 A mother whose baby daughter had open heart surgery in England wants treatments to be offered in Wales.
Two years on, Elin, from Ceredigion, worries her family will re-live the "horrific experience" in future.
Under-16s have had to travel to England for heart surgery since 1998.
The Welsh government said children are treated across the border where there's "higher levels of specialism in dealing with these complex conditions".
On Christmas Eve 2019, Elin and Emyr's daughter, Anest, was taken by air ambulance from Aberystwyth to Noah's Ark Children Hospital in Cardiff.
She was born with holes in her heart and, at three weeks old, doctors told her parents she was entering heart failure.
Anest was put on life support and following a "traumatic few weeks", her condition deteriorated further when she contracted a virus.
She was then transferred to Bristol for heart surgery.
"It's quite horrific [thinking back]. I try not to think about it if I'm honest. It really has been put to the back of my mind," said Elin.
"We live in rural Ceredigion, so Cardiff is a long way away to start with, without travelling again to Bristol, so yes it was a traumatic experience for us."
The care they received was excellent, she added, but facing surgery across the border was "a challenge".
"We'd been in Cardiff for around a month, so we knew the hospital, we knew the staff, the doctors of course. But then we had to start from new in Bristol," she said.
"Getting to know a new hospital, new doctors, so it was extra stress really on top of what was a traumatic experience to start off with."
Last year, almost 200 children from Wales had heart surgery in Bristol, and many patients in north Wales travelled to hospitals in Liverpool and Birmingham.
With Anest facing further surgery in the future, mum Elin wants cardiology treatments to return to Wales.
"There's an excellent team of cardiologists and expertise in Cardiff, so why not get surgeons involved in that team?" she said.
"There's definitely a demand for it in Cardiff, and if adults are allowed to have treatment in Wales, in their own country, why aren't children?"
'I would fear if things changed'
Bridget's daughter Elain was diagnosed with a rare heart condition as a baby and they have travelled to Bristol many times over the past 11 years.
But for Bridget, the answer is not moving treatments to Wales.
"I do feel happy that Elain goes to the surgeon and the team of experts in Bristol," she said.
"They understand her condition and I would fear if things changed."
However, as a member of a support group for families who share the same journey, she said there is "a gap" in the support available.
After almost 12 years, she said it was "disappointing" that nothing has changed.
"Many times, we've been faced with tough situations where we've had to travel and be away from home for months, it has been a challenge over the years.
"I just think maybe the government should support families more - travel costs, time off work, the stress it puts on families from all aspects.
"There's a gap in support from that perspective."
GP Dr Graham Thomas, of the Wales Cardiac Network, said cardiac surgery for children was more complex than in adults.
He said: "Children who have complex difficulties with their hearts need to be under expert tertiary centres.
"But, in Wales, there isn't quite enough of the population [who need cardiac surgery] to justify that.
"Also, because of our geography, in north Wales, we use our expertise in Manchester and Liverpool and in the south, in Bristol."
The Welsh government said children needing cardiac surgery require "higher levels of specialism" and that centres in England had been established to "achieve the best outcomes".
"Whilst health boards in Wales offer access to paediatricians with expertise in cardiology, children requiring cardiac surgery are treated at larger centres where they have higher levels of specialism in dealing with these complex conditions.
"There are only 11 centres in England and they typically provide services for a large area which achieves the best outcomes for patients."