Covid: Schools to open later than planned after Christmas
By Bethan Lewis
BBC Wales education and family correspondent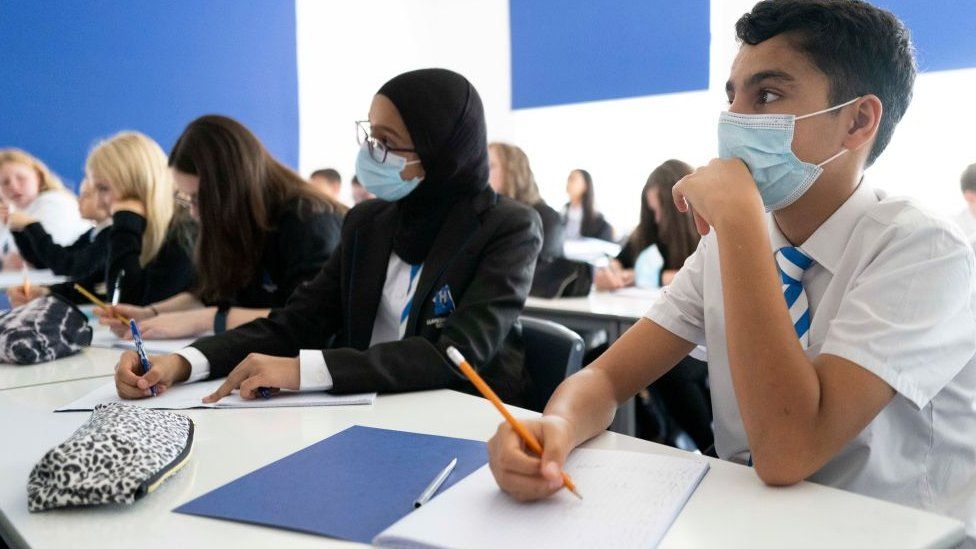 Schools will have two days at the start of the new term in January to plan for pupils' return and the possibility of moving to remote learning.
It means pupils in some schools will return to class later than planned after the Christmas break.
A letter from Education Minister Jeremy Miles calls on head teachers to plan for some classes, year groups or the whole school to move online.
A head teachers' union has welcomed the announcement.
But another said it was disappointed, claiming the letter would cause confusion and put the onus on head teachers.
The letter states schools should plan for a "very high risk" scenario, and advises allowing for the return of staggered starts and more testing.
Welsh government ministers are due to set out the results of their latest review of Covid restrictions on Friday.
Mr Miles said the priority "continues to be to minimise the disruption to education, and ensure where possible learners continue to receive in person learning, as well as protecting school staff and learners".
"I am providing all schools with two planning days at the start of the new spring term, this will allow you time to assess staffing capacity and put the necessary measures in place to support the return of learners," he added.
Pupils and staff have been advised to take three lateral flow tests in the week before going back to school and weekly after that.
Ceri Reed is a parent from Cardiff and also director of Parents Voice in Wales CIC, a social enterprise supporting parents.
She said the Welsh government's announcement meant there was an anxiety that schools may close again.
"Parents are willing to accept the rationale for the planning days to allow schools to put in measures to stay open," she said.
"What's important to us is that teachers remain safe, as if there is reduced staff schools are likely to close and we just want schools to be kept open."
Ms Reed said she would like to see an announcement as soon as possible if schools are to close.
"The decision needs to be made on the worst-case scenario so it doesn't compromise anyone's position," she explained.
"We need to avoid online learning if we can, and we need to clamp down on other aspects - I would much rather see pubs, shops and restaurants close than schools. We cannot compromise future generations and preserve the economy."
The latest Welsh government figures show 86% of pupils were present last week - attendance has not been above 90% since the first week of term in September.
The NASUWT teaching union has urged the Welsh government to stagger the return of pupils to schools and colleges after Christmas.
In England, the latest data shows 236,000 pupils were out of school for Covid-related reasons on Thursday 9 December - a 13% increase within two weeks.
What have the unions said?
Laura Doel, of head teachers' union NAHT Cymru, said: "We welcome the changes announced today on planning days and the relaxation of sessions times.
"Schools have suffered significantly from staff absence since September and, given that the new variant is even more transmissible, we can be certain that Covid will continue to impact on staffing levels.
"School settings cannot stay open and remote learning cannot be supported if the workforce is unavailable, that is why we urge the Welsh government to introduce additional mitigation measures, like staggering session times to control the flow of learners and parents coming in and out of school, at the start of next term."
The Association of School and College Leaders (ASCL) Cymru expressed its disappointment.
"We are disappointed that the Welsh government feels it is still appropriate to rely on the same flimsy framework of Covid protection measures that have proved to be wholly inadequate throughout the autumn term," said director Eithne Hughes.
"The education minister's letter to schools has thrown leaders across Wales into confusion and effectively handed them the responsibility for deciding what they should do to keep their learners and staff safe."