Aberfan: Tests on children after disaster 'like torture'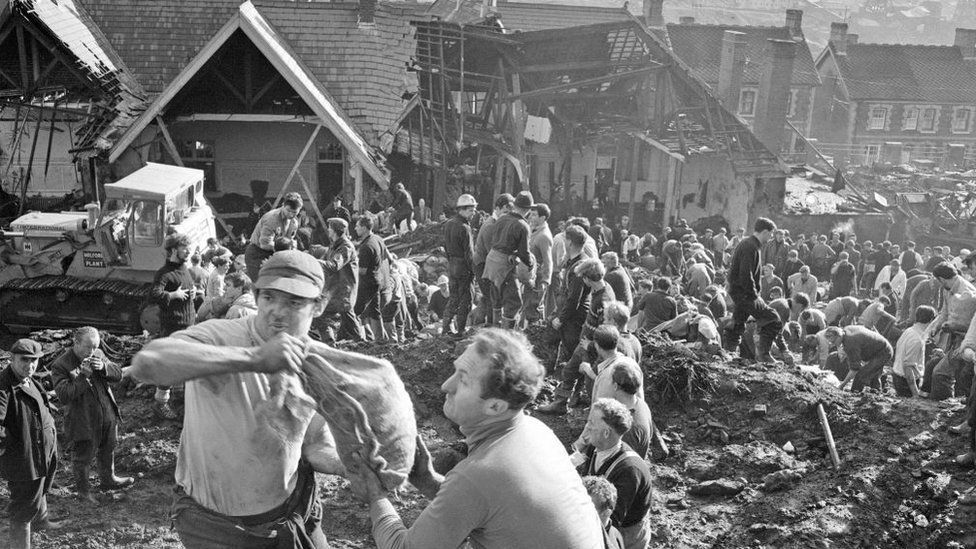 Some of the children who survived the Aberfan disaster have said they were put through distressing medical tests, which one described as "torture".
In 1966, 116 children and 28 adults were killed when coal waste slid down a hillside, burying a primary school and homes in the Merthyr Tydfil village.
Some survivors said they endured more torment in order to establish how much compensation families should get.
"That film Frankenstein is exactly what happened to us," Gaynor Madgwick said.
Ms Madgwick was a little girl waiting for her maths lesson to begin when coal slurry came tumbling down from the tip, engulfing Pantglas Junior School on 21 October 1966.
She was pulled from the wreckage, but hours later learnt that her brother Carl, seven, and sister Marylyn, 10, who had been in neighbouring classrooms, had not survived.
Afterwards, she struggled with sleepless nights, nightmares, anxiety and survivor's guilt.
"I would have given anything then if I could have died and my brother and my sister would have been alive," she told BBC Wales podcast Aberfan: Tip Number 7.
Ms Madgwick describes how one day she was told she was being taken shopping, but was driven to a psychiatric hospital instead, which she said was terrifying.
"I thought I was never gonna come out," she said, describing clinging to the car.
"Someone came out of the hospital trying to calm me down. I was still kicking and screaming.
"They were trying to prise my fingers off the handle to basically drag me in this hospital."
Once she was taken inside, thick gel was put in her hair and a cap was put on her head.
"You were then plugged into a board - the board was behind your head on the bed - like a piece of wood board," she said.
"There were all these plugs and leads coming out of the board which would be fixed into the cap on your head and you had to sit there and be interrogated, basically.
"You had to stare at these different lights and follow this beam that went around the room.
"It was torture, interrogation. You lost all sense of who you were."
Jeff Edwards was the last child pulled alive from the devastated junior school, and said he was taken to the hospital every three to four months.
"Being fitted with these head devices with electrodes all on and flashing lights was a really frightening experience," he said. "I used to hate going down there.
"It was not a children's hospital as such. It was a mental institution for people who were quite seriously mentally ill."
Gerald Kirwan, who was eight when many of his classmates were killed, said he was attached to machines and asked if he was afraid of the dark or if he had nightmares.
"I was thinking... you better not say the wrong thing or you might not be coming back out of here," he said.
"It was just horrifying."
Evidence for compensation
After a long time being mystified as to why they were being subjected to these strange experiments, they discovered the reason behind their trips to the hospital.
"These tests were only to determine what level of... basically if you were sane - for compensation. That's all it was for," Ms Madgwick said.
"It wasn't to help us. [It was] to see if we were basically sane or insane."
The Aberfan Disaster Fund wanted to pay compensation to the children suffering psychologically after what they had been through.
Trustees at the fund believed the Charity Commission could ask for evidence - so solicitors for the Aberfan Parents and Residents Association requested the hospital visits.
The Aberfan Disaster Fund also wanted to give bereaved families £5,000 - the Charity Commission only sanctioned £500.
The commission conceded, but advised that "before any payment was made, each case should be reviewed to ascertain whether the parents had been close to their children and were thus likely to be suffering mentally".
'Putting a price on children'
Denise Morgan, whose younger sister Annette was killed, remembers her father coming back from one meeting where the relationships between parents and children had been discussed.
"He said they were asking the question; 'we need to find out how close the parents were to their child to determine how much money they could have'," she said.
"My father was absolutely appalled. He said: 'I'm not even going to answer the question because at the end of the day... they're your children, they're your life'.
"You just don't - you cannot put a price on a child's head. He said: 'I wouldn't take a penny if I thought she could walk back through the door tomorrow'."
The Trustees for the Aberfan Disaster Fund were angered by the Charity Commission advice - so they ignored it, and gave higher compensation payments to all bereaved families.
When previously unseen documents were released 30 years later, the Charity Commission expressed regret for its actions.
Spokeswoman Julia Unwin told BBC Wales at the time: "It does sound as if, on all sides, there may have been insensitivities and very poor behaviour - and we obviously regret that.
"And all I can say from the Charity Commission point of view is that we have learnt from past mistakes, we have learnt how to respond to these appalling tragedies and we don't make the same mistakes anymore."
The Charity Commission added it was a very different organisation today, and all those who suffer in any tragedy should feel confident that funds raised in their name reach them and their community.