North Wales buses: Arriva drivers back five-week strike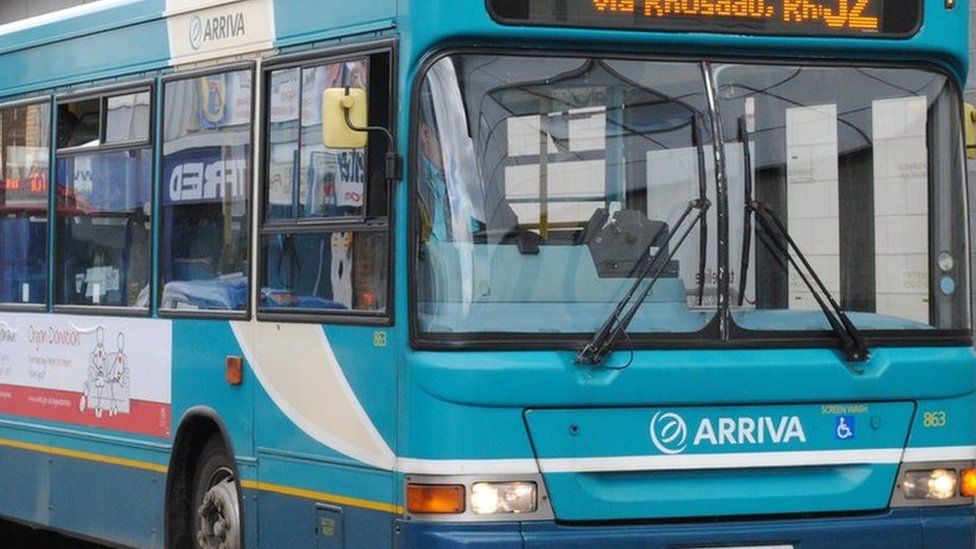 Bus services in north Wales will be hit with five weeks of disruption after hundreds of drivers voted to strike.
Drivers at Arriva will strike from Sunday, with union leaders saying north Wales staff are paid £1.80 less an hour than colleagues in north-west England.
Arriva said the strike could go on until 19 December.
The company said it was "extremely disappointed" the strike was going ahead and had worked "tirelessly" to avoid industrial outcome.
Last-minute talks were held on Friday with a hope of finding a deal, but Unite confirmed no progress had been made and the strike would go ahead as planned.
Passengers told to check for updates
Unite regional organiser Peter Hughes said the action was a "last resort" for drivers who had "been on the front line" during the pandemic.
"They deserve a pay rise," he said.
"A lot of these drivers now are looking to be trained up to be HGV drivers because that's where they can make a decent living."
Passengers have been told to check for updates before travelling at the weekend, but it is expected all six depots in north Wales will be affected.
About 400 drivers are based at depots at Amlwch, Bangor, Hawarden, Llandudno, Rhyl and Wrexham.
Flintshire council said it was making alternative arrangements for pupils eligible for school transport via Arriva services.
BBC Wales spoke to some passengers at Bangor bus station who said the lack of buses would be a "nightmare", but they could see why the drivers were choosing to strike.