Mental health: Health board apologises for woman's care failings
By Gwyn Loader
Chief correspondent, Newyddion S4C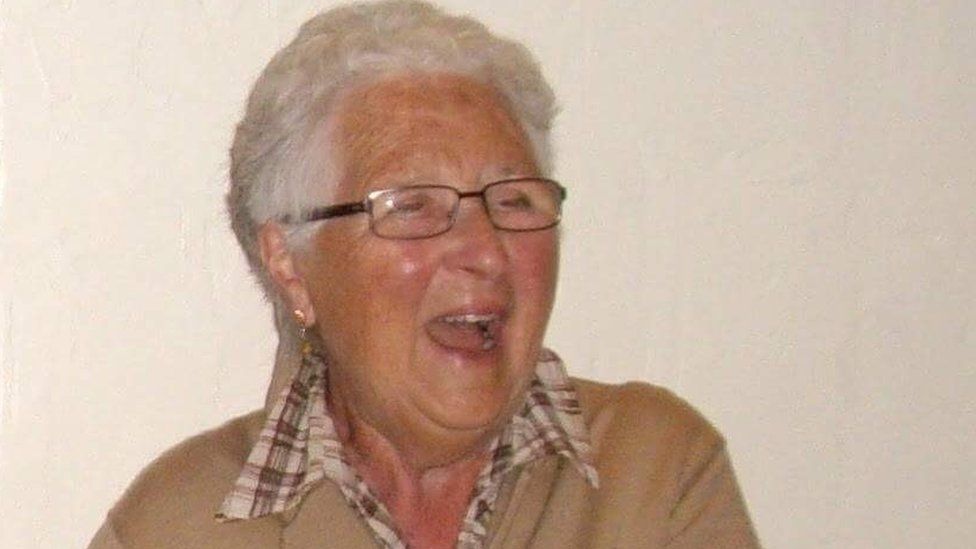 A health board has apologised for failings in the care of an elderly woman who was being treated at a mental health unit.
Jean Graves spent nine weeks at Ysbyty Gwynedd's Hergest unit in 2013 after struggling with anxiety and depression.
Her son said she was left "severely malnourished" and a watchdog said there were several failings in her care.
Betsi Cadwaladr health board has issued a "sincere apology", including for how concerns were dealt with.
Mrs Graves' son David Graves said his mother was not well when she arrived at the Bangor unit, but her condition deteriorated.
"In the nine weeks she was there, she suffered a series of what are termed SUIs, sudden untoward incidents," he said.
Mr Graves said his mother - who was 78 when she was treated at the unit - collapsed six times and, over the course of six weeks, lost 25% of her body mass.
He added: "Her BMI at the point I witnessed her weighed was 14.5 and that was off the scale, under severely malnourished."
For seven years, Mr Graves had raised concerns and complained about the way his mother was treated at the unit.
His mother died in 2016, aged 80.
In a letter seen by Newyddion S4C programme, the Public Service Ombudsman for Wales' chief legal adviser highlighted a series of failures by the under-fire health board in relation to the care of Mrs Graves.
These include "a failure to follow national guidelines for prevention of malnutrition", brief and incomplete records relating to fall risk assessments, which were late being implemented, and no patient safety incident reports written after a suspected fall.
Others relate to no overall care plan, meaning any plans which were in place were standalone, but were also often incomplete and brief.
Concerns were also raised about "generally poor record keeping" which "are, in places, contradictory and appear to have been altered".
The letter goes on to state: "The under-reporting of incidents on the unit and potential harm to patients is in keeping with concerns identified in other external reviews of care commissioned by the health board in relation to other wards.
"It is also of serious concern that your mother and other elderly patients with mental health concerns were placed on the unit with psychiatric patients."
Responding to the ombudsman's findings, Mr Graves said: "All I feel is the guilt that I haven't done what I promised my dad that I'd do all those years ago.
"The guilt of what I've put friends and family through in the interim because I've not been easy to live with I suspect. But I've been unable to stop fighting because the fight to put things right is important."
The care of patients at the scandal-hit Hergest unit has again been under the spotlight in recent months.
Last week, the General Regulatory Chamber declared the Holden report, written in 2014 after concerns raised by staff in 2013, should be released within 14 days.
Mr Graves believes it is important lessons are learnt when things go wrong, saying: "Duty of candour is important because it's about the safety of patients, putting things right and making sure accidents thing don't recur.
"If you don't exercise duty of candour, if you don't learn from your own mistakes then you're doomed to repeat your mistakes.
"And that's what's happened at Betsi Cadwaladr for a decade and we can't close the door on that. Even if we now have a regime which wants to put things right, they have really, really got to recognise that."
Teresa Owen, the health board's executive director responsible for the mental health and learning disabilities division, said: "We sincerely apologise for the failings in the care of Mr Graves' mother, and for the way in which his concerns were handled.
"We are currently working with Mr Graves and the ombudsman to find a resolution to these concerns."
Related Internet Links
The BBC is not responsible for the content of external sites.