Brecon Beacons: Why do people navigate perilous caves for fun?
By Nicola Bryan
BBC News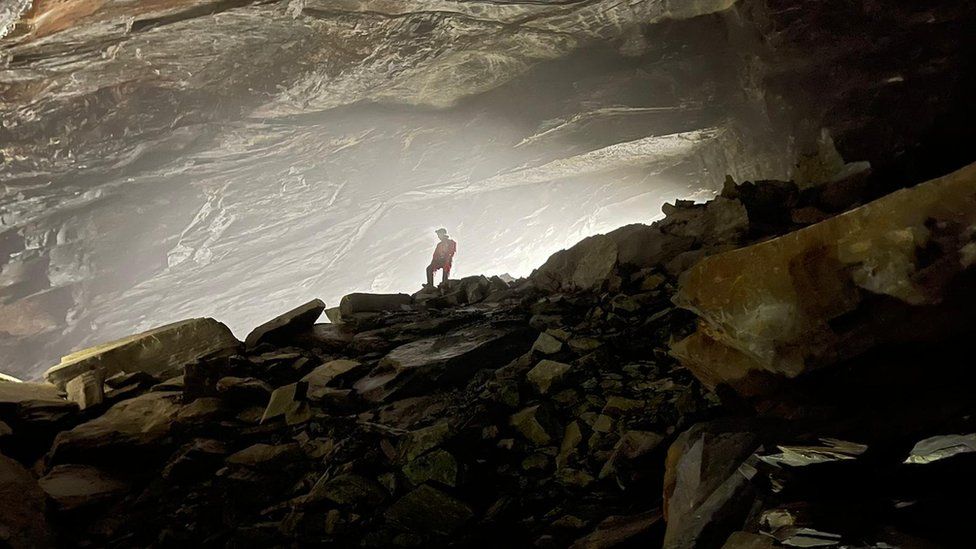 This week's operation to rescue an injured caver who was stuck underground for 53 hours may have left many wondering why some choose to navigate treacherous cave systems for fun.
Most cavers acknowledge the dangers of the sport - including hypothermia, rockfall, getting lost or stuck, drowning and exhaustion - yet choose to take the risk.
"Why do it?" is a question caver Samantha Jones is getting used to.
The 41-year-old from Wrexham said: "When I tell people that I do caving as a hobby, they kind of go 'why would you want to go there?' but it's not as you perceive, it's not all tiny potholes, it's something beautiful down there too."
She only took up caving a year ago but quickly became hooked: "It's like another world down there, the formations, there's blue lagoons, underground rivers, rapids, it's very exhilarating."
She is aware of the potential dangers: "Fear is part of it but being part of that team kind of distributes the fear amongst you all."
'I've fallen in love with it'
"We regard it as relatively dangerous," said Thomas Phillips, 20, from Bristol, who is a member of Cardiff University's caving club.
He said caving could be described as an underground assault course: "Walking, climbing, scrambling, you're often scaling around walls, often on your belly, sometimes you're unable to lift your head up, sometimes you've got to put out your hands and prise yourself over a ravine with quite a large drop beneath... if you're claustrophobic, maybe it's not for you."
He said the physical exertion was rewarded by the sights underground: "It's oddly beautiful, there's what we like to call 'pretties' in a cave, different rock formations, a cave itself is just gorgeous, carved by water, you see some really unique stuff down there."
There is also the darkness: "Often, once we've found a place to sit, we'll turn the lights off for a bit and just enjoy the pitch black.
"I've fallen in love with it - it's a real regular sport for me."
Thomas was actually in the same cave system as Mr Linnane when he was injured.
"We were going along, having a bit of a laugh... and we heard a very distinctive 'help'," he said. "We ran to it and there was a man who was with the casualty when it happened and watched it happen as part of his group. He'd been trying to get out the cave to alert cave rescue but become fatigued."
He said the fastest member of their group hastily made their way out of the cave to get help.
"By the time I got out he'd alerted cave rescue and they were beginning calling everyone in."
Jemma Stephens, 21, is the president of Cardiff University Caving Club and was also in the cave system when the incident happened.
"When I got out cave rescue were changing in the changing rooms.
"It was really weird because I knew all of them, they're all ex-Cardiff, so it was a really strange reunion," she said.
Robert Watson, a training officer of the Council of Higher Education Caving Clubs, said cavers always depended on each other in times of crisis.
"The people who are coming to help you or your community, they're your friends… you have this sense of reassurance whenever you go caving, if something were to happen, I can rely on my friends to help me get out of this," said the 26-year-old from Dublin.
"We're all very close… if something happened to you, you know the community would be there to help," said caver Gwenllian Tawy.
The 30-year-old, who lives in Glossop, Derbyshire, and is originally from Aberystwyth in Ceredigion, has been hooked on caving for many years.
"We explore places that not a lot of people get to see. What we are able to see is really special, it's an exciting activity and also a good workout."
Jemma is also in awe of the scenery: "[There's] cave glitter, as one of my first year students calls it - the sparkly stuff in the ceiling which is always really, really pretty and there's indoor waterfalls."
She said strong friendships were formed underground: "There's no better way to bond with other people. Sometimes your group starts singing caving songs.
"[Once] we were all singing Lord of the Rings and Hobbit songs underground and I was like 'these are my people', it's really cool."
Samantha said she found caving mindful: "You really have to be present in what you're doing and so it's like an overall step away from everyday life.
"Exploring down there with the team and coming back up is really good for the soul."
She said it was also about peace and quiet: "It's an escape, I've got a young family, so it just gives you just that little bit of time away when your mind isn't racing and you're in the moment."
Robert agreed: "It's a really nice way of escaping from all the trappings of the world that we live in, you're not getting your emails in a cave, or thinking 'what am I going to have to do when I get back to work on Monday'.
"It's a very, very valuable freedom that I wish everyone could have."
However, Jemma fears caving's moment in the spotlight this week could encourage people who are not aware of the dangers and protocols to take unnecessary risks.
"I hope this doesn't attract anyone to explore a cave on their own," she said.
"There are official ways of doing things, if you go in to a random cave and you don't have call-out because you don't know what you're doing then that's really quite dangerous."
Far from this week's dramatic rescue putting cavers off, some have been inspired to step up their involvement.
"It reassures me and really makes me want to join the cave rescue team after seeing them in action," said Thomas.
Jemma said she had heard that many times since Monday's successful rescue: "The rescue operation has attracted a lot of people from my club to want to join cave rescue.
"It was just an overwhelming response and I'm really proud of my community. I think they did really well."