Army's Ajax vehicle noise prompts 310 soldier hearing tests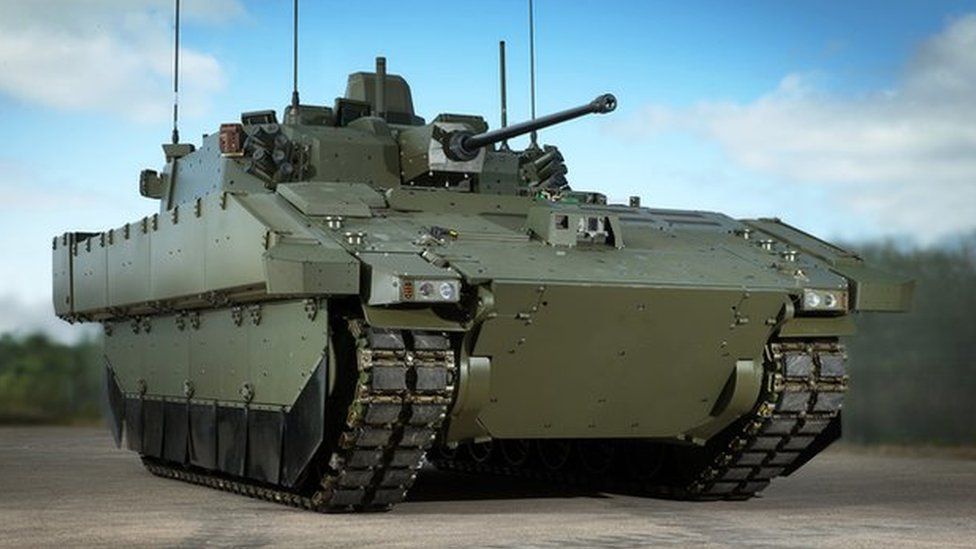 More than 300 soldiers are being assessed for hearing loss after potentially being exposed to noise from the Army's new armoured vehicle.
In June, trials of the £5.5bn Ajax armoured vehicle programme were halted for a second time over complaints noise was affecting the crew.
On Monday, Minister for Defence (MoD) Procurement Jeremy Quin said 310 personnel would be offered assessments.
The vehicles are assembled by General Dynamics in Merthyr Tydfil.
A report is being undertaken by the MoD's director of health and safety.
In a written statement, Mr Quin said: "While the report has not yet been concluded, it is apparent that vibration concerns were raised before Ajax trials commenced at the Armoured Trials and Development Unit in November 2019."
He said "key themes likely to emerge" from the report would include "the importance of having a culture that gives safety equal status alongside cost and schedule".
He said, following the report's conclusion, his department would consider what further investigations were required "to see if poor decision-making, failures in leadership or systemic organisational issues contributed to the current situation".
Mr Quin said initially 121 personnel had been identified as requiring urgent hearing assessments before the MoD broadened the scope of those who should be tested to all those who had been exposed to noise on Ajax.
A further 189 personnel have been identified as needing to be offered an assessment, bringing the total to 310.
Of these, 304 have been contacted and the remaining six are UK service personnel who had recently left service and are in the process of being traced.
He said 248 personnel had so far been assessed and that the Army was also in the process of identifying any health effects in those potentially exposed to vibration.
"Veterans who have been exposed to noise or vibration on this project will be supported throughout and will have access to the same assessments as those still serving," he added.
Trials at Millbrook Proving Ground in Bedford are expected to resume imminently, Mr Quin said.
He added that a design change to cut the risk of noise in the Ajax communication system was being tested, but only represented part of the solution and "considerable work needs to be undertaken before any such assurances can be given".
Mr Quin said it was "not possible to determine a realistic timescale" for the introduction of the vehicles into service.
"We will not accept a vehicle that is not fit for purpose," he added.