Green Man: 70 Covid cases linked to Brecon Beacons festival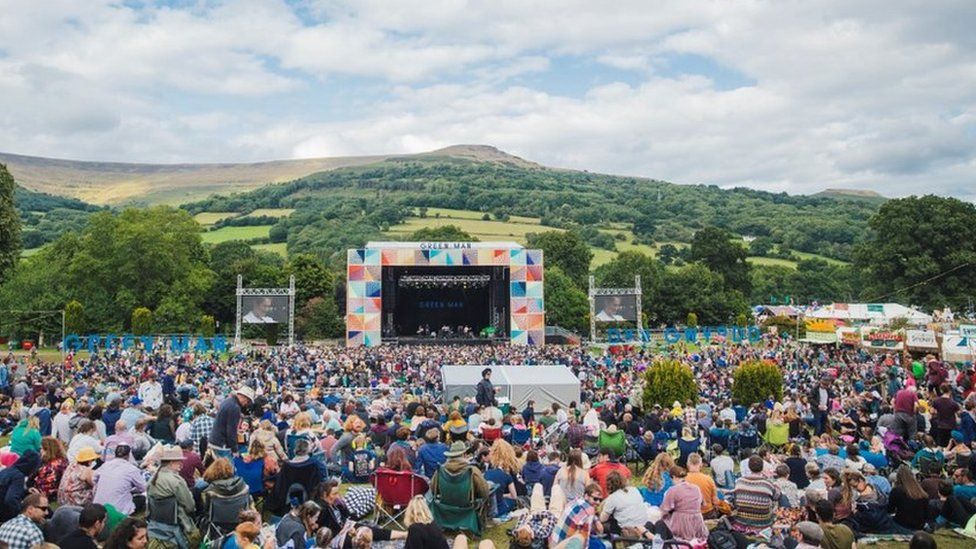 Some 70 positive Covid cases have been linked to the Green Man festival in the Brecon Beacons.
Public Health Wales said it was reported as a "possible exposure" in tracing data for 71 cases, but not necessarily attributable.
Organisers said there was no firm evidence to prove cases were transmitted at the festival.
The likes of Mogwai, Fontaines DC, Django Django and Little Dragon performed at the site in Crickhowell, Powys, between August 19 and 22.
Ticket holders were required to show either an NHS Covid pass or a recent negative lateral flow test to enter.
However, Public Health Wales, which carries out active public health surveillance around large events, confirmed positive cases have since been linked with the sold-out three-day festival.
"Analysis of contact tracing data gathered by test, trace, protect has identified 71 Welsh residents with confirmed coronavirus where Green Man Festival was reported as a possible exposure in the seven days before showing symptoms," a spokesman said.
"However, it is important to note that these cases are not necessarily attributable to transmission at the festival as Green Man would have been one of a number of exposures reported by cases prior to onset including, for example, socialising outside the festival, travel to and from the festival etc."
Festival organisers said the number of cases were comparable to those expected in a town of the same size.
In a statement, Fiona Stewart said: "There was a lot riding on this and we didn't want to let anyone down.
"From our post-festival questionnaire, the overwhelming response was that those attending felt we had done all we could to protect them from Covid-19 and that they felt safe, which was something that mattered a great deal to us."
The figures are far fewer than those linked to other festivals this summer.
Similarly, more than 1,000 positive cases were linked to the Latitude festival in Suffolk last month.
Cases of coronavirus in Wales have continued to rise and is now 415.3 per 100,000 people - above England - though there are signs of a slowdown.
Hospital admissions and case numbers in Wales are now at their highest level since March and in the latest daily figure, PHW announced 2,391 new Covid-19 cases and six more deaths, taking the total to 5,688.